It's a year to remember – but can you identify it? Emma Clegg goes back in time to when Jimmy Carter was awarded the Nobel Prize, wedge flipflops were in, and Bath City were beaten by Yeovil Town
Can you guess the month and year? Michael Schumacher won the season ending the Japanese F1 Grand Prix for his record 11th victory of the year. England opened their Euro 2004 qualifying series with a 2–1 win over Slovakia in Bratislava, with David Beckham and Michael Owen scoring. Former cricketer Imran Khan was elected to the Pakistani Parliament after winning the seat of Mianwali-I. The European Union announced ten new members, including Poland, Hungary, Slovenia and Cyprus. President George Bush argued for action against Iraq in a national address, outlining the threat posed by Saddam Hussein. North Korea admitted to developing nuclear arms in defiance of an international treaty. Former United States President Jimmy Carter was awarded the Nobel Peace Prize.
Here are some other clues. Givenchy for Homme cologne was launched along with Glow by JLo. Robbie Williams signed a new six-album deal with EMI for £80 million, the most lucrative contract ever signed by a UK musician. Britain was buffeted by 100mph winds in the worst gales since 1987, itself the most severe storm in 200 years. British Digital terrestrial television (DTT) service Freeview began transmitting in parts of the UK, and London Weekend Television closed forever.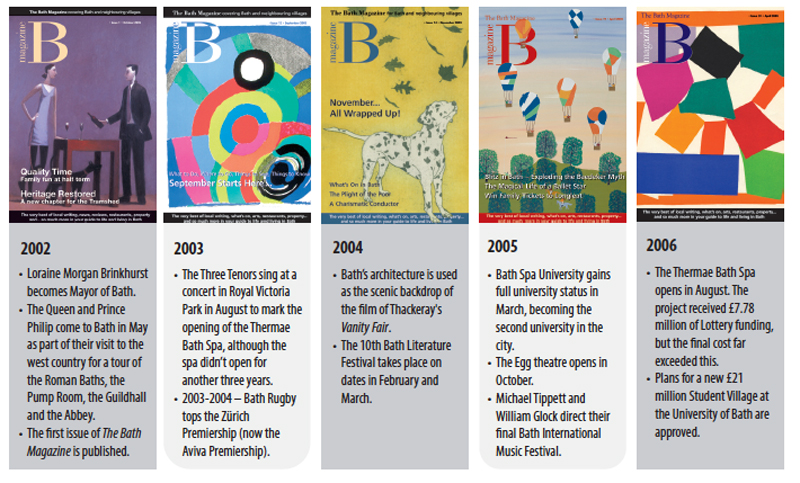 Closer to home Bath City's worst fears of an opportunity missed came at the end of October at Huish Park as they were beaten by three goals to one by Yeovil Town in their FA Cup 4th qualifying replay. Oh yes, and the people of Bath read the first issue of The Bath Magazine.
It was October 2002. So take yourself back and imagine listening on your MP3 Player – the first iPod with Windows compatibility and a touch-sensitive wheel – to the strains of Complicated by Avril Lavigne, There by the Grace of God by Manic Street Preachers, or Dilemma by Nelly with Kelly Rowland ("No matter what I do, all I think about is you"), all top ten singles that month, with Dilemma becoming one of the bestselling singles of all time.
Rewind 18 years as you peruse recently published books such as The Lovely Bones by Alice Sebold, The Life of Pi by Yann Martel, Sahara by Michael Palin and Forever Summer by Nigella Lawson. Visualise calling a friend with your Nokia 6610 – a top-selling mobile phone that year with downloadable polyphonic and monophonic ringtones and Xpress-on covers – as you take a sip of your Coca-Cola Vanilla, perhaps suggesting to them a shopping trip to find the latest velour tracksuit with matching zip hoody and some statement platform flipflops. Or maybe a visit to the cinema to see Ken Loach's Sweet Sixteen with a (very fresh-faced) Martin Compston (Line of Duty as yet undreamed of) as a teenager with a troubled background; Red Dragon, with Anthony Hopkins reprising his role as Dr Hannibal Lecter; or Possession, the mystery drama based on AS Byatt's novel starring Gwyneth Paltrow and Aaron Eckhart, the latter showing at the Bath Film Festival.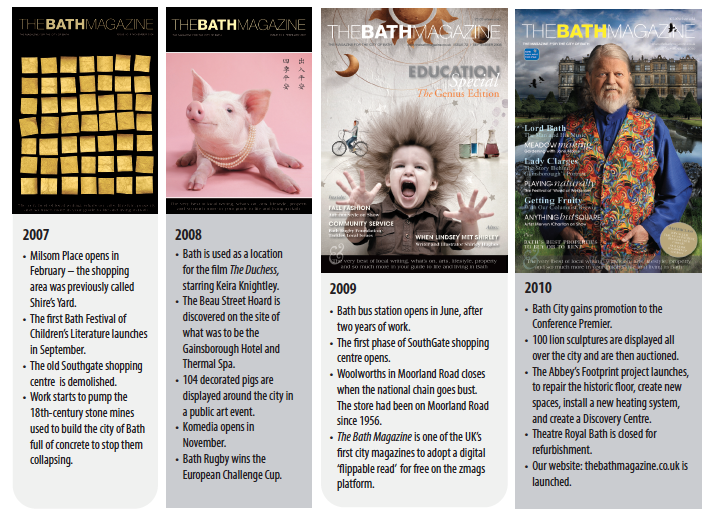 On the tech front, the new Apple wonder was the iMac G4 with a thin flat panel display floating upon a cantilevered, fully poseable metal arm and a hemispherical base, cramming a full computer, drives, and power supply under a 10.6-inch diameter dome. It even incorporated a small, quiet fan that sucked in cooling air from the bottom. A range of Bluetooth earpieces were launched from Jabra, Motorola, Nokia Plantronics and Sony Ericsson, allowing those who invested to walk around like secret service agents. PC games saw the arrival of The Elder Scrolls III: Morrowind, with fantastic vistas and a depth of content still remembered as astounding, and the issue an absolute classic. The Sims Unleashed had also launched that year, allowing Sims families to introduce pets and an expanded neighbourhood with parks, pet stores and markets to explore. Woo-hoo!
On TV, depending on your tastes, you may have been following Foyle's War, Footballers' Wives, The Forsyte Saga (with Damian Lewis, Gina McKee and Rupert Graves), or The Osbournes (with the Osbournes), which all launched that year. There was also a TV movie documentary in October charting the rise, fall and rise again of DJ Tony Blackburn who had been announced as the first-ever winner of I'm A Celebrity in the previous month.
If you were young and on the fashion pulse with a crotch-skimming corset and low-slung jeans with no back pockets, you may not have seen Liza Goddard in the sell-out tour of Alan Bennett's Single Spies at Theatre Royal Bath – silk cargo pants and a pashmina scarf may have been more likely. This production was followed by Richard Briers as Prospero in The Tempest before it appeared in the West End (think sequinned top for her and Rockport boots and a dress shirt for him). Another theatrical option was Heretic at the Rondo where a woman fills a tank with tears to repent for her misdemeanours (opt for an olive green fatigue jacket, beret, and a T-shirt with a red star in homage to Che Guevara).
The Bath Magazine readers could also buy tickets for The Mozart Festival taking place the following month, with performances at the Abbey, Assembly Rooms and the Guildhall, and listen to a concert by pianist Rolf Hind at the Michael Tippett Centre at Bath Spa University College. In dramatic contrast, Houdini the Musical was soon to show at the Kingswood Theatre in Lansdown performed by the Bath Operatic and Dramatic Society. There was also the opportunity to book for the year's pantomime, Robin Hood and Babes in the Wood, with the always-there-at-Christmas Jon Monie as a wily robber.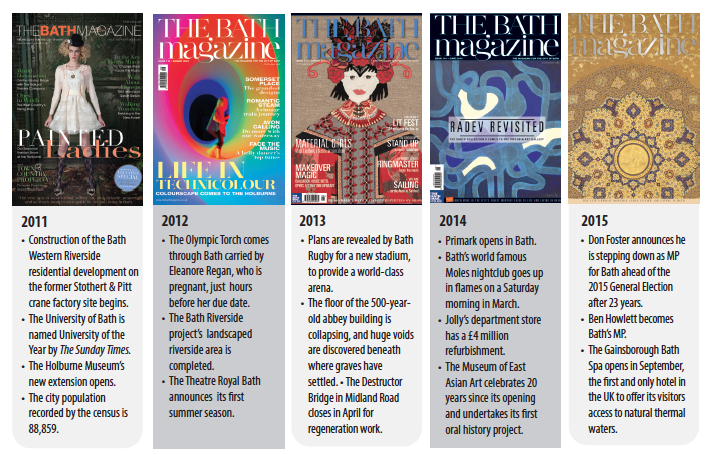 On the arts scene you might have been preparing for a weekend trip to the V&A's major retrospective of the work of fashion designer Gianni Versace, which featured the most comprehensive collection of originals ever exhibited from the Versace archives, or to Spotlight on Euan Uglow at The Hayward Gallery, which then toured to The Black Swan Guild in Frome in 2003. At the Holburne was the exhibition Treasures from the West of England, with works of art from 50 private collections, and at Victoria Art Gallery was Ben Hartley – a retrospective, showing the work of the post war painter who had died two years before. Another highlight was the work of Philip Davies on show at Six Chapel Row Gallery, with his painting Aperitif forever memorialised on The Bath Magazine's first front cover.
October provided plenty of fun for families during half term including the Wacky Festival of Theatre at Theatre Royal with a concluding orchestral performance of Prokofiev's Peter and the Wolf and Saint-Saen's Carnival of the Animals. There was also glassmaking for children at Bath Aqua Theatre of Glass and some spooky stories told in Prior Park Landscape Garden for Halloween.
Many congratulations to those businesses who appeared in our first issue and are still going strong today, including Rossiters, Mandarin Stone, Cooper's Electrical, Yum Yum Thai, The Francis Hotel, Las Iguanas, Aquaesulis Dental Practice in Lower Weston, Dr Philip Pettemerides' dental practice in George Street and Juice Recruitment. Also Savills, whose property offering that month included a five-bedroom semi-detached Regency town house in Macaulay Buildings, Widcombe for £775,000 – properties in this area are now valued around the £1,500,000 mark.
The editorial in the first 32-page issue was eclectic, including a piece on collecting tea caddies by Duncan Chilcott of Bonhams Bath, and one on the ancient art of fencing by Reginald Channon of the Bath Sword Club, which met every Thursday evening at Kingswood School. There was also a history of crime and punishment in Bath by Kirsten Elliott, uncovering some dark shadows in the city's history, and a health and beauty review of a Detox for the Skin treatment at The Health and Beauty Centre in Queen Street.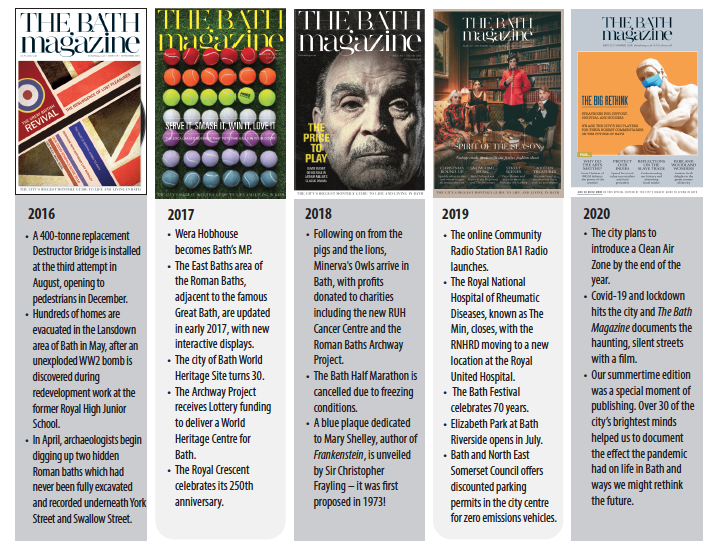 The Tramshed regeneration project on Walcot Street was reviewed, a building that once housed the city's trams and a site where Roman mosaics were discovered before the development started. The shell of the red-brick building was left intact, while the interior was 'scooped out' in a major engineering feat. The central atrium was framed by a series of lofty red brick arches, creating an aquaduct effect in subtle homage to the site's Roman heritage. The finished development included residential accommodation, retail space, a large restaurant (now Neptune store) and craft workshops, hoped to be a new vibrant work hub for independent crafts practitioners.
In the intervening years our magazine has changed in character, design, content and pagination, but the common denominator is that it has always striven to be relevant, informative and thought-provoking. We hold that thought always.
So, 214 issues later, it's now our 18th birthday and we're celebrating each and every year. Cat's eye, the stone for an 18th anniversary, is a gemstone polished into a cabochon that displays a narrow band of concentrated light going across the width of the stone. This effect is known as chatoyancy, or cat's eye effect. We feel the cat's eye phenomenon sums up our role in Bath – we aim to light the way, look forward (as well as checking in the back mirror), give focus, make connections and take our city readers on a noteworthy ride. We hope you'll continue the journey with us. Meanwhile turn the page for a summary of those 18 years…