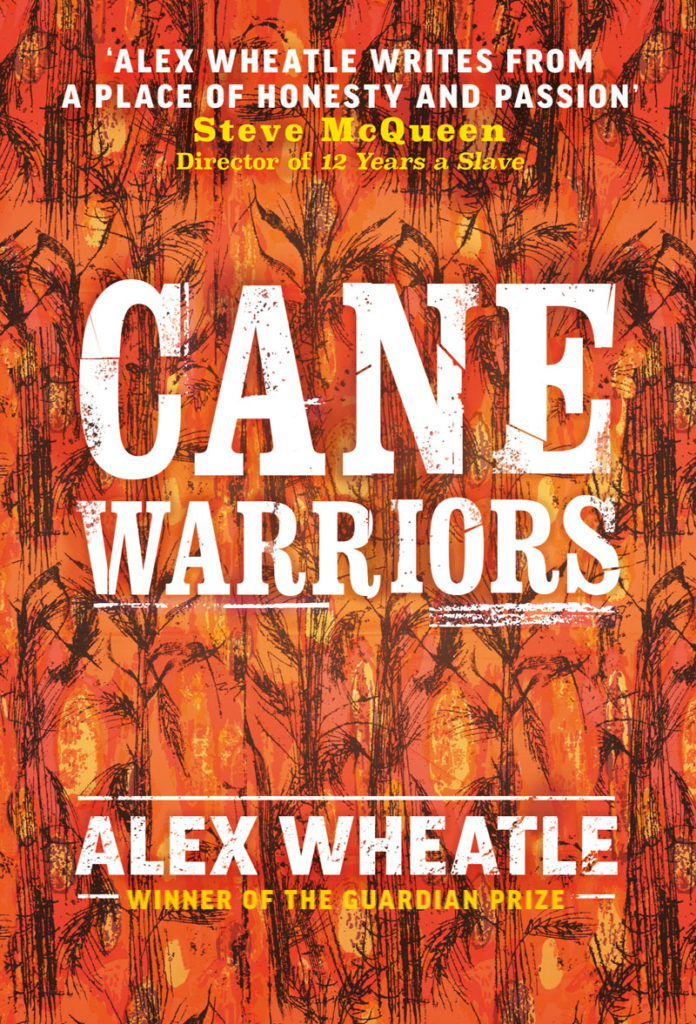 Alex Wheatle is set to feature at the Reading is Magic festival this month, with his latest novel Cane Warriors. Millie Bruce-Watt chats to Alex about growing up in London, honouring his Jamaican ancestors and how he came to be the word warrior he is today
Since winning the London Arts Board New Writers' Award in 1999 for his debut novel Brixton Rock and later presented with an MBE for his services to literature, Alex Wheatle's rhythmic and unique writing has been providing young adults with an exceptional form of escapism for over two decades. Back with his latest novel, Cane Warriors, which follows the life of an enslaved 14-year-old boy in 1760s Jamaica, who is recruited by rebels to fight in the slave rebellion known as Tacky's War, Wheatle brings one of the era's most significant revolts vividly back to life.
Although he recalls a fictionalised account of the uprising, Wheatle roots his characters in reality, sheds light on the horrors of colonialism, the subjugation of a people and provides readers with an educational yet sobering reminder of a vital part of British and Jamaican history – a part that is rarely mentioned in schoolbooks.
After spending most of his childhood in the notorious Shirley Oaks children's home a few miles east of Croydon, Wheatle found that reading adventure stories like Robert Louis Stevenson's Treasure Island was an escape that took him out of his everyday life. During his teen years, his creativity led him towards music, specifically reggae, where he wrote song lyrics, raps and later poetry – all of which continue to influence his unique style today.
Wheatle's experience of growing up in London, his involvement in the 1981 Brixton Uprising, and subsequent prison sentence, contributed to his hunger to share the important stories of marginalized voices. Wheatle recalls, "It was a very tumultuous period in London at the time. It was the late 70s, early 1980s and I remember it very well. The police oppression of black people had been going on for decades earlier. What happened in 1981 was a release of all this frustration and anger that had built up over many years. I was obviously in the middle of that and I had experienced that. Stop and search was used much more widely than it is even today. You could be stopped for looking into a shoe shop or even arrested for having an afro comb in your back pocket, so those were the aspects of police that we had to deal with, which elevated the anger of black people at the time.
"This really politicised me, at 17, 18 and I was sentenced to a prison term after that. I went back to my reading while I was serving my time. I used that experience as a hunger to write about my pain, my trauma, so that's where my early novels came from. Instead of writing lyrics or poetry, I was determined to explain that my life, my friends' lives were important and needed to be written."
Wheatle has often been celebrated for the vastness of his imagination, which came to prominence in his much-adored Crongton series, published between 2015 and 2017. Mesmerised by J.R.R. Tolkein's inventiveness of language in The Lord of the Rings, Wheatle's creativity with words produced entertaining and fresh narratives for his young readers. "I'm in my 50s now so I cannot claim to know the current street slang all over the country, so to help me out I decided it may be easier to create a few more terms, and I hope it can be entertaining just like Tolkein can be entertaining. It's a fictional place so I can play around with language and I find that liberating, I really do."
Wheatle's irresistible writing makes his latest novel gripping and unforgettable. Cane Warriors retells a fictional account of Moa, a teenage boy who has only ever known life to be toiling on the Frontier sugar cane plantation, fearing the whips of the overseers. He learns of an uprising led by a man named Tacky and he yearns to become a cane warrior and fight for his freedom. However, before Moa can join Tacky, he must first escape his overseer.
Remembering one of Jamaica's most famous heroes, Wheatle pays tribute to the Jamaican spirit and honours his ancestors. He says, "I've always wanted to write this kind of narrative. Jamaicans throughout history have always revolted against their master. They never took to slavery kindly, there was always some revolt somewhere and I wanted to give honour to that."
You could be stopped for looking into a shoe shop or arrested for having an afro comb in your back pocket

Alex Wheatle
For Wheatle, Cane Warriors also draws on his own personal connection to the rebellion and he recalls how he could be a direct descendent of the brave cane warriors who fought for the freedom of all enslaved people. "My mother grew up in a district where Tacky's revolution started on the North Coast of Jamaica. My mother grew up adjacent to a plantation so I guess I kind of imagined could it well be that I might be one of the decedents of one of these cane warriors? This is the book I am most proud of because I am honouring my ancestors."
Paying homage to a hero of the kind who rarely feature in the school curriculum was of great importance to Wheatle, who believes teaching should be more inclusive of global narratives. He says, "I would have thought that somebody might have made a narrative about this earlier, but I haven't really seen it. I felt that it was very important that these stories were remembered and these heroes are remembered, especially in this time of racial strife.
"As a writer, I prefer somebody reading about where the source of racism comes from rather than just simply pulling down statues. If young people are reading a narrative of a young black boy, say 200 years ago, then they can learn to empathise with that young black boy. Pulling down statues, all you see is a spectacle rather than the history behind it, so this is my way of adding to the Black Lives Matter debate."
Wheatle hopes that his latest novel will encourage young readers to explore other aspects of history and to learn about other cultures, countries and people from around the world. "There are some amazing stories in this world," he says, "we shouldn't just be so narrow minded that we think we can only read stories from a British perspective. If we look elsewhere, we can find some amazing stories that can encourage us all and bind us all together, because really we are all the same."
The importance of children seeing themselves in a book has also never gone amiss in Wheatle's writing. "I can't tell you how much it can mean to a family. Say you bring a child into the library at eight, nine-years-old and they're looking around this library and they can't see themselves in a book or a poem. If you really want to engage them with storytelling then half the battle is done when they can recognise themselves or find something they relate to within the story and so that is very important.
"In the last few years, the publishing industry has addressed this but we do need more people of colour, not just as writers but in editing, marketing and publicity. We also need to look at the booksellers, the people who decide what books are going to be at the front of their store. We need to look at the airport shops. Airports are the most diverse places on earth yet, when I go to Heathrow or Gatwick, I see very little diversity in the shops there. Hopefully we can have a conversation about that because that is stalling a number of black writing careers because there's still this belief that black stories don't sell and hopefully we can have that done with now because it's been proven that black narratives do sell. I just hope the marketing and sales side of that catch up with it."
I felt that it was very important that these stories were remembered and these heroes are remembered, especially in this time of racial strife

Alex Wheatle
Wheatle's novels tackle the issues that many young adults are facing today, addressing issues of knife crime, gangs and online bullying and providing guidelines for those in moral dilemmas. He says, "I try to put in moral guidelines in my writing so young people who might find themselves in a situation where my characters are maybe they can find their way a bit easier after they've read an Alex Wheatle book.
"Young people have to contend with so many issues nowadays and I don't think writers should shy away from that. Especially living in the city, there's the threat of knife crime, gangs and so on. With the Internet, there's all this bullying. Young people have to contend with a lot and we shouldn't shy away from them, we should address these issues. It's our obligation to address it because there's no safer way to learn about these issues than in a book."
Literature unquestionably helps shape our moral compass from a young age and it is a responsibility that Wheatle has never taken lightly. "I'm very conscious of that so my themes have to be strong themes for me to take on that responsibility – I take pleasure in that I'm helping form a moral compass for someone out there." Ultimately, as we step into a world of creativity at the Reading is Magic festival this month, we do so with a great deal more empathy, thanks to the works of Alex Wheatle and authors telling the vital stories of inspirational people that now live on forever through their words.
Cane Warriors, Andersen Press Ltd; £10.99; readingismagicfestival.com