How are we affected by the environment in which we live? Martin Gledhill, senior teaching fellow at the department of architecture and civil engineering at the University of Bath, and Frances Longmore, who studied walks in Bath for her MA in literature and landscape, conduct a tour encouraging walking with a heightened awareness of your surroundings
The Therapeutic City Festival that took place in Bath last September explored how we all affect, and are affected by, the environment in which we live. So how might we reimagine the psychotherapeutic potential of the city? To help our investigation, we set out to 'walk the talk' and conduct a 'walking cure'. To wander is to wonder.
During the 1960s the architect Peter Smithson (1923–2003) embarked on a series of feral excursions to Bath. These urban rambles were eventually gathered into an enchantingly idiosyncratic guide, Bath: Walks Within the Walls; price, 37½p*. I still cherish my original, rather worn copy and the memories of being taught (and terrified) by Smithson, which are embodied within his pithy text. It was to him that we looked as our guide.
Smithson loved Bath, for him it was not just a backdrop for a great day out. Wandering through the city was like being inside "a living shell", and while he acknowledged its historic past, he also recognised it as an evolving entity. Lessons needed to be learnt before they were lost to the developer's bulldozer. His walks were a kind of architectural therapy and have a guerrilla-like quality to them. His curiosity found its way beyond, behind and below the more obviously captivating set pieces, by straying into snickets, alleyways and backyards. In these humbler parts of the city he noticed and recorded the masons' extraordinary skill in choreographing the city's topographical and social contours. This then is a place of waltzing cornices and lavish pavements where the pedestrian is sovereign. And, much as the terraces canter up the hills and the crescents gather the land to themselves, the landscape hosting our city returns the compliment as it glides into our streets and houses. Urban and rural meet.
To consider the walks as a purely architectural exercise is to overlook their wider intent, for the reader is often challenged to engage with what they see in a broader, more contemplative way. For example, when ruminating on how buildings are marked by the passing of time Smithson suggests that we "stop here and think about that other certainty we are about to experience." Or, for those less fatalistically disposed, "Bath demonstrates above all that it is perfectly possible to build a memorable, beautiful, and cohesive community structure of fragments…the nowhere places are grey zones for the psyche. We seem to need them."
We probably all understand the therapeutic benefit of a country walk, especially if it includes the bait of a Sunday lunch, but what of its urban equivalent? The link between walking and thinking, or solving by walking, has a long tradition reaching back to St Augustine, Rousseau and Darwin among others. Furthermore, the coupling of landscape (both rural and urban) to our sense of wellbeing or 'soul' sits at the core of much contemporary nature writing.
It is perfectly possible to build a memorable, beautiful and cohesive community structure of fragments
The ecological conscience woven throughout such work is all the more poignant and accessible on account of the writers' use of everyday objects and local places as a lens to evoke wider issues; hearts are touched as well as minds. All very well, you might say, but what has this got to do with sauntering through the city and its therapeutic potential? More often than not our pedestrian encounters with the city are measured only in terms of the proximity of a car park or as a route march from A to B. We need to feel and think about the spirit of place which defines our city and to coin a phrase, be 'city smart, country wise'.
With these questions in mind a group of us took our imaginations for a stroll. We met in front of the abbey and set off on part of Smithson's Walk 1, pausing first in Orange Grove, a public space laid out to celebrate 'the happy restoration of the health of the Prince of Orange' – if only all our public spaces had a similar manifesto. Looking up we smiled at the zigzag roofscape of the adjacent shops holding hands like a paper doll chain, their waists decorated with shell-headed windows nodding to us as we passed by. Straining our necks further we could see on the skyline the church of St. John. The spire is notable for its height – a theological stand-off with its Anglican siblings, but now host to some unusual guests. Rare peregrine falcons nest there in a purpose-built box with a webcam acting as their guard, but also affording them a kind of avian celebrity.
Crossing the road to Parade Gardens we peered down into the Roman layer of the city and remembered that this was once a monastic orchard, a kind of miniature Eden now reconfigured as a paradise of deckchairs. We looked across to North Parade constructed in the extraordinarily short time of six months. On the one hand this is testament to Ralph Allen's innovative railway which sped stone down from the quarries, and on the other the naked exploitation of the rock beneath us which left Combe Down teetering on stone stilettoes. Spare a thought too for the men and horses who in exhausting the mines, exhausted themselves.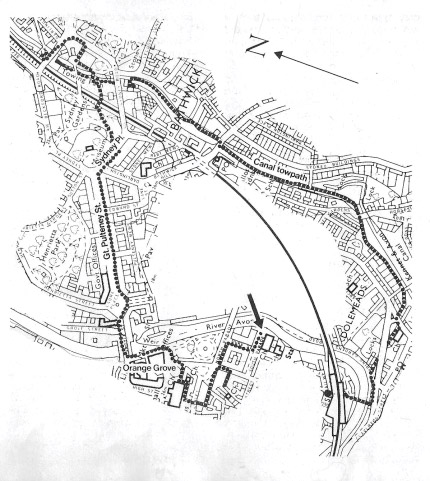 Heading off along Pulteney Street we discussed Smithson's rather irreverent feeling of desolation, a "street that had become a route", where it is "difficult to pause". We enjoyed the 'kinky' corners of Laura Place and the unfinished vista of Johnstone Street. The sagging cill courses caught our eyes; it was as though they had opted to settle rather than continue to groan under the weight of the noble façades above them. We tried to look through the street's blind windows and saw the fancy petticoats of lanterns, railings and fan lights all tinkling – but where are the trees that used to accompany them? Arriving at the Holburne we wondered if this was the beginning or the end of the vista. It is here that city and the park coalesce on the rear elevation (or is it the front?) in Eric Parry's delightful, ceramic evocation of an evergreen canopy.
Finally, having wandered through the Pleasure Gardens we dropped down to the canal towpath, a very different, squeezed world, much restored since Smithson's time. The post-industrial neglect which he witnessed was 'almost painful to think about'. We were surprised to feel that same sense of pain when passing Hampton Row, which has remained almost derelict since I first came to Bath in 1976 – the train used to stop here. But maybe we always need decaying, unfinished parts and ruins in our cities? As the Romantics knew well, our imagination flourishes and renews itself in such places. And so, it was befitting that we unintentionally completed our walk at the soon-to-be-restored Cleveland Pools; Captain Evans's eccentric act of philanthropy, conceived to teach children to swim as much in the water itself, as in their imaginations.
We all felt nourished after our hour-long walking cure. So then, how about undertaking your own cure, walking with your minds, hearts and eyes as well as your feet. In fact, why not simply get lost?