There are two Michael Penningtons, Melissa Blease discovers, as she talks to the one that isn't Johnny Vegas. Yes, the one who is taking on the role of Prospero in The Tempest at Theatre Royal Bath. Make way for a storm, a shipwreck and the supernatural…
When you're preparing to interview a highly acclaimed Shakespearian actor, getting your facts straight is vital. I start with the most straightforward question of all: Michael Pennington (for it is he) – given that you've undertaken multiple roles in Shakespeare plays, how does it feel to be playing Prospero, the leading man in The Tempest, for the first time?
"Actually, that's not quite right," he says, giving me that tumbleweed moment that all journalists dread and sending chills down the back of my spine. But before I take the response to my opening gambit as my cue to pursue a whole new career, Michael comes to the rescue. "But the error is not your fault!" he laughs. "There's a little known fact about me that I'm happy to exclusively reveal here." And suddenly we're off on a journey that takes us all the way back to 1958, when Michael was a 15-year-old schoolboy at Marlborough College. The future of this schoolboy involved founding the English Shakespeare Company, becoming honorary associate artist of the Royal Shakespeare Company, writing several highly acclaimed Bard-related books and appearing in countless TV dramas and several films – all such stuff as dreams are made on.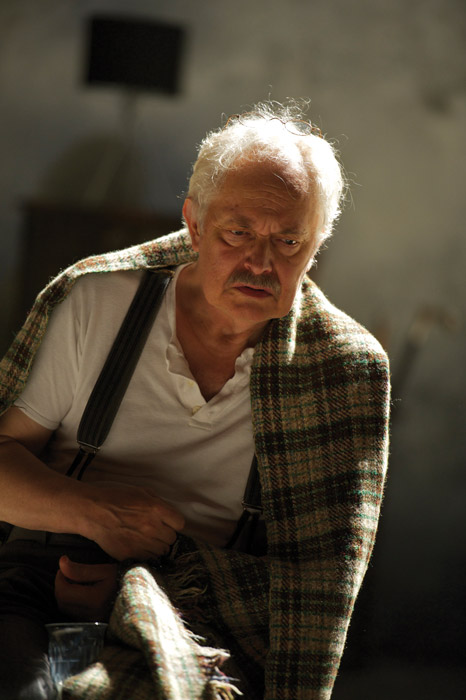 "One of my teachers had noticed that I was very keen – I wouldn't say very good, but very keen – to act, and asked me if I'd like to play Prospero in the school production," Michael recalls. "So I said yes, of course!" Then he told me that the RSC hired out all the costumes that had been used at Stratford and he was to wear the magic cloak that John Gielgud wore three or four years earlier. "I hero-worshipped Gielgud in those days – he was extraordinary! So you can imagine how I felt about wearing his cloak. But when it arrived, it had clearly been hired out quite a bit since Gielgud threw it off; it was built around a corset-like construction with wires, and netting, and all the paint had peeled off. And it was way too long for me, so as I walked across the stage I ended up picking up any old screws, nails, fag ends – whatever might be on the floor – and gathering it in my hem; I was a sort of one-man refuse collector! But I didn't half make a go of it; I had to! The mantle of Gielgud had fallen on my shoulders!"
Michael's costume, this time around, will be a rather more elegant affair. But what kind of man will Pennington's Prospero be? "I've seen many people play him, as indeed Gielgud did, as a sort of senior figure," says Michael. "But to me, he's… well not a psychopath, exactly, but definitely not fully in charge of himself. He's a complex mixture of tyrant and unexpectedly gentle man, insecure on occasions but with a kindness about him too. He's furious because he's been thrown out of his own kingdom and ousted from his job by his own brother, of all people; usurped and put out to sea with his daughter, ending up on a bleak, barren, strange desert island. After 10 years of exile, he still wants revenge. And of course, he's a survivor. But I want my Prospero to be a character you would like to talk more to should you have the opportunity because there's still way, way more to him than I've said so far. We could call him a magician, or a conjurer, or perhaps even a medium; he's clearly influenced by the occult, and necromancy – and he has the supernatural ability to cause a storm, for goodness sake! It's difficult to imagine unless you happen to believe in such things."
And suddenly, our interview takes on a supernatural direction all of its own: there's a howl of wind outside the window, and the phone goes dead, and the lights flicker. Was Prospero the producer of the preternatural prorogation? When Michael and I reconnect, I decide it's a good idea to lift the mood…
Being taken to the theatre when I was 11 years old lit a light in me, and that light has never gone out
Michael: you must surely be one of the busiest actors in the business. Is there really only one of you? "Actually there is more than one Michael Pennington!" he laughs; "Johnny Vegas! Increasingly, as we both get older, he's inclined to use his – our! – real name, but I think Johnny Vegas is a much better one; I wish I'd thought of it myself. We don't know each other, but we occasionally share merry messages. But if you mean are there infinite varieties of myself – well, yes and no. I appear to be, and occasionally am, very busy, but I sleep like a log, and there are many days where I do virtually nothing, or go abroad, or try and write a little bit. I go to the theatre a lot as well; I love a Chekhov or a Beckett or a really good farce, and I like to keep up with my colleagues because these days, pretty much every show I go to has someone I know in it. When I get thoughtful and consider what I haven't done, it's usually a movie. But I can't deny that the theatre is who I am; being taken to the theatre when I was 11 years old lit a light in me, and that light has never gone out."
Michael acknowledges that the light that inspired him continues to inspire those who follow in his footsteps. "There's a fantastic younger generation coming to the stage today, and I'm astonished by how good they are, almost without exception. When I started, all you really had to do was look okay and be able to speak reasonably well; nowadays you have to go into the audition able to tap dance, sing rock'n'roll, opera and probably play lead guitar as well; they have to be much better equipped these days."
Michael is looking forward to returning to the Theatre Royal. "It's everybody's favourite theatre outside London," he says. "It's very beautiful, and exceptionally well-equipped, and the theatre's director Danny Moar runs a very good regime. There's a very good Pizza Express just around the corner too! But I can't spend too much time in it because I've got a bit of a book to write; seeing as I'll be away from home with a bit of time on my hands, I'll crack on with writing my memoir."
Pennington's passion for pace is clear. But right here, right now: good luck, Michael, with what I now know to be your second time around in The Tempest. "Actually, that's not quite right," he says; "I played the young love interest, Ferdinand, in Stratford in 1974…" It's time for me to exit stage left.
The Tempest is at Theatre Royal Bath from 7–11 April; theatreroyal.org.uk