Midge Ure – the iconic renaissance man of the music world – made Bath his home 25 years ago. Earlier this year, he and his band, Electronica, graced the stage of The Forum, playing the 1980 Ultravox album, Vienna. Melissa Blease spoke to Midge ahead of his performance and drew out the threads of a seminal life in music
January 1981: "a man in the dark in a picture frame, so mystic and soulful" is drawing me into a video on Top of the Pops… and I'm totally, utterly smitten. Scroll forward almost 40 years, and that same man is walking along a SouthGate thoroughfare, heading in my direction. Of course, Midge Ure has long since moved on from Vienna (even if I haven't); today, he walks among us in Bath, where he's been living with his family for a quarter of a century.
"I'd been living in London, in Notting Hill, for maybe 20 years and I came to Bath for a gig at the Theatre Royal," he says, over coffee in the Tivoli Cinema. "I did that thing people do when they're visiting a new place, which is simply take a walk around the streets. After a couple of hours, the whole city sort of dawned on me; I thought, this is just cool, this is lovely – let's try it for a year and see what happens; 25 years later, we're still here. I use London when I want to rather than be there because I need to; I can do my job wherever I happen to be."
Songs are abbreviated short stories – little soundbites, glued together. 'One man on a lonely platform…' – that's it, there's the story
Ah, that job. Midge: what is your job title, these days? "Job title? That would have to be 'survivor'," he laughs. "I've had to survive the transitions that happen within the industry I work in – I guess that's the case in any industry, but in the creative industry, it's key. I create music for myself, or for others, or for films. I make videos, I make radio programmes – I make lots of different things. But I stick to creating what I think is interesting and wait until the world catches up with me, or until I catch up with the rest of the world – I don't jump on bandwagons. Weirdly enough, though, jumping on bandwagons is probably exactly what it looks like I've been doing, down the years!"
Okay, Midge: I understand that you're making a flippant half-joke, but I have to stop you there: surely you're known for driving bandwagons rather than hitching a ride? "Well just between us [which it isn't any more – sorry Midge] that's how I always saw it; I was always slightly ahead of time."
But for our purposes right here, right now, Midge and I are going back in time to where it all began…
Despite the title of Ure's latest live excursion, his 1980 Tour represents far more than a mere retrospective of the hits that provided the backdrop to a misspent youth. For the first time ever, he and his band Electronica will be playing seminal 1980 Ultravox album Vienna in its entirety, alongside selected highlights from the eponymous Visage album – now that's what I call a fitting 40th birthday celebration for two albums that remain, decades after they first charted, to be widely acknowledged as the most significant albums of the synth-pop era.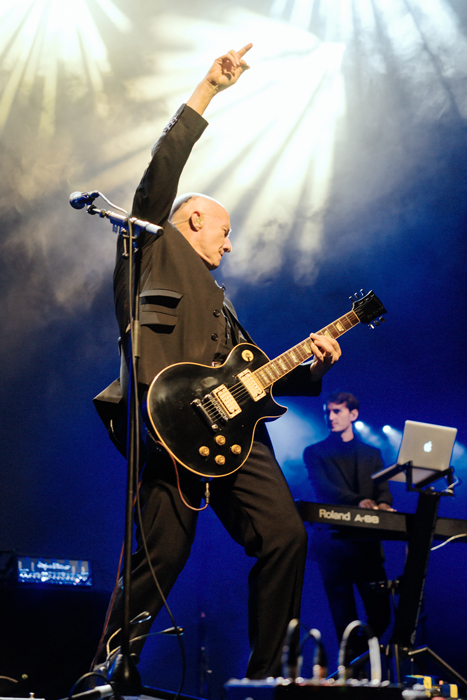 "Autumn 1979 was a pivotal point in my career trajectory," says Ure, who relocated from Glasgow in 1977 at the age of 24. "The late 70s/early 80s introduced the advent of a whole new world of music technology; I bought my first synthesiser in 1978 with the vision, the idea, of being able to keep up with it all. But in some ways I felt as though I was swimming upstream in the opposite direction to everybody else; I'd travelled from pop band (Slik), to post-punk band (The Rich Kids) to being a stand-in guitarist for Thin Lizzy, who were a huge influence on me when I was growing up. Then in the autumn/winter of 1979 I completed the Visage project with Billy Currie and was invited to join Ultravox; the work we did on the Vienna album represented an exhilarating rush of creativity that was seldom rivalled in our history at the time."
And history was being made on the streets, too. "The kids who instigated the punk movement were tiring of the second-rate punk bands that were doing that bandwagon thing, so they went off and created something new; I hate the term New Romantic because it was invented by journalists to give what we were doing a tag, but yes, it was the New Romantic thing."
Ah, New Romantics: pirate shirts, peacock feathers and pantaloons, lipstick, powder and paint; for some of us, for a brief period of time, fancy dress parties were for life, not just for Christmas. "Everybody started going to a club in London called Billy's, which was the forerunner to Blitz in Covent Garden," Ure recalls. "Rusty Egan, the drummer in The Rich Kids, used to do a DJ night at Billy's called Bowie Night, playing Bowie and Roxy Music and all this interesting electro-rock stuff that was coming out of Europe – Kraftwerk, Einstürzende Neubauten, Nitzer Ebb. And all these kids would go and raid their granny's wardrobes and come out looking fabulous, not in a bin bag and safety pins way but totally OTT glammed up, living out their fantasies at a time when things were incredibly tough. Politically, 1980 wasn't a great time for the UK, so this was escapism in its full glory. Those kids didn't have two pennies to rub together but they were rich in a different way: rich in ideas, and rich in thought. You'd look around Blitz and without knowing it you were looking at the film and fashion world legends of the future, and people like Leigh Bowery and Boy George – an amazing bunch of creatives."
The work we did on the Vienna album represented an exhilarating rush of creativity that was seldom rivalled in our history at the time
A bunch of creatives that included, of course, Ure at the epicentre; we're talking to a man who, in his own unique way, went on to change the way we look at the world.
In 1984, Midge Ure and Bob Geldof co-wrote the Band Aid hit Do They Know It's Christmas? as a fundraising initiative to raise vital funds for victims of the Ethiopian famine. The following year, the duo co-organised the dual-venue Live Aid concert at Wembley Stadium and the John F Kennedy Stadium in Philadelphia. Today, the Band Aid Trust – of which both Ure and Geldof are still active trustees – has raised around £150m for famine relief.
Ure has since helped organise (and performed at) multiple national and international fundraising events including several Prince's Trust concerts and, in 2005, the Live8 concerts – again, with Bob Geldof – aiming to inspire G8 leaders to take action to end world poverty. Little wonder then that in 2005 Ure was awarded an OBE for Services to Music and Charity, followed by a clutch of honorary doctorates from various universities to recognise his charitable, humanitarian and artistic merits.
So is the man who has made so many people, on so many levels, happy? "I'm always happy!" he says, without a second thought; "I've always got loads of things going on. I've just got back from gigs in Mexico City and the Dominican Republic and realised that I'm much further down the line with the new album I've been working on than I thought I was when I left it! And there are plans up to 2021 for shows and tours – maybe a continuation of this tour, maybe something new; I'm putting ideas together for the next step…"
And off he strides into the SouthGate throng: "the man in the dark in a picture frame" who remains one step ahead of time.