Updated: August 12th 2020.
Back by popular demand, and because it's good. A new, second series of McDonald & Dodds will start filming in September. This article was written in 2019 in the run-up to the first series.
Forget the high society balls and scandals of Georgian period dramas – Bath has become the centre of two modern-day criminal investigations as ITV brings its latest detective duo to the city for a new crime drama. Jessica Hope finds out more
Are you itching for the next series of Jed Mercurio's Line of Duty? Or maybe Midsomer Murders is more your thing? Do you still reminisce about Olivia Colman and David Tennant's stand-out performances in Broadchurch? And don't get me started on the indomitable Idris Elba in Luther. We're a nation of crime drama lovers. We have a fascination with the lawbreakers and lawmakers of our society, and there's nothing better than a gripping weeknight drama to have a good chinwag about around the office water cooler the following morning.
When it comes to filming such dramas, in Bath we're used to seeing camera crews following horses and carriages with actors holding on tight to their bonnets and top hats, rather than uniformed officers and riot vans. But if you have a keen eye, you might have spotted a different kind of production descend on the city's streets last summer with CSI kits and police vehicles in tow…
This was all for a new ITV detective series, McDonald and Dodds, which begins on 1 March. Created and written by Robert Murphy (lead writer on DCI Banks), this series of two feature-length films takes us right into the heart of a murder investigation in the home of a high-flying Bath businessman, as well as a mysterious death in a local private addiction clinic.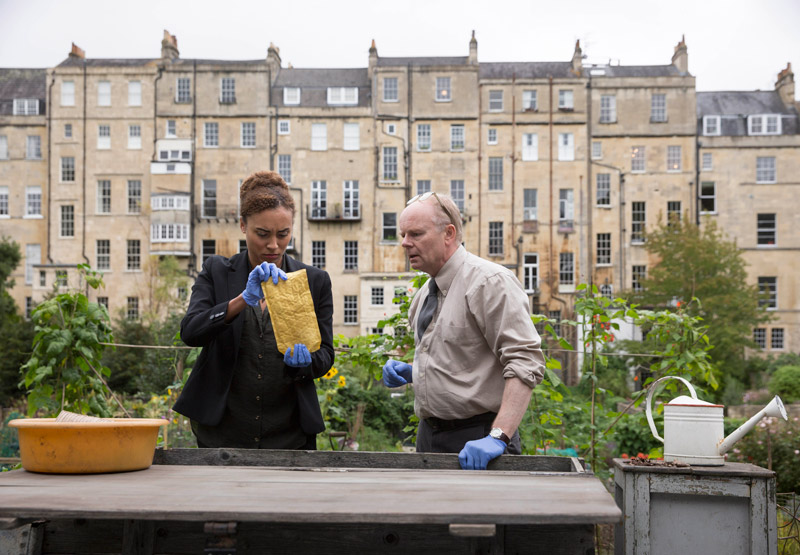 At the centre of these investigations are a new detective duo played by BAFTA award-winning Jason Watkins (The Crown, The Lost Honour of Christopher Jefferies, W1A) and Tala Gouveia (Cold Feet). Watkins plays Dodds, an unassertive detective sergeant who has languished behind a desk doing cold cases for the past 12 years, and who is thrust into frontline action when the new detective chief inspector McDonald (Gouveia) comes on the scene. Moving from the fast-paced world of London's Metropolitan Police to comparatively sleepy Bath following a leap up the career ladder, McDonald makes an impact on the local constabulary with her battering-ram approach to cracking cases, and Dodds' old-school approach to work takes a bit of getting used to.
With all this crime-busting going on, Bath's architecture gets a moment in the limelight, as do some of Bristol's star locations. "We've spent years seeing Bath on television in period shows, so we embraced the opportunity to show the 21st-century version of the city in all its glory," says producer Amy Thurgood. "The history and the tradition sitting alongside the realities of contemporary Bath provided a perfect backdrop for us to create a new world of crime and investigation."
The majority of episode one was filmed in a beautiful private residence in Widcombe as the location of a supposed break-in and murder, while the stately home Eastwood Park, near Thornbury, was used as the crime scene in episode two.
"We filmed in The Guildhall, Abbey Churchyard, Abbey Green and Parade Gardens as locations for our principal actors to interact to forward their investigations. We were lucky enough to film on Lansdown Crescent, giving us perhaps one of the most unspoilt and perfect Georgian crescents in the city," says locations manager David Johnson. Bath's spectacular views over the city from Alexandra Park and Bathwick Meadows also make an appearance in both episodes.
Down the road in Bristol, the University of Bristol's library in the Wills Memorial Building and a residence on Queen Square were also used for shots. Bottle Yard Studios was also the base for the art department to create a police station from scratch – ironically, as Bath's central police station was closed and sold off in 2015, before an enquiry office in the One Stop Shop on Manvers Street was opened.
Speaking about the construction of the station, Amy says, "After the heavy lifting of building and repainting was complete, the finer details that really build the world of our police characters were introduced – watch closely and you might spot DC Craig's addiction to junk food, or start to covet chief superintendent Houseman's taste in contemporary art."
Both the Bath and Bristol Film Offices were key in presenting options for filming locations, but shooting during the high summer season did lead to difficulties. "In central Bath the sheer numbers of visitors meant we could only film in the main squares and streets on early mornings or late evenings. Without the help of local businesses and residents associations it would have been impossible to film," says David.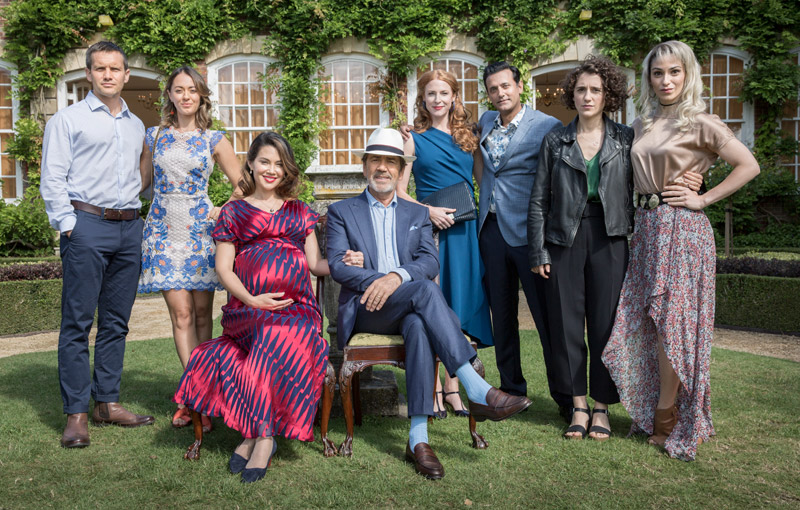 Much of the series revolves around the unlikely professional pairing of DCI McDonald and DS Dodds – one a hard-nosed up-and-comer, the other quite happily passing under the radar. "Our characters are polar opposites. From the start my character finds Dodds quite frustrating," says Gouveia. "She's quite impatient and fast-paced. She's all action, action, action."
"He's the analogue to her digital world," says Watkins. "Dodds is spectacularly dull, he's not very brave. He's like a technician and not very careerist."
And yet, as we see these opposing characters forced together, they begin to rub off on one another. "Dodds begins to appreciate her world a bit and comes to understand her anxieties and pressures. Particularly with Robert Lindsay's character, there's an undercurrent of racism and he sees a vulnerability in her and learns about how that is affecting her," says Watkins. "It's not a world that he is used to and he's not as emotionally intelligent as she is. They begin to redefine each other as they go through, and begin to appreciate each others' worlds."
Speaking of Robert Lindsay – the cast is exceptional. The BAFTA and Olivier award-winning Lindsay (most recognised for his role in My Family) plays high-society entrepreneur Max Crockett, whose world comes under scrutiny when a murder takes place in his home. Despite being surrounded by police, Crockett's mind quickly turns to deciding which of his three daughters will inherit his £30 million business.
"Although they've grown up in huge wealth and privilege, he doesn't want them to support them in their adult lives in order for them to prove themselves. They're vying against each other in a kind of modern King Lear scenario," says Ellie Kendrick (Game of Thrones), who plays the youngest daughter.
The other family members include Susannah Fielding (This Time with Alan Partridge), Jack Ashton (Call The Midwife), Navin Chowdhry (Doctor Foster), and Olivier-nominated Rosalie Craig, while McDonald and Dodds are joined on investigations by James Murray (Primeval, Suspects) as Superintendent Houseman, and Pearl Chanda (Motherland) and Jack Riddiford (Poldark) as new detective constables.
The second episode takes viewers to a different side of life where Joanna Scanlan (No Offence, Requiem) plays the director of a private clinic which treats patients with a range of conditions, with Hugh Dennis (Fleabag, Outnumbered) as the facility's CEO.
The hospital is thrown into commotion when a patient is found dead in her room. Other patients consequently investigated by McDonald and Dodds include Olivier Award nominee Freddie Fox (recently seen in ITV's White House Farm) who plays a drug addict, Caroline Catz (Doc Martin) stars as a sex addict, and Kiran Sonia Sawar (Murdered By My Father) plays a patient who suffers from social anxiety. Charlotte Ritchie, known for Call the Midwife and Fresh Meat, and Keeping Faith's Suzanne Packer also feature.
It's also fair to say that Bath has made an impact on the cast. "It's lovely working on location. Usually we're working in a studio where we're shut away in a weird airport hanger, 40 miles off a motorway, where you're not immersed in real life," says Ellie Kendrick.
Speaking about the private home used for filming in episode one, James Murray says "I've never been on a location like this where the family have got so involved. The owner has been making us homemade cakes, with fresh tea and coffee."
The west country location has even tempted some of the cast to relocate. "I've been on Rightmove, I'm not going to lie. This countryside is appealing," says Susannah Fielding.
With comparisons to Columbo, Prime Suspect and HBO's Succession, this new series is a "finely tuned, nuanced whodunit," says Murray. "It's a character-led, modern day Miss Marple." Could McDonald and Dodds be television's new crime-fighting duo, taking on the west country's felons? "There are lots more stories to tell," says Watkins. Watch this space, we might be seeing fewer bonnets and more bobbies on Bath's streets.
McDonald and Dodds begins on ITV on 1 March at 8pm.