Somehow, post lockdown, dining out seems more of an occasion now than ever before, with recent trips to Pinxto, The Wheatsheaf in Combe Hay, and even a standard-issue Wagamama, all feeling more significant than most I can recall in normal times, with only a few special exceptions.
So having been a warm day at the office in late September and a balmy evening that promised a spectacular sunset, we headed to The Ivy Bath Brasserie to sample their new Autumn dishes
Clearly things are a little different now but the Ivy is managing very well, and even if the welcome experience is one of being face-scanned and temperature-checked on arrival – plus the customary hand sanitisation – the staff are extremely polite and convivial, so even the most anxious of customer will be reassured that their dining experience is going to be a good one.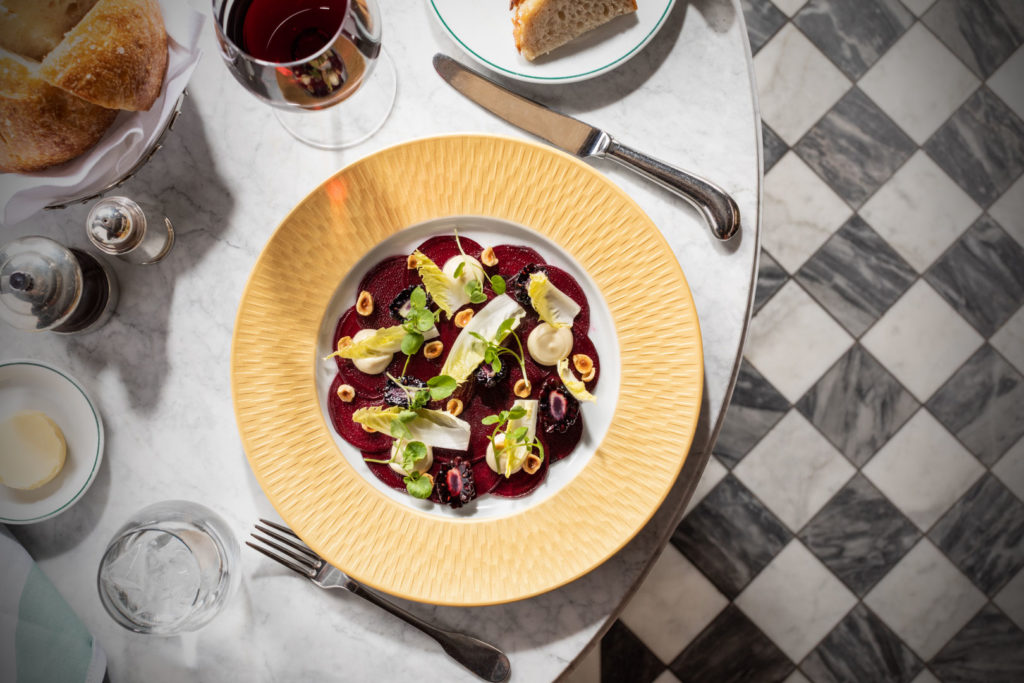 The Ivy in Bath also benefits from being expansive and airy, with wide aisles between tables, generous booths, and a fine outdoor terrace, edged with planters and trellises. Inside and out, social distancing is inherent and far easier here than in many of the city's smaller restaurants.
It was a warm evening so we chose the terrace, and the staff duly showed us to a lovely sun-dappled table and took our drinks orders.
One of the Ivy's often-overlooked specialities is their selection of non-alcoholic cocktails;  so resisting the usual temptation to dive head-first into the wine list, and having been a very hot day, to quench our thirsts we thought we'd try them out. There was also a special collaboration with Seedlip, at the time so we were soon sipping some delicious 'mocktails'…what a horrible word.. but they were zingy, sweet and with a complexity of flavour. Equal to any boozy summer concoction, they were the perfect refresher to segue our workday into relaxation as we selected our starters.
When the Ivy adds Autumnal dishes to it's menu always a well-anticipated moment as a number of summer plates make way for something a little more heartier with richer seasonal flavours and depth of colour. I may be wrong, but even the crockery has been updated to present the Autumnal theme.
We chose from the A la Carte menu, a beetroot carpaccio, which came with blackberries, hazelnuts and a horseradish sauce and a Cabernet Sauvignon dressing. My partner had a duck liver parfait with caramelised hazelnuts, truffle, pear and ginger compote, served on a toasted brioche. Both looked fabulous, and were reliably delicious. With our straws slurping at the bottom of the Seedlip cocktails, we thought it a good time to find some wine to go with the mains.
We had decided on a chicken milanese and a blackened cod fillet, with side orders of green beans and roasted almonds, and thick cut chips – so the wine we went for was a Sauvignon Blanc, Craggy Range – a light white from New Zealand.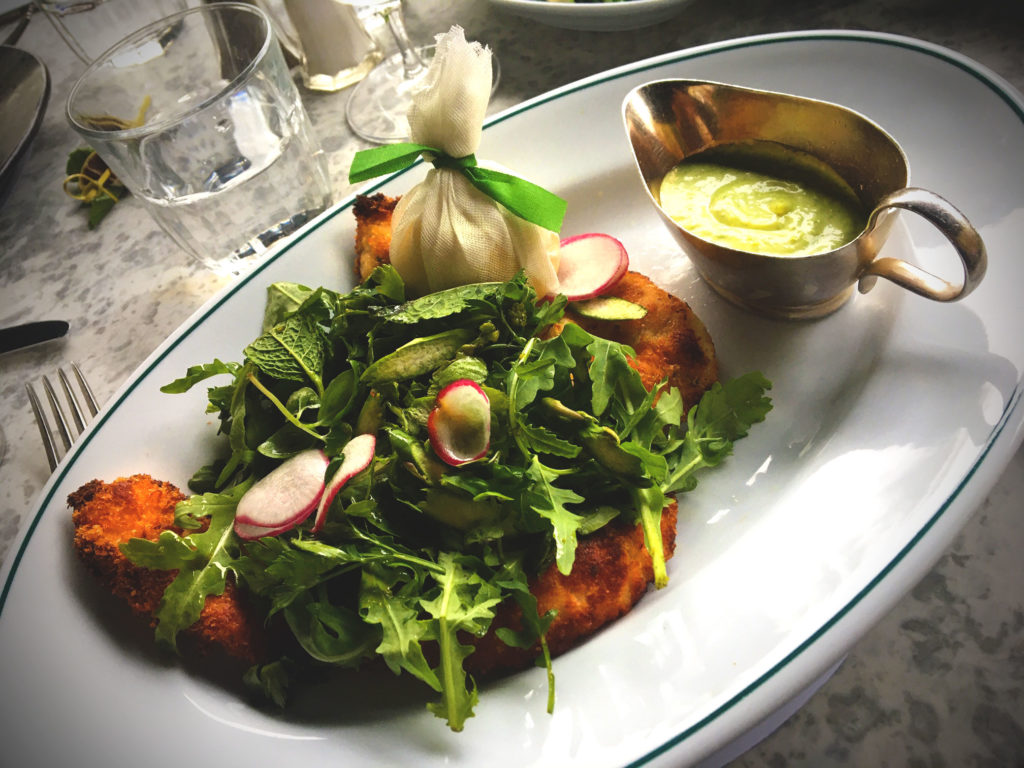 The food plates arrived promptly and looked beautiful, the cod baked in a banana leaf with a dark, rich soy and sesame marinade, served with pickled fennel and grilled broccoli. There was also a chilli and yuzu mayonnaise, so a perfect opportunity to add a generous helping of chips and green beans. The chicken milanese was also equal the challenge, a generously-sized breast escalope with mixed leaf and radish garnish served with a delicious fried egg, parmesan and truffle sauce. Chips and green beans added, a cool glass of wine poured – and forgetting all formalities – we tuck in, and it's excellent.
What's good to note here is that the staff have been quietly attentive and have never seemed too close, or wishing to over complicate things. The friendly simplicity of ordering and delivering the food and drinks to our table, as well as clearing finished plates was understated and allowed us to relax and enjoy our evening at a casual pace.
Feeling almost full, but craving some dessert, my partner and I could not decide between the chocolate bomb or the rum baba. So we thought we'd share both. I don't think I've had a rum baba since the early 80s – and that was from M&S – so in pursuit of a happy memory that was my choice.
A soft warm brioche arrived steeped in rum and chantilly cream, which went down a real treat. I completely forgot that we were going to switch half way through, but the chocolate bomb was a show-stopper too. Imploding under the hot caramel sauce and melting into the ice-cream, my partner was only too happy not to trade.
The evening did not disappoint, a superb three-course meal, a sultry 'Californian' red-skied sunset, and another new-normal dine out that felt special. Moments to be remembered.
The Ivy Bath Brasserie, 39 Milsom St, Bath BA1 1DS
theivybathbrasserie.com