Frances Fox is a member of Bath Youth Climate Alliance and an A Level student at King Edward's School in Bath. She was at the climate change strike headed by Swedish environmental activist Greta Thunberg on 28 February in Bristol where tens of thousands of people, many of them children, skipped school and braved heavy rain to give their support. Here are Frances' thoughts on the day…
"The day went incredibly well – particularly because we organised it all in a week. The team, gosh, everyone put so much into this and it came off. We did it!
"I was up at 6.30am. When I got there, the stage was being set up, the same stage we used in September for the Global Strike. A festival company had kindly donated fencing. People were there really early – it was just like when you have to try to get a place at the front at a concert or festival. I helped the stewards for a while.
"The 16 main strike organisers had a super top-secret meeting with Greta at 10.30am to go through the day and run through any last-minute things we needed to think about – for example any changes to the route of the march. We met at Bristol Cathedral, which was shut for the day so we could use the space. It was all very hush hush – we were escorted through a street and a gate. The police and stewards had a list of people and were not letting anyone in who was not on the list.
"It was weird – I've not been part of that kind of security before. It was a big room with high ceilings, and so quiet compared with the outside on College Green because there were so few of us in it. Whenever Greta is around, she is constantly approached by people – it's as if people don't really treat her like a human being. In this small group, though, everyone was really respectful. I suggested that we start with sitting on the floor and having 'circle time', so we sat down and went through the plan for the day.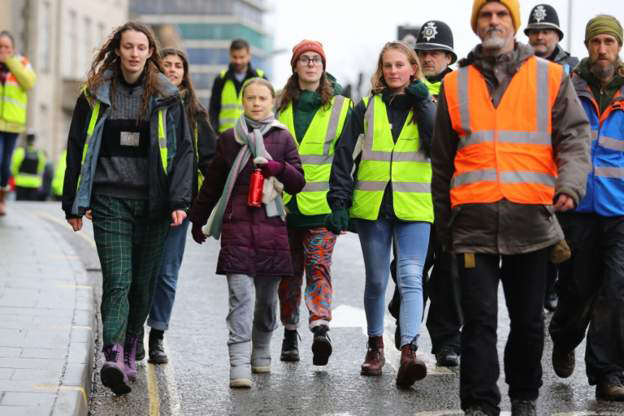 "We then went out to College Green to kick things off. We played music as a warm-up. I had helped curate the playlist, which included Pink Floyd's Another Brick in the Wall, The Kaiser Chiefs' I Predict a Riot, The 1975, and Brazil by Declan McKenna.
"Next the speeches started. There was a quick introduction speech as two groups had planned to have an event on College Green that day and had kindly agreed to step aside and postpone until later, so we needed to tell people when that would be. Then I heard the words, 'Now Frances from the UK Student Climate Network is going to speak about the demands for the country', and I was up. I opened with a loud 'Good morning, Bristol!'. The cheers were amazing, no doubt because the very wet crowd (the weather wasn't that kind) were relieved that their wait was over.
"I was representing the national UK Student Climate Network more commonly known as the Youth Strike 4 Climate. I had no idea how it would be on stage in front of so many people. It had been so hectic the week before so I don't think it had crossed my mind: there hadn't been time. When it came to it, I wasn't nervous. I was fine, which is really weird. Two days before I had been very nervous just to say "hi" to the manager of The 1975, even though we'd been emailing for months on various climate projects, but talking in front of 30,000 people (not the 250,000 reported by The Daily Mail!) just didn't faze me. I was more focused on what I was going to say and I didn't really think about the people – the huge number of people. Looking out you couldn't see the back of the event – it was like an enormous sea of people of all ages, along with banners, signs, press and TV cameras. I've never seen so many TV crews and press in one place before.
"I gave my speech. It seemed to go well, which was a relief, especially as I had to change it at the last minute for various reasons. People cheered about a dozen times at the key points, which is always comforting! Then three of the lovely Bristol Youth Strike 4 Climate team spoke about local matters, including how the Bristol airport expansion had been stopped, and how Bristol was the first city in the world to declare a climate emergency. Then Greta took the stage. At strikes we often have all the speakers standing together as we do in Bath, but this was one at a time due to the tight security. Walk up the steps to the stage and you're on your own apart from the sign language interpreter. Finish and down the steps again in front of that huge crowd. The walk off was a lot more relaxed!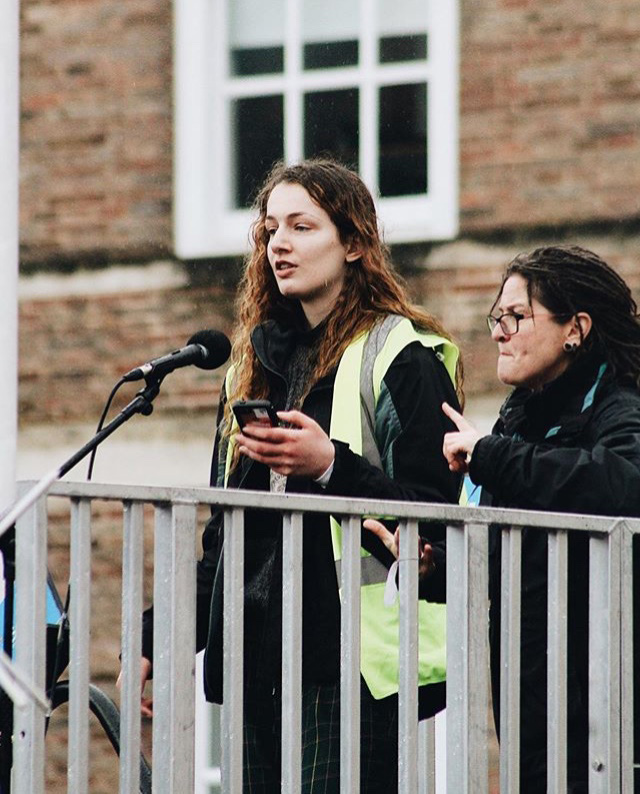 "Then I joined the stewards. There were a couple of people who had to be seen by the medics and taken off by ambulance – which we had on standby – which was a little scary, but we had people in place to look after anyone who got hurt or became ill. We had things under control, which is incredible given we had so little time to organise it all from the point of hearing that Greta was coming. We are all at school and had to juggle lessons and, in my case, school exams.
"At the start of the march we were taken to the front of the crowd by police, carrying the folded green banner with us. I began holding the banner at the front but then felt bad as I didn't want to steal lots of media attention. So I went off to be more useful as a steward donning a sexy fluorescent yellow hi-vis jacket. The banner is at the front of the march and quite long, so those holding it can get quite squished if people to the sides on pavements press in. To prevent this we had stewards either side holding hands and asking everyone to 'take a step back please'. A mum asked a little girl to go in front of the banner to get a photo. She got frightened and ended up behind the banner with Greta hugging and comforting her. It was so sweet.
"At the end of the march Phil, who was heading up the stewarding and did an amazing job, decided we were going to escort Greta back out of the strike. He didn't really say more than that he would come over at the end and we would walk her off. So six of us made a little huddle around Greta with the police behind. We went down a small side road that had been blocked off. It was surreal, as there were police and stewards making sure no one else could come along. Greta seemed happy and to have had a good time. That was great to see – we hadn't stressed her out or scared her. It went really well. It's excellent for us at UKSCN that Greta came to Bristol rather than London, as regional diversity is one of UKSCN's key values, and it gave us a really strong regional voice."
Frances Fox, 28 February 2020