In 1954 Pablo Picasso met Sylvette David in a small village in the south of France. The result was 40 paintings of an unknown girl with a ponytail. Emma Clegg talks to Sylvette, now known as Lydia, as she prepares for a new exhibition at David Simon Contemporary, where her paintings are shown alongside works on paper by Picasso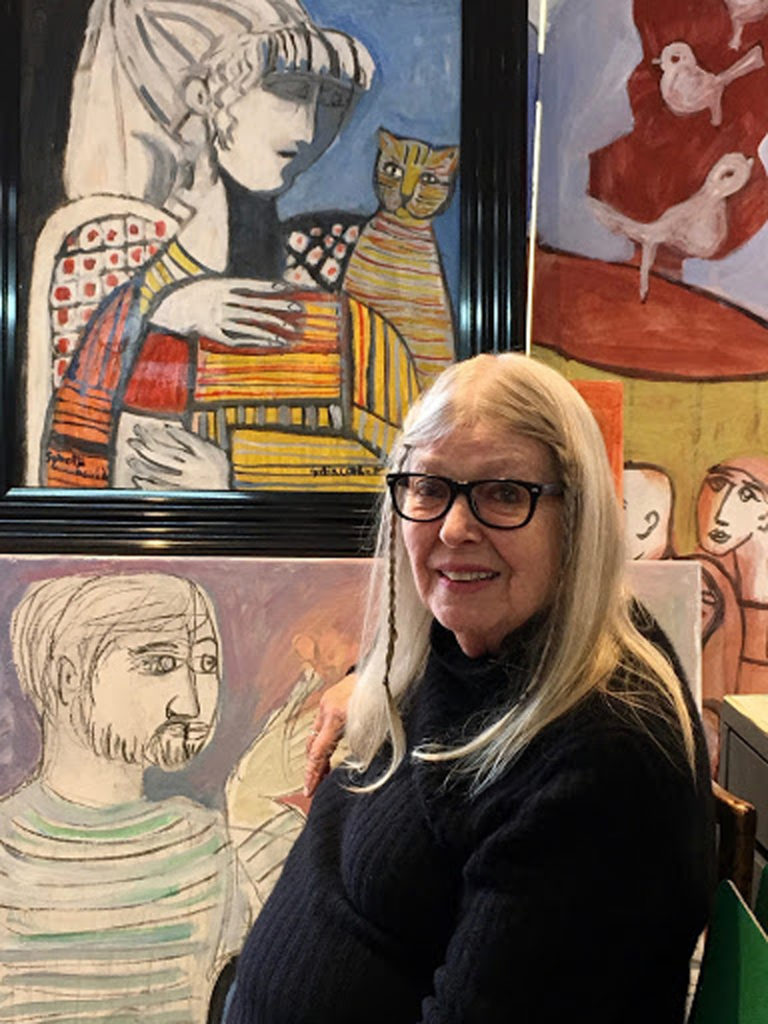 Talking to the Girl with the Ponytail – 67 years after she spent three months modelling for Picasso – was an experience that I will never forget. Lydia Corbett, then known as Sylvette David, spoke with a soft, lilting French accent and everything she said carried a pure and almost transcendental warmth as she ruminated on her interesting life, her art, her children, and perhaps most of all her time spent with Picasso in 1954 in the small southern French town of Vallauris.
"I love life and I love beauty. I have always loved beauty from my birth day onwards." These were Lydia's first words to me, once she had made her way in from her daughter Alice's garden where they had been spending the afternoon making pots together. Describing herself in that long-ago world, she paints herself as an oddball. "I didn't do much. I was a dreamer. And Picasso saw me and thought 'What is that funny girl?'
"I was very shy but very eccentric. I never wore things that were proper. I always had long frilly skirts and a black top and ballet shoes."
The original manner of the shy young girl with a ponytail and a long slim neck who had captivated Picasso – and led to him creating around 40 paintings with her as his subject – hasn't gone away. Now 86, Lydia still carries the innocence, the enchanting naturalness, the lack of ego and the spirituality that must have appealed to him then. "I didn't like myself, no, no. I thought I wasn't beautiful. It is weird the ways life goes when you are small – you get upset and full of problems. Picasso liked my innocence and naivity, and serious quality. I didn't flirt – I wasn't a flirt. I know because I had a friend who was much more beautiful and more sexy, and it was me he chose – he chose Sylvette."
I was talking to Lydia ahead of her exhibition at the David Simon Gallery in Castle Cary, which is open to the public from 8–29 May. She's no stranger to exhibiting, in the early years of painting showing her work regularly at the Francis Kyle Gallery in London. The gallery is now closed, but she told me (a little wickedly), that this was the gallery where David Simon learnt his art trade. "My Frances Kyle gallery in London was marvellous for me – he had shows for me every two years. Did you know that David Simon learnt how to be a gallery person with Frances Kyle? Yes, he did! I am always grateful for that gallery."
The new exhibition is rather special – a joint exhibition of Lydia and Picasso's work, celebrating the special connection between the two artists, and featuring a substantial collection of original, signed works on paper by Picasso curated for the first time with contemporary paintings by Lydia. The collection also includes a series of ceramics created by Picasso in Vallauris, where he first met Lydia in 1954.
Lydia's artistic journey
Lydia started painting in her forties, once her youngest child was at school, but says that her instinct for art was always there. "I've always painted in my mind. It was like meditation – I saw painting
the whole time.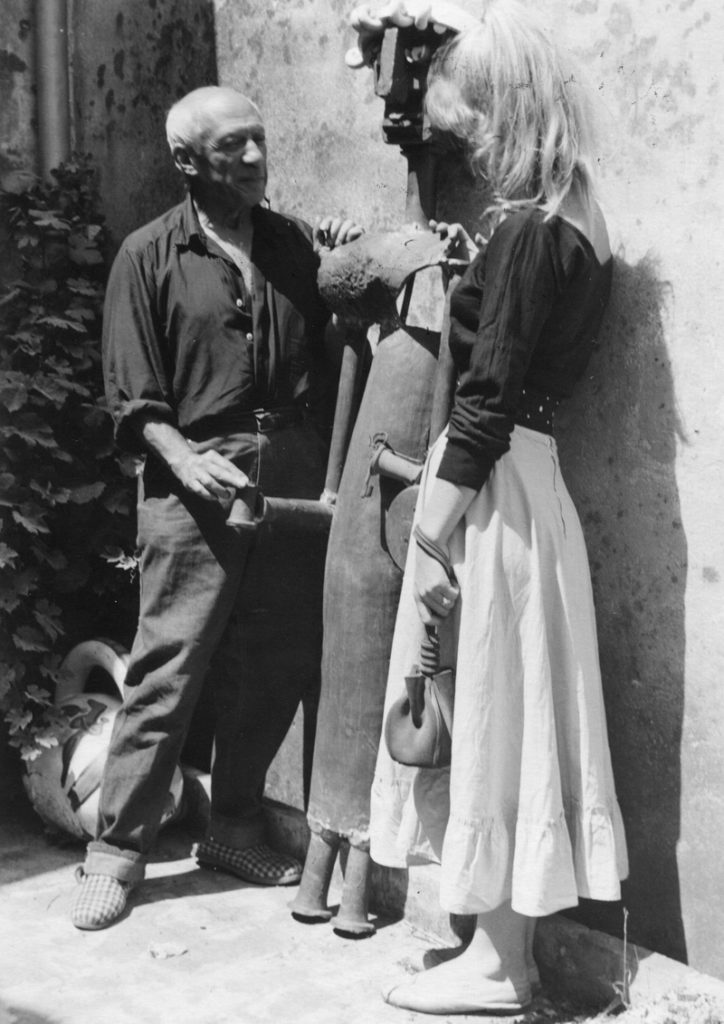 "Later I sat in my kitchen with my tablecloth and my vases. I used to do still life because the flowers inspired me in the middle of the tablecloth. And the cloth would become a landscape with people in it, my children, or our animals. I live near Dartmoor, so the surrounding landscape and the sea inspired me.
"I used to suffer a bit because I felt self-conscious, thinking nobody likes what I make, but did sell my work. When I started it was great fun. I did watercolours without Indian ink at first. Then I added the black ink. It's wonderful because it does dark and light like the sun and the night, you know. Beautiful.
"I love Indian ink. My father used Indian ink. He was an influential art dealer and painter, whose Champs Élysées gallery, David & Garnier, discovered and exhibited French Expressionist painter Bernard Buffet, who used very fine black and white lines. They were in my father's house and that inspired me – beautiful lines and still life."
A few years ago Lydia developed macular degeneration, which compromised her eyesight. As a result she has moved away from watercolours, instead embracing oils. "Oils are more recent than the watercolours because I can't do those now. Some of the watercolours are very early and it's a different style – you can see. It has grown. It gets better and better. And I love doing oils with a knife. And black lines, and colour, and white."
She lives in Devon and works from her studio. "My studio was a garage which I had done into a nice white studio with a brick red floor and a skylight. As I can't see so well I like to do bigger paintings. And my work is much more simple now – simple lines, and black and white and colour, and charcoal. I love it. And I love clay too."
Picasso… gave me the confidence to paint and to love life and to talk about it forever and ever. He is always with me
Her pots are hand-coiled, asymmetric and rustic looking, stained with painted inks and tempura, as if just dug up from centuries in the earth. "I collected vases for years. And then I started painting my own pots. I made pots in a little pottery in a village near me, and I loved it, coiled pots. They are quite strong. I love those."
Talking to Lydia makes you feel you are being led down an enchanted filmic pathway of blowsy blooms and hazy sunlight. She is very spiritual, which is reflected in her upbringing. She lived with her parents in Dieulefit, in the Drôme in the Rhône-Alpes, and spent a very free and wild childhood here, and went to school in the Drôme. "There were lots of children from Paris hidden in the mountains with that lovely headmistress who ran away from the Germans. It was an interesting time but a bit fearful because of the German soldiers. They didn't come in the village – they were afraid of the Resistance. At the end of the war the Americans came through the village like you see in films, these handsome young men with tanks. And we threw them chewing gum and tomatoes and peaches. And my mum was very excited because she was English and she loved to hear English."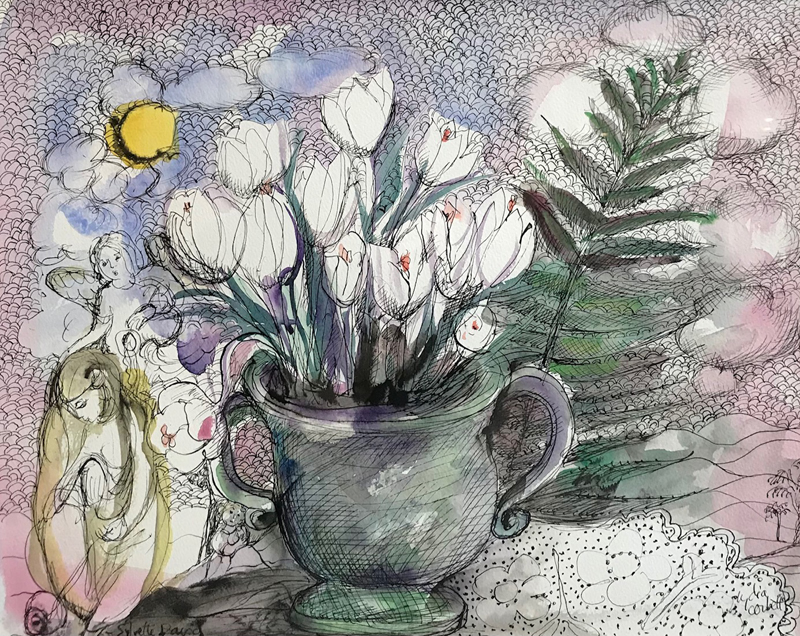 Memories of Picasso
It is Lydia's memories of Picasso that she loves to talk about most. She met him when she went to Vallauris (where her mother lived) with her fiancé Tobias Jellinek, who she had met at a free school in Suffolk, called Summerhill, which had a great impact on Lydia's way of seeing the world. "Toby was interested in metalwork and he made avant-garde chairs. Picasso saw one of Toby's chairs and bought it. At the same time he saw me, with my long blonde ponytail, and asked me if I would model for him.
"He gave me the gift of self-confidence. Because he liked me and he was so kind. He was like a father, a godfather. He never touched me. He was so kind and gentle and he knew how I felt, because I was afraid of men, older men. My boyfriend was my age so it was fine, but older men frightened me. Picasso played games to make me laugh because I was always very serious.
"I was a silent girl when I modelled. I would look at the view outside the window and see the hills of Vallauris and the sky and then I looked back and I saw him painting. We never stopped, well only for a bit.
"Once he took me to a little room with a bed, like Van Gogh's painting, you know? With a chair and a bed and a little window. And he started jumping on the bed like a little boy. He was 73 then – how could he jump on a bed? He was very athletic. He had a springy body, brown, and he looked very clean and healthy. And he smelt of wine and garlic.
"Once he made a drawing of me without any clothes on. And he showed me and said 'I hope you don't mind'. And I said 'Oh no'. But he was hoping I'd say that I would pose in the nude. But I never did – oh no, I wouldn't do that. So he never forced me. He liked my profile. And the ponytail. Normally they are very low down, but mine was high above the head. Like a horse's tail, beautiful it was.
"In the village all the girls were a bit jealous of me. He chose me. And it helped me all my life to have Picasso behind me, you know. He gave me confidence to paint and to love life and to talk about it forever and ever. He is always with me, you know.
"He was struck by something in this girl – I don't even think it was me – it was somebody else. It is like a magical story now I'm old, I feel like it's a beautiful story but I don't feel in it especially. I loved Picasso and seeing him in his studio made me want to do it myself. I became like him, like a paintbrush."
Picasso & Sylvette is open to the public from 8–29 May at David Simon Contemporary (open Mon–Sat, 10am–5.30pm, closed on Weds and Sun), 37 High Street, Castle Cary, Somerset BA7 7AW; 01963 359102; davidsimoncontemporary.com
Main image credit: Tobias Jellinek