The new Royal National Hospital for Rheumatic Diseases at the RUH not only provides essential medical treatment – it has also put art at the heart of its design, creating a calming place for patients, visitors and staff
The Royal United Hospital has one of the largest and most accessible exhibition spaces in the Bath area, and is supported by Art at the Heart (AATH) with an award-winning art and design programme that stimulates healing and wellbeing and creates an uplifting environment for all.
With the recent transition of moving the Royal National Hospital for Rheumatic Diseases (The RNHRD, also known as The Min) and RUH Therapies services to one combined centre at the RUH's Combe Park site, AATH has contributed to the interior design of the centre, as well as having commissioned pieces of art, created displays, and worked with an expert conservator on The Min's 18th-century portrait collection.
Following a consultation with patients and staff, AATH commissioned several major pieces and heritage projects for the RNHRD and Brownsword Therapies Centre, which was officially opened last autumn by the Duchess of Cornwall.
'Flow' was suggested as a key theme for the art on display – firstly because of the centre being located in a World Heritage spa city, and secondly because of the act of rehabilitation and the freeing of movement required for a patient's recovery. This theme was particularly crucial to artist Christopher Tipping who created the impressive designs for the hydrotherapy pool's glazed walls.
There are over 150 permanent artworks installed at the centre, and some patients and staff have picked their favourite pieces which create a positive place to be…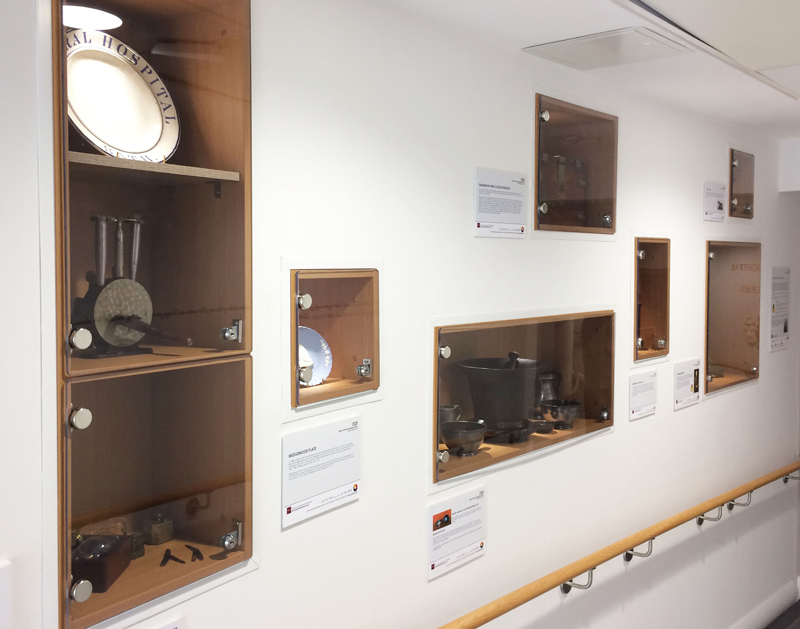 "My favourite piece is the Cabinets of Curiosities which cleverly line the main corridor of the outpatient department with glass covered boxes containing various historical artefacts from the old Mineral Water Hospital," says Dr Ellie Korendowych, consultant rheumatologist and medical director. "The pieces make our patients and staff smile on the way to their appointments and really brings to life all the rich history of The Min that we continue to cherish as we move forward in our new ultra-modern environment."
"My favourite piece is an image of Bartlett Street in the snow by Jason Dorley-Brown," says James Scott, RUH chief executive. "Jason's modern and vibrant artworks are on display in staff areas. It is important to include art for staff as well as patients and visitors – they also need to be uplifted and inspired. Good healthcare delivered alongside stimulating art and environmental design ultimately makes a happier workplace."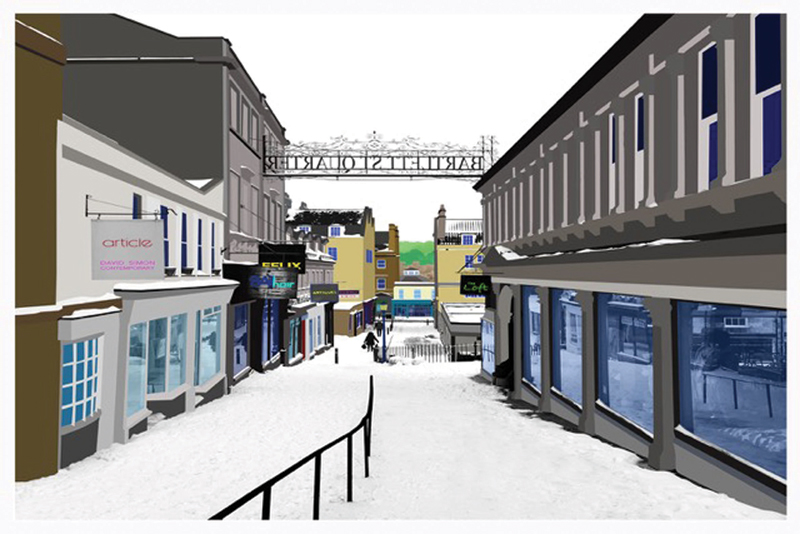 "I have been a stern critic of the RUH's takeover of The Min, but I am heartened by the genuine care, expertise and pride the RUH has shown in making the new facility as much like home as they could," says patient George Odam. "But the crowning glory is the thrilling stained glass by Christopher Tipping that enlivens our spirit as we enter the amazing new pool area."
For more about Art at the Heart, visit artatruh.org
Main image: Hydrotherapy glazed walls designed by Christopher Tipping