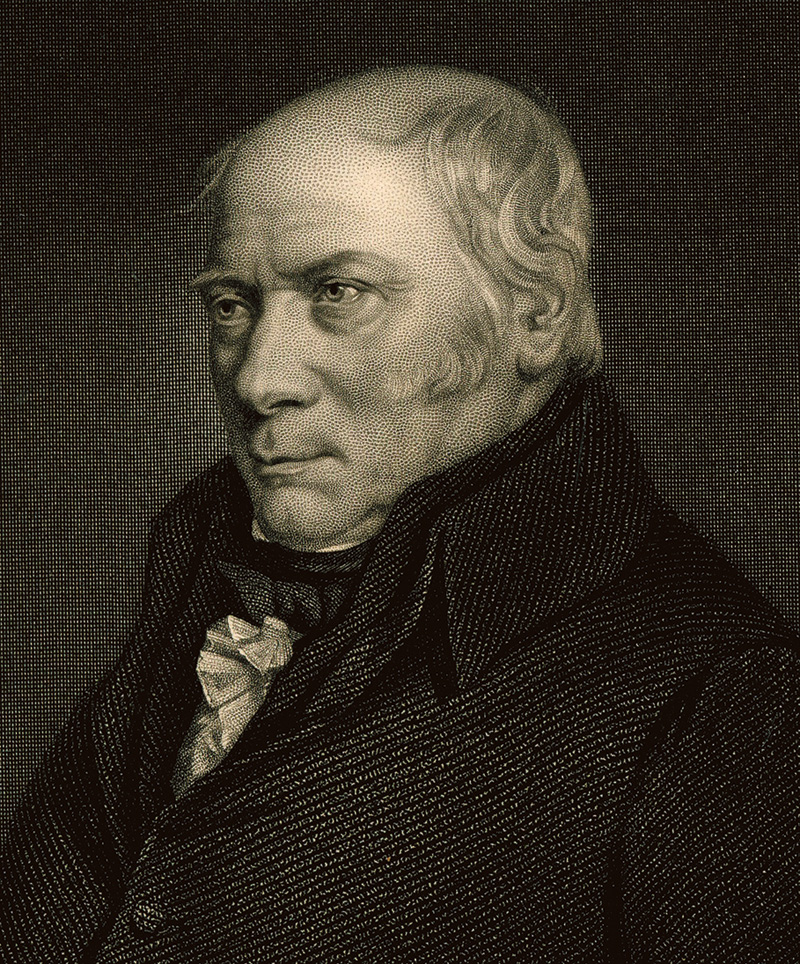 William Smith,'the father of geology' and one of England's great unsung heroes, developed his observations into a national geographical map that even today supports mineral prospecting and land improvement. Smith's observation that certain fossils were unique to particular strata and that those strata always occurred in the same sequence, enabled him, and now all geologists, to plot the location, succession and dip of sedimentary rocks. A new book, Strata, showcases Smith's revolutionary work. Here is an excerpt from the Apprentice chapter, written by Peter Wigley, revealing Smith's thoughts on the order of the strata and showing his maps of Bath
NATURAL ORDER OF THE STRATA
In 1799 Smith, now a journeyman, was having to earn a rather mundane living advising on slippage, subsidence and later on land drainage, but he also had time for more contemplative matters. Since his arrival in Somerset he had been developing the concept of an order of the strata, initially in relation to the coals and coal measures in the Mearns Colliery and later on observing the sequence of strata he encountered along the line of the Somersetshire Coal Canal. Phillips noted that Smith had developed a general law that the 'same strata were found always in the same order of superposition and contained the same peculiar fossils' (Phillips, 1844, p. 28). The Rev. Benjamin Richardson (1758–1832), a collector of fossils and a friend of Smith, was apparently 'astonished and incredulous' at this assertion, and together with another friend, the Rev. Joseph Townsend (1739–1816), they determined to make field examinations to test it. Needless to say, their investigations confirmed Smith's hypothesis. Later in 1799, after the three dined together, it was proposed that Smith should dictate a table of the strata according to their order of succession, starting with the Chalk, and number them in a continuous sequence down to the coal. Townsend penned the list and Richardson provided the names of the fossils. Thus, the first Table of Strata was completed; each member of the triumvirate took a copy and it seems that others were widely distributed. Over subsequent years Smith refined the table.
Smith had coloured the map geologically, showing the Oolitic limestone, Red Ground and Lias
It does not seem to have taken long for word of Smith's discoveries to get around. Richard Warner in his The History of Bath (1801, p. 394) gives a general view of the strata of Bath and refers his readers to 'a more scientific and particular account of them … written expressly on the subject by the very ingenious Mr. Smith of Midford, near Bath, which, we understand, will shortly be given to the world'. He then goes on to describe a number of strata from the Forest Marble, Oolite, Fuller's Earth, another Oolite, Lyas (Lias) and Coal. Later, in 1811, in his A New Guide through Bath he has a section entitled 'Fossilogical Phoenomena' (p. 174), noting that 'this little memoir was drawn up not so much for the information of the scientific, as for the gratification of the curious and the amusement of the idle'. Notwithstanding, he then described in some detail an almost complete succession of strata down to the coal, which he undoubtedly plagiarised from the original table the three men drew up. To his credit, Warner was a good friend of Smith and indeed later tried to secure a job for him in Russia, so perhaps Smith was not too distressed by this lack of acknowledgment.
Smith might have been comfortable with the unacknowledged distribution of his ideas but his other steadfast friend, Benjamin Richardson, was not. In May 1801 he wrote Smith a somewhat enigmatic letter with a veiled warning that perhaps Townsend might be considering publishing Smith's work for his own benefit. Richardson urged Smith speedily to commit his ideas to print, advising him that he needed to do much more work on the Chalk before doing so.
This fired Smith into action and on 1 June 1801 he published his Prospectus for a work entitled: Accurate Delineations and Descriptions of the Natural Order of the Various Strata that are Found in Different Parts of England and Wales: with Practical Observations Thereon. It set out a plan for a spectacularly ambitious project, including a sequential description of all the strata, together with a coloured map showing them, as well as a section. Smith extolled the virtues of the work at great length, with its potential benefits to agriculture, mining and a whole list of other trades and professions. While he recognised that 'the complete history of all the minutiae of Strata would be an endless labour', he said that if the prospectus were well received and supported, he intended to continue the task and would complete the book by November 1802.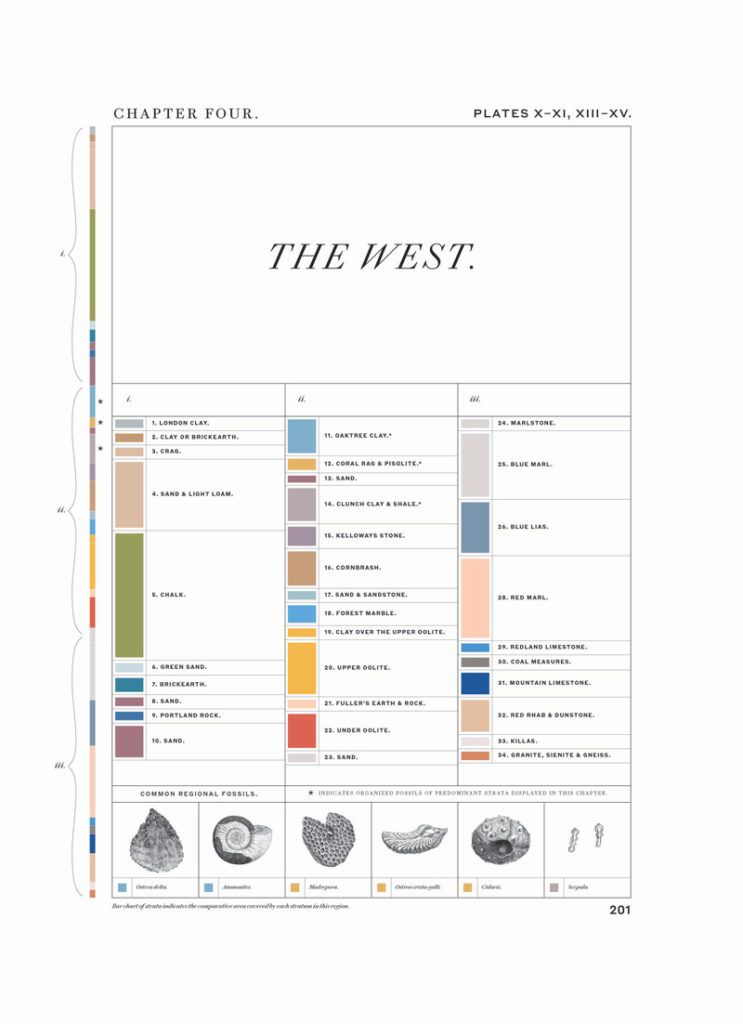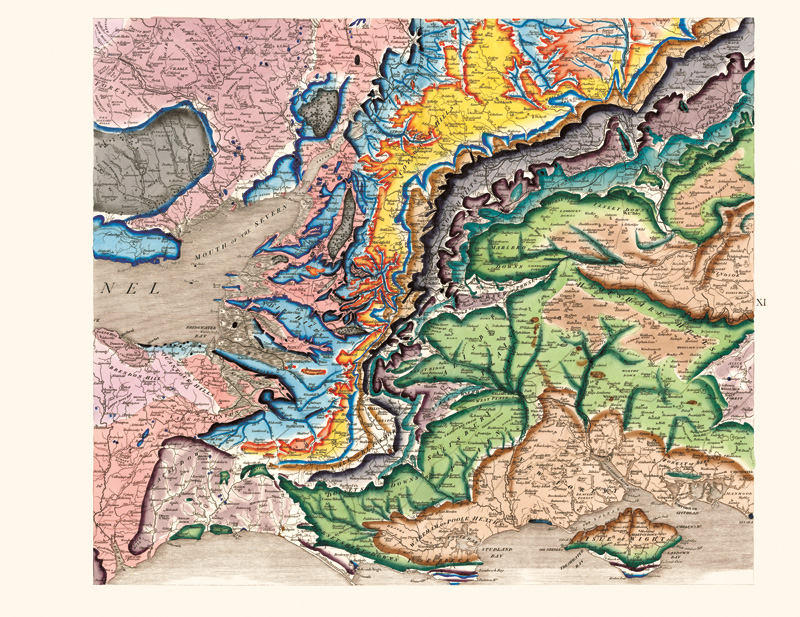 Unfortunately, his magnum opus was not to be published as a complete work, for his publisher, John Debrett (1753–1822), went bankrupt. It was clear, however, that Smith already had a grand vision of how the strata should be depicted on geological maps, as cross sections and in a descriptive table of strata. His idea may have been clear, but the resources needed to complete such a task would have overwhelmed even the stout-hearted. In the prospectus, Smith quotes from Alexander Pope's An Essay on Man, a poem describing the natural order that God has decreed for man: 'All Nature is but Art, unknown to thee', which ends 'One truth is clear, Whatever is, is right.'
MAPPING IN CIRCLES
Smith's first geological map still exists in the library of the Geological Society of London. It was among a number of items donated by him when the Society's first Wollaston Medal was awarded to him in 1831. The original map is almost illegible because of fading and discoloured varnish, but over the years a number of facsimiles have been made. First impressions are that it seems a little odd: the base map is circular with Bath in the centre together with the surrounding countryside in five radiating 1-mile circles at a scale of 1½ inches to a mile. The base map was published by Taylor & Meyler in 1799, and numerous copies, including pirated ones, were sold to visitors to the city. Smith had coloured the map geologically, showing the Oolitic limestone, Red Ground and Lias. Although simple, the depiction of the geology is fairly accurate, and for the first time Smith's use of graded tints for outcrops is evident.
A second circular map, probably from around 1800 and like the first poorly legible and also torn, on closer inspection reveals a lot more geological detail. Smith has now clearly differentiated the Upper Oolite limestone from the Inferior Oolite limestone. Furthermore, when this map is compared with the fossil localities from Richard Warner's 1811 'Fossilogical Map of the Country Five Miles around Bath', a more detailed pattern of the geology emerges. There can be little doubt that the fossil locations shown on Warner's map were from Smith. This, combined with the detail on the circular Bath map, provides an accurate reflection of Smith's understanding of the geology at that time.
LOST SOMERSETSHIRE
Somerset was the county which, geologically, Smith knew best. As a continuation of his circular Bath maps, it was recorded (Phillips, 1844 p. 27) that he geologically coloured at least part of the county on a 1 inch to 1 mile map, Day and Masters' County Survey of 1782. Smith also mentioned the map in a letter (dated 26 June 1805) to Richard Crawshay (1739–1810), a South Wales ironmaster. He relates how, at the Woburn Sheep Shearing, he met the Duke of Clarence (later King William IV) and 'happened to have my large map of Somersetshire with me, which I have lately completed, as a specimen of what may be done upon all the county maps in the kingdom.' There is no record of what the future 'Sailor King' thought of Smith's map. Smith went on to make many excellent county maps, including for Gloucestershire and Wiltshire, both adjacent to Somerset, but sadly the original Somerset map itself has never been found. It is possible that it could have perished in a fire at his engraver's works in 1820, or that it was seized by bailiffs when Smith was in debt.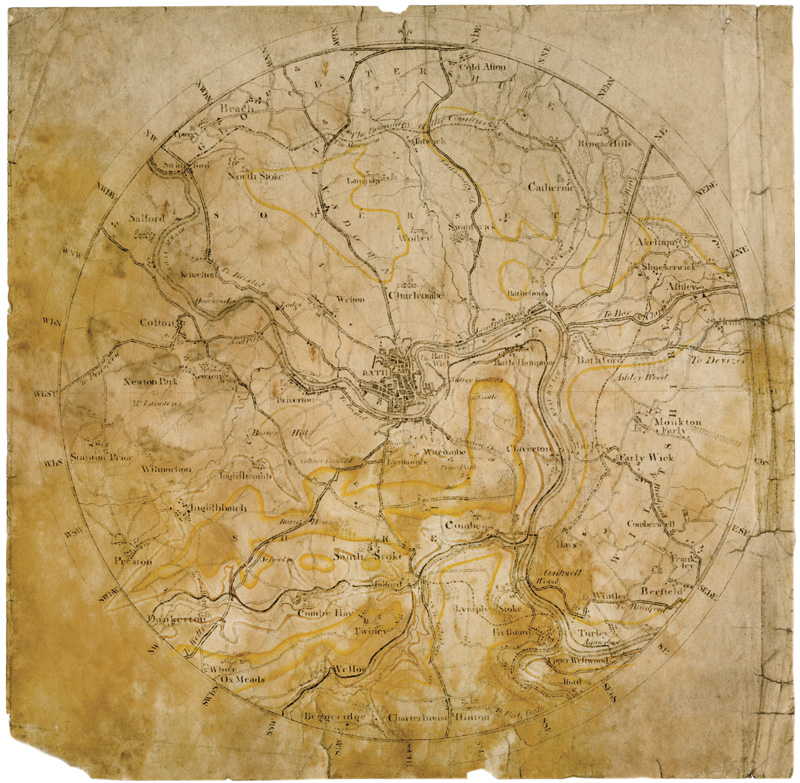 This could have been the end of the story for the map, but for what appears to have been a slipshod, but fortuitous, mistake on the part of John Cary's sons, George and John. Shortly after the fire, John Cary retired and his sons took over his business. It was during their tenure that they continued to publish A New Map of Somersetshire divided into hundreds, exhibiting its roads, Rivers, Parks &c, a series dating back to the first decade of the nineteenth century. For a number of reissued copies dated to between 1821 and 1831 the brothers appear to have inadvertently used an existing copper plate on which the line work for another map was engraved. The geological lines seem to suggest that this may be a preliminary version, albeit very incomplete, of Smith's long-lost map of the county.
An 1829 version of one of these maps from the Hugh Torrens Collection was digitally scanned at a high resolution. Then, with the aid of modern image processing, all hand-colouring of the hundreds, roads and other boundaries was removed and the resulting map loaded into a GIS (Geographic Information System). The map was spatially adjusted to fit both with Smith's 1815 map and also modern geological data sources. The original line work was digitised and geologically interpreted in order to re-create, as far as possible, Smith's original map. It was most important to honour all of Smith's geological lines, but at the same time not to over-interpret them based on modern knowledge. In some parts of the map it is easy to see what Smith wanted, especially when overlaid on the 1815 map; in other areas it is evident that Smith wished to add more detailed geology. When the interpretation was finalised the image was processed to give the outcrops their distinct Smithian appearance using his colours with graded tinting, and legend tablets were added to the finished map.
Extracted from STRATA: William Smith's Geological Maps published by Thames & Hudson at £50
For more information about William Smith, these two publications by BRLSI are useful references:
Innovation and Discovery – Bath and the rise of science, £12
This book, with William Smith's famous map on the cover and a foreword by Sir Patrick Moore, is described in the Notes and Records of The Royal Society as "Richly illustrated and referenced, with a full gazetteer of Bath's scientists and their local residences, landmarks and connections, it offers an intersection of local and scientific histories …" and brings to light the contribution of Bath "… to the formations of science itself."
Memoirs of William Smith
First published in 1844, this biography outlines William Smith's working life around Bath, and later around Britain.