Illustrations by Brian Duggan
Ah, November! Won't be long now before our somewhat soggy golden autumn leads us into winter. For me, passing a couple of minutes of personal reflection in front of the shaving mirror is a reminder that this particular man's life calendar has reached what so far has been more mellow fruitfulness than acid reflux. It's time to admit it, I have turned 70. I have rarely stopped to look back on life. It's too much like leaning over the stern railings of an ocean-going liner – watching the long trail of propeller-churned wake stretching behind you. A marine vapour trail that melts into the sea soon after you've disappeared over the horizon.
Cheer up old chap. Think of the benefits that come with grey hairs and liver spots. There's a slight reduction in ticket prices to enjoy at the cinema and free travel on the buses – after 9am. These little pluses do help make up for some of the negative aspects of all these accumulated years.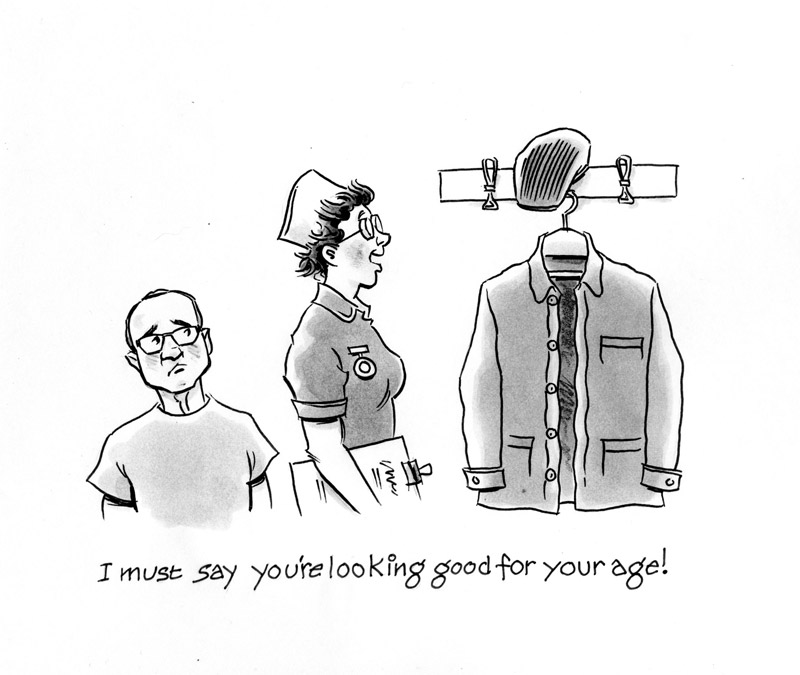 This decade-turning birthday brought an invitation from my doctor's surgery in Great Pulteney Street to take advantage of a free health check. It was during this 30-minute procedure that a very pleasant and efficient young nurse gave me more of a mental and physical lift than a week's worth of multi-vitamins: "You don't look or act your age," she said, while mopping blood off my freshly pricked finger.
This little bit of flattery set me up on a personal high (and indeed the cholesterol test also registered 'low' as a risk factor). Having left the clinic with a grin on my face and a 'good for a few more years' health MOT certificate in my pocket. I got to thinking… what was it she meant exactly about acting my age? How should a 70-year-old behave?
We live in an age when the internet seems to have the answer to everything. If in doubt, ask Google.
One online newspaper story claimed that 70 is the new 50. Another listed the positives and negatives of being three score and ten. The bad news was sagging skin and everything else, joint troubles, failing eyesight and hearing. I skipped to the positives where keeping active, with a sensible diet and positive state of mind, can ward off the inevitable for some time.
I don't like to use the word 'retired', because I still work as a journalist – I just don't get paid for it. I prefer to re-invent myself and show that having a 'reason for being' – even without payment – was a good way of carrying life with meaning forward. You don't stop being a journalist. Chop me up and it's written right through me like a stick of Weston-super-Mare rock.
Many of you may have seen me out on my bike looking for stories for my own online presence – bathnewseum.com is a sort of daily newspaper of history and heritage. After all, this city is a living museum where everything from Roman remains to Georgian architecture and social history keeps the wheels of commerce turning. My bike is a deliberate form of transport for getting around the historic World Heritage city centre. I am at street level and so I can get down and personal with people.
I am a big fan of electric bikes to help you out over some of Bath's steeper residential areas. I am on my third such machine. There was in fact a slight hiccup when I ordered a German-built device bespoke from a catalogue and then found – when it came – l couldn't lift the darn thing over the kerb because of its weight.
All this activity keeps brain and body on the move. Another Google gem led me to a report that said, based on recent research, that you are now actually middle-aged until 74.
When I left my NHS MOT, I said, "See you in ten years."
"No," she said, "when you are 74 – we don't do them after that!"
Richard Wyatt runs the Bath Newseum: bathnewseum.com