Melissa Blease reviews SIX, on at Theatre Royal Bath until 23 February
I'd love to have been a fly on the wall when Toby Marlow put the idea for SIX to his collaborator Lucy Moss. "Okay, so here's the pitch, Lucy," says Toby, during an exam study break at Cambridge University back in 2017. "Imagine a live show that mashes Horrible Histories with The X-Factor, with costumes borrowed from The Pussycat Dolls, choreographed by Paul (Spice Girls) Roberts." "You okay, hun?" says Lucy, wondering if Toby's overdone the Pro Plus again. "You haven't heard the best bit yet," says Toby. "Our main characters, right? The six wives of Henry VIII, battling it out in a competition to see which one of them got the worst deal, and putting them rather than their big fat bullying git of a husband in the spotlight."
Did that rather surreal conversation end there, with Lucy tucking Toby into bed telling him that he'll feel better when his exams are over? No. Six premiered at the Edinburgh Fringe a few short months later, where the production attracted the attention of producers Kenny Wax and Global Musicals. In 2018, the show opened quietly at the Arts Theatre in London. Today: Broadway, Australia, Chicago, the UK, Ireland… Six has turned into a global cult phenomenon, kicking the popularity of contemporary musical theatre cohorts such as Hamilton, & Juliet and Everybody's Talking About Jamie to the kerb. 
Even before the curtain rises on our six Queens, frenzied anticipation levels are at an all-time high in the Theatre Royal, which is literally packed to the rafters; even standing space is sold out. In a similar fashion to the consorts I've yet to encounter, many audience members are dressed to impress in a thoroughly zeroes way: sparkle, flesh, heels, fishnet, lipstick, underwear as outwear, battle dress for the nightclub dance floor – even though my parka is hidden under my seat, I feel fusty, and demure, and prissy. But three minutes into the show, and I'm dancing around on my sensible shoe-clad feet, not because I'm trying to get down with the kids but because not paying court to the spectacle that's unfolding onstage is downright impossible.
"Divorced, beheaded, died; divorced, beheaded, survived" – you know how it goes. But do you, really? While you couldn't call Six a scholarly account of the lives of the Tudor brides, it most definitely lifts them out of mere "wives" category and presents them as a personality-laden version of six very different women who had one very vile man in common.
Okay, so Anne of Cleves apparently got the best deal when her marriage to Fatty was annulled, and went on to be queen of her very own castle. But Catherine Howard was groomed for abuse from the age of 13; Anne Boleyn was beheaded because she couldn't produce a male heir (aka Henry was bored with her); Jane Seymour died when her son was just 12 days old. Pretty much all of the wives suffered multiple miscarriages – and none of them had any say in the direction their lives were to take. Nothing to sing about here, eh? Ah, wait…
The Queens' backstories are largely channeled via a heady mix of rock anthems, power ballads and disco pastiche, the ensemble cast's impeccable range and phrasing supported by an impeccably tight band of three (women, of course.) The cast recording is a blockbuster hit on streaming services, and it's easy to see why; there's something for every musical taste here.
Most of the big laughs come when the Queens bicker about which of them got the worst treatment (what would you expect from a get-together involving six ex-wives?) while subtle whipcracker wit a-plenty sets off fireworks that light up every twist and turn along the fast-paced, 75-minute ride. But underpinning the whole, glorious, non-stop, high energy pop extravaganza, there's sound, well-conveyed message that, when I was the same age as most of the women around me, I was proud to relate to as 'feminist': girls! You want equality, empowerment, career, choice, voice? Go grab! And don't let the patriarchy get in the way.
Henry: you're history, mate.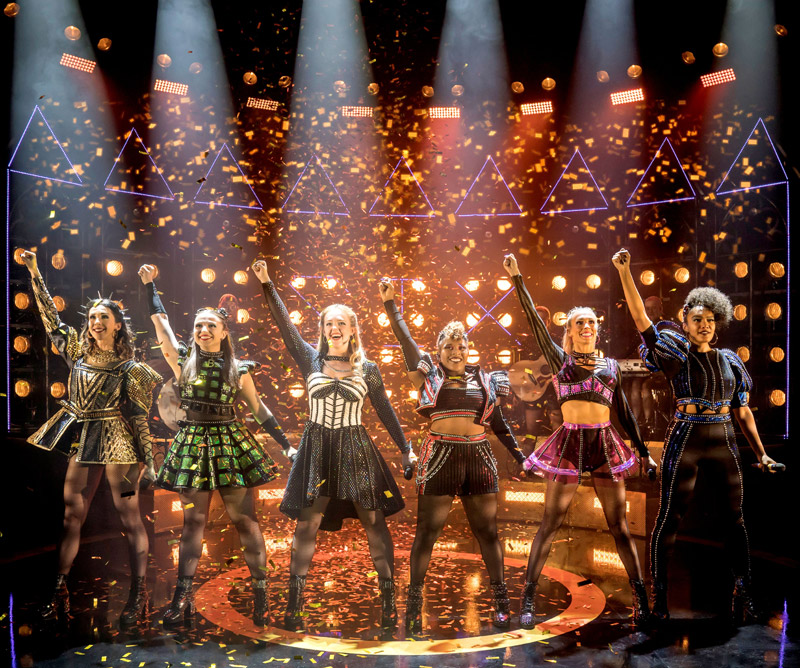 Main image: Lauren Byrne as Jane Seymour, Jodie Steele as Katherine Howard, Lauren Drew as Catherine of Aragon, Maddison Bulleyment as Anne Boleyn, Shekinah McFarlane as Anne of Cleeves, Athena Collins as Cathering Parr in SIX