Emma Clegg goes wild for the great British Sunday lunch, vegetarian style, at No.15 Great Pulteney as her dining partner shifts to flexitarian, all in the loom of shelves of dispensary bottles
Wild British food is what we've been promised from No.15 Great Pulteney's new head chef Matt Gillard. Prepare not to be disappointed as the hotel's new restaurant menu at The Dispensary proffers dishes such as roasted cauliflower, pine nut purée, 'Jack-by-the-hedge' – also known as hedgerow garlic – brassica pesto; and Wiltshire venison with fermented beetroot, local mushrooms and winter berry jus.
After two years as sous chef at Surrey's Wentworth Golf and Country Club, Bristol-born Matt's appointment at No.15 Great Pulteney has seen his return to the south west and the region that shaped his career. His career roll call here saw him as head chef at Guyers House Hotel (where he gained 3 AA Rosettes), senior sous chef at Bristol's Berwick Lodge under former Roux Scholarship winner Paul O'Neill, and part of Giles Stonehouse's brigade at the Macdonald Bath Spa.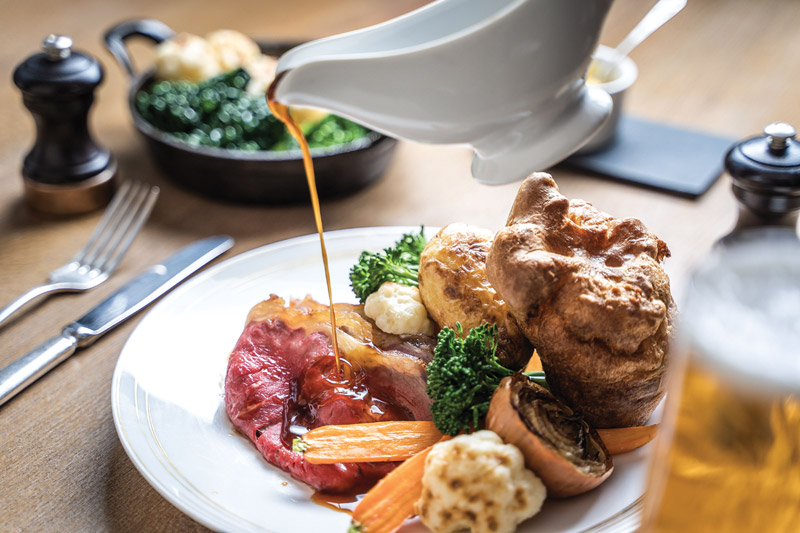 We arrived for Sunday lunch (hereafter SL), deliberating on just how 'wild' this British second-day-of-weekend ceremony could be. First of all sitting in The Dispensary – the hotel's basement restaurant – does make the blood rush through your veins. Maybe it's just my fertile imagination, but the traditional wooden antique chemist's shop units packed with dispensary bottles that towered above us with multiple wooden drawers below – once stashed with herbs and medicines – do inject notions of potions, notes of magical concoctions and fairy tale rhymes in your head. What's more, the angular glass-spike chandeliers above add a mesmerising visual chant of free-floating seaweed tendrils that keeps things unexpected.
Atmosphere aside – and No.15 Great Pulteney never disappoints on this score with its glamorous entrance areas dripping with artistic chandaliers and eclectic collections of bags and fans and edgy wall art – the menu, while sober in its presentation, is bursting with goodies from hedgerow and field as well as parading inspiration from more exotic climes.
Starters include confit duck and foie gras with pineapple chilli salsa; Wyfe of Bath cheese soufflé; salt and pepper squid with sriracha mayonnaise; and roasted butternut squash, walnut and beetroot salad. With beetroot currently in my top pick of quick-grab fridge snack ingredients, the salad was mine, and its fresh rocket leaves and the toasted sweet walnuts and chunks of butternut made the beetroot that much wilder. Rob decided to soak himself (or rather his fork) in a Wyfe of Bath cheese soufflé, described by its manufacturers as a "semi-hard cheese redolent of buttercups and summer meadows". Say no more.
There's only so much you can do with SL mains, surely? Rob – vegetarian all year to date due to a plant-based diet obsession that struck towards the end of December – was fairly swiftly swayed to the carnivorous side with roast chicken and truffle bread sauce, with the standard (to The Dispensary) SL accompaniments of carrot purée, Yorkshire pudding (YP), seasonal greens, roast potatoes and cauliflower cheese. The YP had clear plans to take over, hogging the limelight with a dark Pavlova-style airy formation leaning across the plate, and was – in combination with the chicken and its sweet medley of vegetables – declared a humzinger by the plant-based part-timer.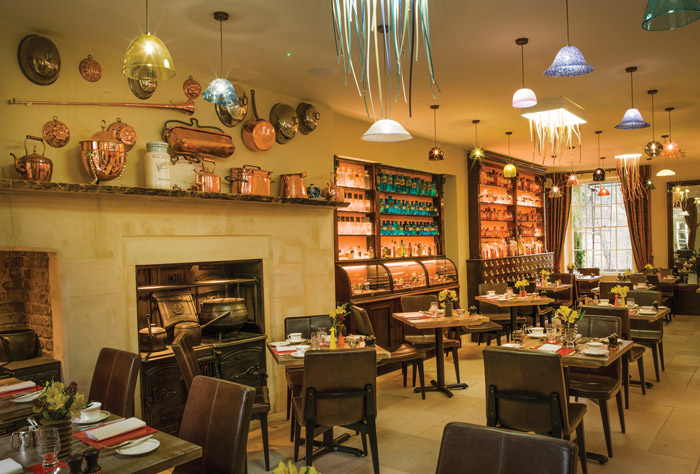 I kept the faith with vegetarian nut roast wellington (VNRW), which turned out to be so much more than the dense, loaf-tin nut loaf concoctions of the 1970s, then the default option for meat-free cooking. This VNRW was low and elegant, smoothly oozing with cheese, and with a subtle nutty crunch. Other poultry and meat SL offerings (with aforementioned accompaniments) were rare roast beef with horseradish cream, Hampshire pork belly with apple sauce – as well as cod, lemon and chive crushed new potatoes with white wine cream sauce.
Desserts saw us embracing apple crumble and traditional custard and Bath soft cheese with homemade chutney and crackers, neither of them behaviourally wild options, but the tangy fruit chutney created its own unmissable edible show when paired with the cheese and the 'crackers', which are after all just another form of wild.
If you are flexitarian, as Rob appears to now be, don't agonise over your exact dietary choices at No.15 Great Pulteney on a Sunday – just go wild for the lunch.
Sunday lunch at No.15 Great Pulteney is served in The Dispensary between 12.30 and 3.30pm. Two courses £23.50; three courses £28.50
15 Great Pulteney Street, Bathwick, Bath BA2 4BR; no15greatpulteney.co.uk