Emma Clegg visits The Elder – ensconced in a sage green interior, she finds a menu taking fresh ingredients to new heights
The wine list was lengthy. There were 10 pages – sparkling, red, white, rosé, sweet and fortified, and pudding wines. Surrounding us at our table as we perused the options, in one of a series of friendly interlinked rooms, were chalky sage green walls, lights with a golden glow, a dark wooden floor and furnishings, gentlemen's hunting scenes, mounted deer heads with antlers, framed images of the head of a hoary boar, distinguished hunting horses. This makes stylistic reference to a gentleman's club, but it's so not just for old boys – it's intimate, cosy, cool, confidently relaxed and, perhaps most of all, it offers a rich escape from sharp-edged reality, always a boon nowadays.
We were at The Elder, the newly opened restaurant on South Parade, sitting within the Hotel Indigo Bath. The Georgian Bath Stone terrace where the hotel and the restaurant are located has been the subject of a multi-million pound restoration, with restaurateur Mike Robinson, owner of The Woodsman in Stratford on Avon and part owner of Michelin-starred The Harwood Arms gastro pub in Fulham, the brains behind The Elder.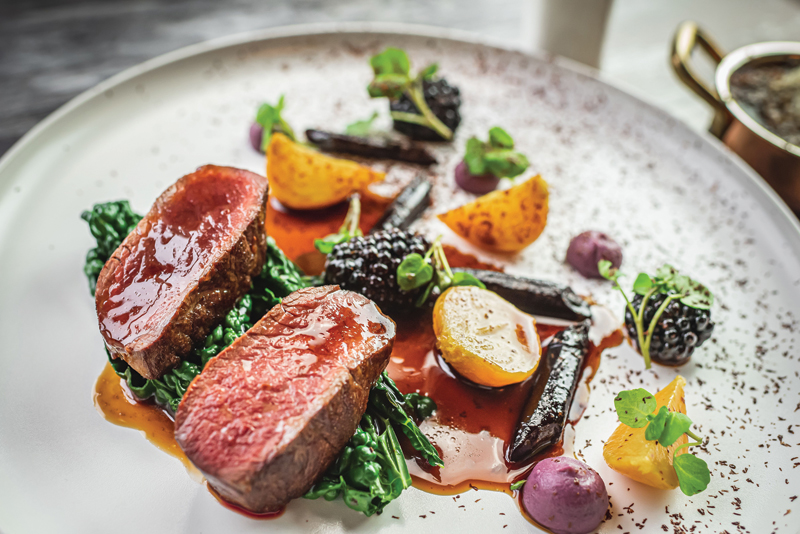 The restaurant menu, devised and curated by Robinson and group head chef Gavin Edney, is characterised by 'authentic, timeless British cooking'. This is an understatement. The menu focuses on game and local fish and owner Mike – a leading authority on wild food and game – manages the land and the game on the local Parkhurst Estate. Provenance is therefore assured, with carcasses delivered to the restaurant's downstairs butchery.
We were presented with a pre-appetiser of freshly baked granary bread, butter made from Guernsey cow milk from the Chew Valley Estate and a beef and venison broth served in a glass with a spring of rosemary, served on a wooden platter. Traditionally served with vodka before a hunting trip, the grainy meaty flavours of the broth made their mark as a refreshing mini-punch to the appetite.
Starters brought a choice of dishes such as Baked Fowey River Mussels with a Falmouth Bay seaweed loaf; artichoke soup with Cornish duck ham and agnolotti; and Berkshire hare faggot with slow-cooked mushrooms and heritage carrot. We opted for the warm Dorset crab tart with lemon mayonnaise and chimichurri, which arrived as a neat, gleaming circular mass of parsley green hovering on pastry and mayonnaise, and coffee baked carrots with slow-cooked mushrooms and wild carrot seed Dukkah from the vegan menu. The latter was not a combination I'd encountered before, but it really, really was magnificent.
Our waiter Josh recommended the Givry Heritage, a Cote d'Or Burgundy – in sommelier speak, 'a restrained use of oak to create a fresh red with hints of blackcurrant, raspberry and cherry'; to us it was divine.
This wine is recommended for white meat, but we went gastro rogue with fish and red meat, the Bathurst Estate fallow deer with red cabbage purée, heritage beetroot, dirty mash and sauce grand veneur; and grilled fillet of red mullet – landed by day boats in Newlyn – with autumn squash, cavatelli and Somerset cider broth. Going rogue has no effect here, mind you, because both were thrilling, flavoursome journeys, alongside the wine. Also on the meat menu was Wiltshire red-legged partridge with stuffed cabbage, black pudding, sweetcorn tart and woodland mushroom; and 40 days aged sirloin and ale braised shin of heritage breed beef (Longhorn and Hereford beef, grass-fed in the West Country) with beef fat hash brown, brassicas and Chianti sauce.
Don't avoid coming if you are vegetarian or vegan because there are separate menus for each, including sweetcorn tart with autumnal squash and mushrooms; and pumpkin gnocchi with roasted autumnal vegetables, garden sage and Fosse Way Fleece (sheep's cheese).
Our dining journey concluded with wild damson soufflé with shortbread and bay leaf ice cream, and lime meringue pie with coconut and rum sorbet. We thought it was all over, as we saw our polished-clean dessert vessels disappear and then, courtesy of Josh, two mini Bath buns with caraway seeds arrived – so the best way to wind down the taste buds after a gastro treat.
Great food and wine in a chic cosy joint – get out your leather bound diary.
Two courses: £37.50; three courses £45; Givry Heritage Burgundy, £58 a bottle. The Elder is open for lunch from Wednesday – Saturday 12.15pm – 2.30pm and for dinner from Wednesday – Sunday 6pm – 10pm.
2­–8 South Parade, Bath BA2 4AB; Tel: 01225 530616; theelder.co.uk