You have found the perfect dress and now it's time to find the perfect hairstyle. Alex Morris, master stylist at Frontlinestyle Hair and Beauty Salon for over ten years gives his tips for the big day
Hair and make-up
Frontlinestyle offers the very best in bespoke wedding hair and make-up, either in the salon or at a location of your choice. A complimentary consultation allows the stylist to give you ideas and advise you on hair and make-up for your wedding day.
At your practice appointment you will meet your stylist and/or therapist who will have a thorough discussion with you and try out some ideas. All you need to do is bring along your headdress or tiara, details of your wedding colour scheme and photos of any ideas you have, and we will do the rest. Simply sit back, relax and allow us to create a perfect picture for you of your special day.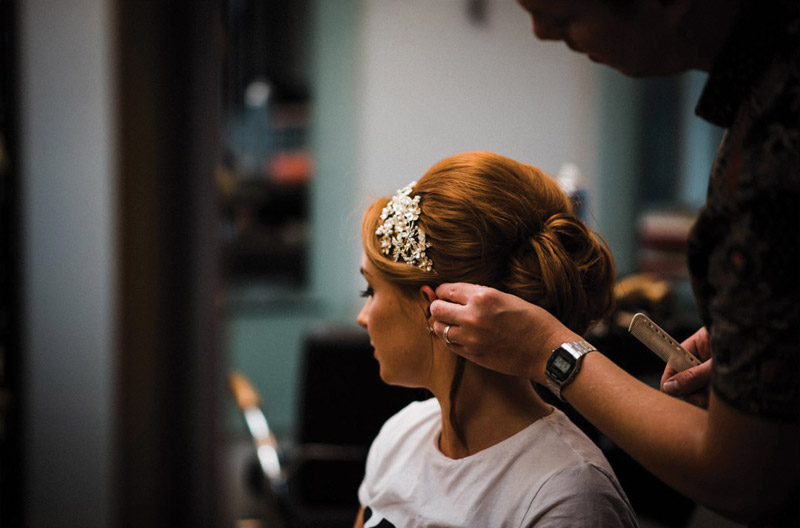 Make-up treatments
Clarins make-up to go
This treatment allows you to try different colours and application techniques under expert guidance and will help you achieve a fresh and flattering new look. Whether you want a whole new make-up style or ideas for a special occasion, prepare to be inspired. £40 for 40 minutes
Classic eyelash extensions
Classic lashes add length and curl to your natural lashes. These high-quality lashes will open the eye area and accentuate your eyes without the need for mascara or tinting. Patch test required 48 hours prior to your appointment. £65
CACI synergy skin rejuvenation
For a brighter and smoother complexion in less than an hour choose the CACI Skin Rejuvenation Facial. This treatment uses controlled orbital microdermabrasion to exfoliate and deeply cleanse the skin, leaving a brighter, smoother complexion. The facial is perfect for dull or dehydrated skin, sun damaged skin, pigmentation and acne scarring. It soothes and calms any skin redness or irritation and is comfortable and painless. It's perfect for brides to be or to revitalise the skin and minimise fine lines ahead of a special occasion. It does not address the issue of lifting the face.
The facial starts with cleansing and toning after which the therapist will exfoliate the face using controlled orbital, crystal-free microdermabrasion and LED light therapy to reveal a smoother, brighter complexion. CACI's unique wrinkle comb will then target fine lines and wrinkles around the eyes, forehead and face, providing a non-invasive alternative to collagen injections with LED light therapy to heal and trigger tissue repair. The facial ends with the CACI Hydro Mask, which is infused with collagen, hyaluronic acid and rose water to deeply nourish and deliver a surge of moisture to the skin. This will soothe and calm any skin redness and irritation and will then intensively hydrate. Lymphatic drainage and massage will invigorate and radiate the overall look of the face and nourish the skin. £60 for 45 minutes
Clarins sun glow
This is the ultimate self-tanning treatment for face and body with
skin-smoothing exfoliation, a deeply pampering application of an award-winning self tanner and an all-over gorgeous, long-lasting, golden colour that looks as natural in winter as in summer. You can even get dressed immediately. £46 for 60 minutes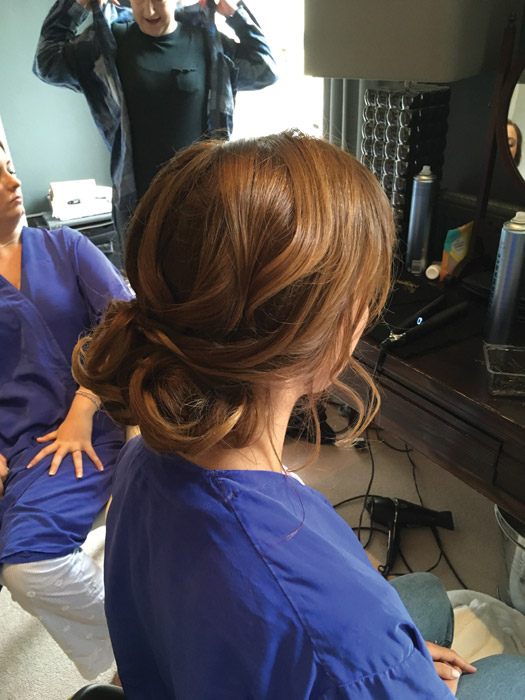 Hair
Frontlinestyle's highly skilled team of professionals can cater to your every need. Whether it be a classic blow-dry, a smart gent's cut, a hair-up do or adding length and volume with Great Lengths hair extensions, you are in safe hands. Follow our Frontlinestyle Pinterest account for all your bridal hair and make-up ideas.
Tips for the big day
Don't wash your hair on the day of your wedding – wash it a day or two before so that it doesn't become too soft and flyaway from the intricate stylings.
Trial the style a couple of months before the wedding day – then you can try varying styles without the stress of it being to close to the wedding.
Take pictures during the hairstyle trial to look back at, bring tiaras, veils and any other accessories to help bring the final look to life.
Wedding package prices are bespoke to you and your requirements, so contact Frontline Style's in-house wedding specialist to obtain a quote.
frontlinestyle.co.uk