Millie Bruce-Watt finds the perfect place to keep the world at bay at The Bird Bath's new restaurant Plate…
'Twas the night before lockdown and all around the city we were met with familiar sights from a not-too-distant past. Shop lights were dimmed, the streets were bare and abandoned masks blew in the wind as a reminder that dining out would soon be coming to an end. But here, on the Pulteney Road, a sign of life. Even on this quiet night, Plate was thrumming with a certain optimism…
Tucked away inside The Bird Bath – an impressive boutique hotel – our safe haven lay in wait. True to it's name, Plate is a crockery-obsessed restaurant, bursting with quirky hand-drawn designs adorning the walls as well as the tables. And best of all, the colourful, playful interior perfectly reflects a menu bursting with uncompromising flavour.
Once settled, our waiter recommended that we tease the taste buds with tapas. Head chef Leon Smith is the exciting talent in the kitchen. Having established his reputation at some of the UK's finest establishments, including Tom Aikens in Chelsea, Wild Honey, Berwick Lodge, The Pony and Trap – one of the few Michelin-starred pubs – and The Royal Oak at Paley Street, where he achieved three AA Rosettes, we knew we were in for a rare treat.
With three plates of tapas being the optimum amount for two people to share – and excited by the revelation that we were about to dive into a dish that Leon once prepared for Her Majesty the Queen – we tucked into a selection of West Country delights. A chicken liver parfait with pear chutney and brioche – which I can safely say has the seal of appoval from both The Bath Magazine and the Queen herself – a spiced parsnip soup with parsnip crisps and warm crunchy bread and punchy devilled Brixham whitebait with lemon mayonnaise – all of which more than showed off Leon's magical culinary prowess.
A cleverly considered wine list complemented the menu perfectly and we enjoyed a glass of white wine as the mains arrived. In keeping with Plate's core values, which focus on celebrating our local talent, the wines are supplied by The Great Wine Co. Leon and his team have also hand-sourced the very best ingredients from local producers, meeting with each and visiting regularly as part of their determination to create a showcase of food heroes. Tender beef and lamb are sourced from the team at family-owned Beeswax Dyson, less than five miles from The Bird. Organic eggs are collected from Neston's New MacDonalds Farm and rainbow platefuls of vegetables are grown with care by fifth-generation farmers at Lovejoys. Leon and his team will be adding new items to the menu on a weekly basis to reflect true seasonality and to bring a new experience to diners every time they visit.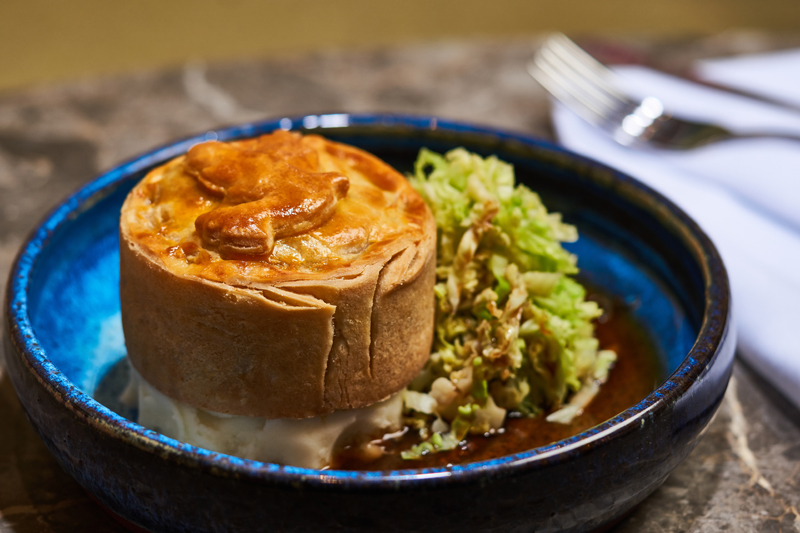 For mains, 'The Bird' pie is the restaurant's signature dish. With a choice of chicken or venison, I opted for venison, and it was truly magnificent – an elegant twist to a beloved British gem. The Cornish cod, with roasted cauliflower, sea vegetables and clams is also the kind of dish that you fork away and miss when it's gone. Packed with flavour, Leon and his team brought so much depth and care to the dish with such fresh ingredients.
The vegans and vegetarians among us should not be discouraged by the sizeable meaty menu. The squash gnocchi with toasted pumpkin seeds and truffle is an exquisitely imaginative take on the Italian classic.
Then there was dessert. Enticing us with indulgent sweet treats and big flavours, we could not resist. From the stickiest of toffee puddings to an indulgent blackberry cheesecake, we dug into the finest panna cotta around and the Valrhona chocolate mousse – of which we easily could have enjoyed seconds.
And just as we thought our journey at Plate had come to an end, our waiter brought a selection of whisky to our table, remembering a short conversation with my partner from the beginning of our meal. This gave a personal touch to the experience and one that shows the true values of Plate – it prides itself on celebrating our local talent, producers and food heroes but, most of all, Plate cherishes the people that live and dine here. Inside Plate, all is right with the world. n
A fixed price menu is available from Wednesday – Saturday for lunch and Tuesday – Friday for dinner from 6pm–7pm, with two or three courses for £20/£25. A two-course or three-course Sunday lunch is available from 12.30pm–4pm.
The Bird, Bath, 18–19 Pulteney Road, Bath BA2 4EZ; Tel: 01225 580438; thebirdbath.co.uk/starplatestar-new-restaurant