Pantomime – based on mingling and interaction with a crowd – doesn't thrive on social distancing, but it's not going away. Melissa Blease takes stock of its history, evolution and enduring appeal and gives an overview of our local venues' offerings over the years…
Regardless of your feelings on musical theatre, slapstick comedy, weary jokes, princesses who always get their prince and cross-dressing Prima Donnas, pantomime is an annual tradition that – even in these strange, troubled times – refuses to go away.
Typically a child's first experience of live entertainment, pantomime inspires hundreds of thousands of young people to consider a career in the creative industries. It's also the life blood of professional theatre, accounting for around 20% of box office revenue across the UK. And it's jolly good fun (oh yes it is, etc). But pantomime is not new, and the origins of this very British tradition aren't actually very British.
Pantomime has roots firmly planted in ancient Greece and Rome; indeed, the very word pantomime was adapted from the Latin word pantomimus: panto roughly translating as 'all' and 'mimos' referring to a dancer who undertakes several roles in one story. Performed everywhere from private households to huge outdoor theatres within the Roman empire, Roman pantomimes, their storylines largely based on Roman myths and legends occasionally embroidered with references to the notable figures of the day, were immensely popular between the first and sixth centuries AD.
Hundreds of years later, the 16th-century Italian Commedia dell'arte tradition involving troupes of actors who travelled around the country improvising stories with a moral message via the medium of an instantly recognisable cast of characters – the lovers, the patriarch, the soothsayer, the loyal servant – who we all know and love today eventually influenced 18th-century English theatre producer John Rich.
Rich's penchant for slapstick humour, lavish productions and larger-than-life (or even other-wordly) characters were heavily criticised by detractors who accused his work of causing cultural and moral decay… but the public couldn't get enough of them. But after his death in 1761, even the legendary theatrical practitioner David Garrick acknowledged that Rich's pantomime performances were unmatched in his time and his Harlequinades (typically comic chase scenes telling the story of the lovers Harlequin, Columbine, Columbine's grumpy dad Pantaloon and Pantaloon's servant Clown) dominated pantomime for decades, with the last London Harlequinade staged at the Lyceum Theatre in 1939.
By the Victorian era, pantomime had become an established part of UK theatrical tradition. The 1843 Theatres Act lifted restricted use of spoken word in performances allowing witty puns and audience participation to be added to the already heady mix of extravagant costumes, derring-do and spectacular transformations while outrageous storylines involved satirical social satire, subtle product placement on behalf of advertisers – and a Principal 'Boy' (always played by a woman) who offered the Victorian gentleman the rare opportunity to look at a well-turned ankle.
The genre wasn't, however, a strictly seasonal treat until the late 19th century when it became customary for pantomimes to open on Boxing Day – and an intrinsic part of Christmas tradition was established. Around the same time, the popularity of music hall performances was starting to give way to the more modern 'variety theatre': an eclectic mix of live music, comics, mimics, acrobats, jugglers, and comedy sketches. Pantomime adapted accordingly, with scripts adapted from classic fairy tales and variety show stars in the leading roles.
Dazzling costumes, hi-tec special effects, Hollywood superstars: today, the biggest pantomimes can cost hundreds of thousands of pounds to produce, and headline stars can demand £100,000+ to appear in a five-week season. But whether staged by the local am dram group in a tiny village hall or engulfing a vast city centre arena, woe betide the pantomime production that doesn't pay heed to a handful of ancient superstitions.
Theatre folklore dictates that the last lines of the pantomime finale should be delivered in rhyming couplets never to be uttered until the opening night, even in rehearsal; if the rule is broken, disaster will strike. Meanwhile, the pantomime fairy must always enter stage right and the baddie stage left, because right signifies Heaven, and left represents Hell. As for that dear old beloved Pantomime Dame: these leading men/ women were familiar figures in ancient midwinter festivals such as Twelfth Night, Samhain (Halloween) and Saturnalia, where the natural order of things is reversed to create general mayhem before order and rightness are restored – and if there's one thing we all need right now, it's a pantomime fairy to wave her magic wand and restore order and rightness for all.
Despite the adversities and hardship that 2020 has thrust upon us, pantomimes will, can and do go on, sprinkling a uniquely seasonal magic across the land.
Theatre Royal Bath
Home to an opulent, richly decorated 900-seat auditorium complete with a glittering chandelier, the Theatre Royal Bath offers a suitably magical pantomime backdrop – and as one of the oldest working theatres in Britain, it's created many thousands of festive season memories for many thousands of families down the years.
In 1938, the TRB's lease was taken over by Reg Maddox, whose family were involved with the theatre for the next 40 years. Between 1945 and the early 1970s, Maddox's lavish Christmas productions consistently put the popular Scottish comic Jimmy Mac in the spotlight, earning Mac the illustrious theatrical accolade of having his name placed above the title of the show on the posters outside the theatre. Where Mac led, a diverse roll call of legendary theatre world stars followed including Frankie Howerd, Arthur English, Anita Harris, John Pertwee, Dora Bryan, John Nettles, Eric Sykes, Danny LaRue, Wayne Sleep, Lionel Blair, Derek Nimmo, Britt Ekland, Nigel Havers and even Postman Pat, while both Ian Botham (in Dick Whittington, 1993) and Gareth Chilcott (in Cinderella, 1995) have kept the panto flag flying for sports fans. Meanwhile, the TRB's egg theatre has, since it opened in 2005, earned a solid reputation for its highly imaginative, super-creative smaller-scaled productions including Rapunzel, The Scarlet Pimpernel and The Little Mermaid, all of which garnered national critical acclaim.
Bristol Hippodrome
Ever since The Bristol Hippodrome opened on 16 December 1912, Bristol's glitziest commercial theatre has bought the West End to the West Country. The theatre didn't, however, stage a pantomime until 1931, when Dick Whittington and His Cat (starring Peggy Rhodes in the title role alongside 'eccentric dancers' Al and Billy Gold) thrilled and delighted audiences from Bristol and beyond. The Bristol Hippodrome has since produced pantomimes on an (almost) annual basis putting stars and entertainment icons including Jimmy Edwards, George Formby, Norman Wisdom, Mickey Rooney, Charles Hawtry, Arthur Askey, Morecombe and Wise, Mike Yarwood, John Inman, Rod Hull and Emu, Su Pollard, Frank Bruno, Little and Large, Lionel Blair, Ronnie Corbett, Larry Grayson, Bruce Forsyth, Lily Savage (aka Paul O'Grady), Shane Richie and Julian Clary in the spotlight.
atgtickets.com/venues/bristol-hippodrome
Bristol Old Vic
The oldest theatre in Bristol (est. 1776) also holds the record for being the oldest continuously operating theatre in the English-speaking world – but time hasn't stood still for this elegant old monarch of the theatre world. Today, the BOV is renowned for supporting pioneering, inspirational 21st-century theatre, resulting in a fascinating voyage of enlightenment for all in a unique environment that brings Bristol's heritage bang up-to-date – not least at Christmas, when national critics laud and applaud BOV seasonal productions with reviews focusing on myriad ingenious revisions, revolutionary insurrections, and captivatingly fresh perceptions on the Christmas story theme. Adding a really interesting twist to BOV's intelligent tradition-meets-contemporaria updates: the theatre's 1956/57 production of Sleeping Beauty featured Peter O'Toole – who was based at the BOV from 1956–58 – doubling up in the role of Alderman/Mate. In 2015 director Sally Cookson turned the same classic tale on its gender-based stereotypical head, bringing the whole tale bang up-to-date for a completely new generation.
THREE LOCAL PANTO HEROES
Randolph Sutton
The popular stage entertainer, music hall and variety show star Randolph Sutton (born in Clifton, Bristol in 1888) is believed to have been one of the earliest male principal boys of the modern era, first appearing at the Theatre Royal, King Street in Babes in the Wood in 1911 before going on to star in and produce pantomimes in Bristol up until the 1940s. Sutton died in 1969 and, in 1989, Clifton and Hotwells Improvement Society honoured his legacy with a green plaque outside his former home in Anglesea Place, Hotwells.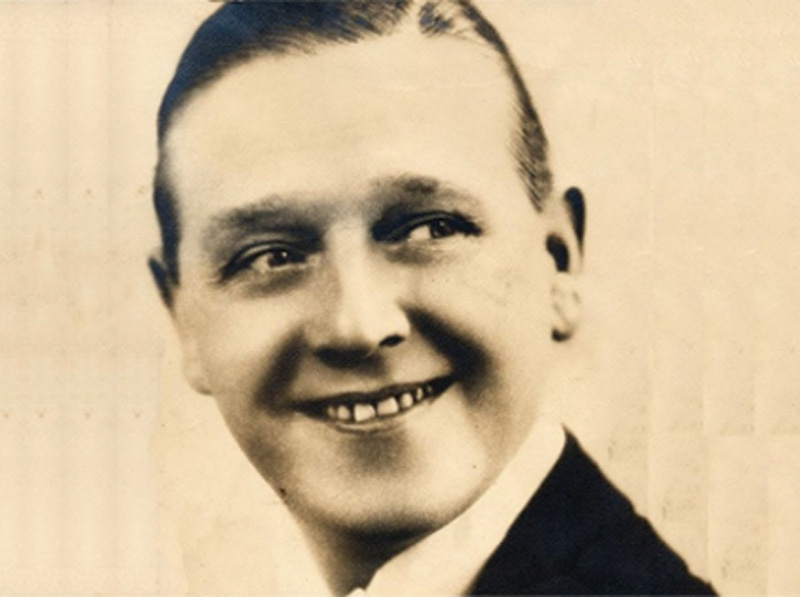 Chris Harris
British actor, director and writer Chris Harris was a worldwide authority on the subject of pantomimes – and the West Country's best-loved pantomime dame. Born in Bridgwater, Somerset, Harris starred in and co-wrote nine pantomimes for the Bristol Old Vic before his 15 year 'residency' as director and performer in the Theatre Royal Bath's traditional Christmas shows. Following his death in 2014 at the age of 71, hundreds of Harris' friends, family and colleagues gathered together for a memorial service to celebrate his life at Theatre Royal Bath, where the stage was decorated with many of the costumes he had worn over the years, panto routines were performed, a slideshow screened images from his life, and career and a standing ovation of rapturous applause lasted for almost 20 minutes.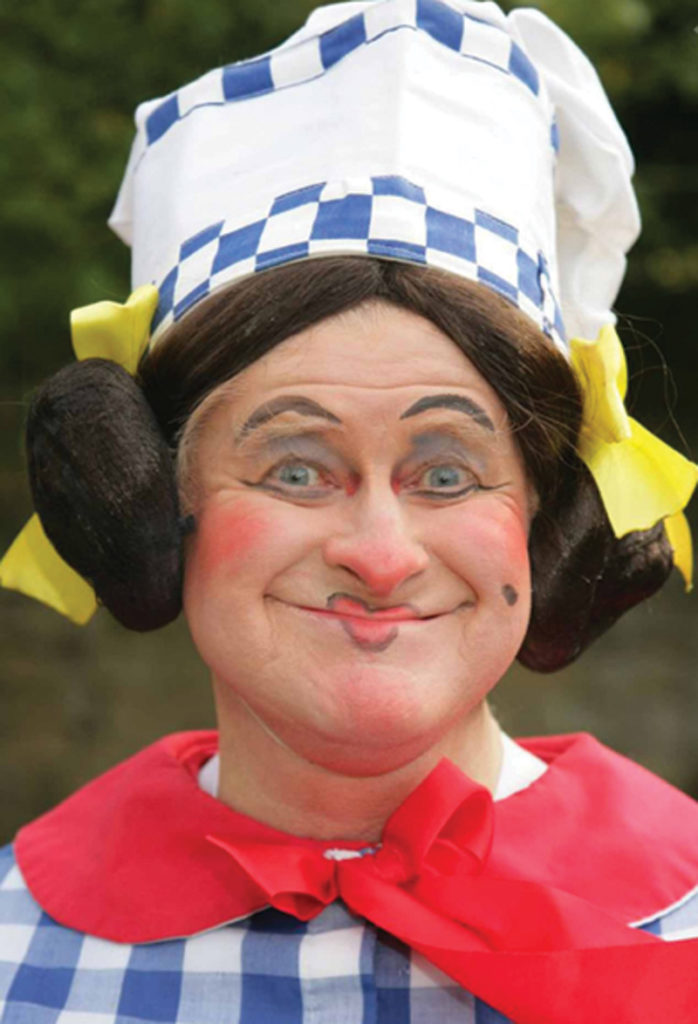 Jon Monie
On 8 January 2018, award-winning comedian, actor, writer, workshop facilitator and TV presenter Jon Monie (who lives in Holt, Wiltshire) made record book history when he appeared in his 1000th Theatre Royal Bath pantomime performance as Smee in Peter Pan. The following year, Monie won the Best Script gong at the 2019 Great British Pantomime Awards for Beauty & the Beast, which went on to be the Theatre Royal Bath's best-ever selling pantomime. But this year, in a complete break with Bath-based tradition, Monie has written Pantomonium! – a unique, one-act pantomime about pantomime, adapted to follow Covid-secure guidelines – to be performed at Blackpool's Grand Theatre.