The winner of eight Tony Awards on Broadway and a West End hit, Once – soon coming to Theatre Royal Bath – is partly a busked concert and partly an aching romance, discovers Melissa Blease in conversation with musical director Ben Goddard
As William Shakespeare's Jaques proclaimed (As You Like It, act ii scene vii) "one man in his time plays many parts". Taking the Bard's words out of context, I can't help thinking that they could be applied to both the award-winning musical Once – dropping in at the Theatre Royal Bath this month as part of a national tour – and the CV of the show's musical supervisor Ben Goddard, which summarises the chameleon-like characteristics of a successful career in the theatre.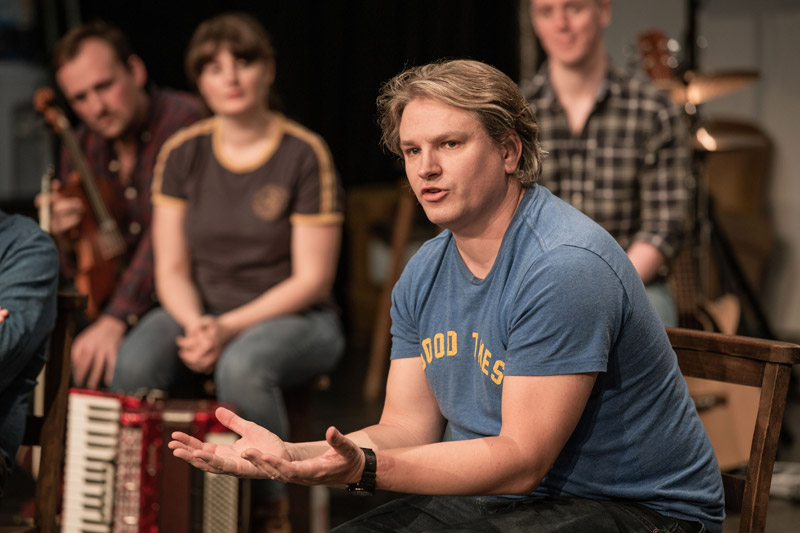 If you didn't see Ben 'being' Jerry Lee Lewis (Million Dollar Quartet, West End and US Tour), you might know him for his role as Judas (Jesus Christ Superstar, UK Tour). You might well have heard his original scores for a musical version of Two Gentlemen of Verona, for example, or Midsummer Songs at the New Wolsey Theatre in Suffolk. As musical director, he's put the beat into productions including One Man Two Guvnors, The Little Shop of Horrors, Made in Dagenham, The Hired Man and a clutch of rock'n'roll pantos. He orchestrated and supervised national tours of Tom – a new musical about the life of Tom Jones – and Jackie the Musical, inspired by the now-iconic British girls' magazine. Oh, and he's regularly been spotted tinkling the ivories in Eastenders' local The Queen Vic. That's quite a CV, Ben!
"I had a great career as an actor, I really enjoyed it; loved bouncing around and showing off," he says. "But making that step from being on stage to being in front of it was easy, really, because music has always been my first love. I was playing music way before I was even interested in theatre of any kind, but when you combine making music with making theatre and it works… I don't think there's anything that can better that. So I guess I was always destined to end up doing what I do now: orchestrating, arranging, and putting brilliant musicians together to make something spectacular. And Once really is – in its own, beautiful, gentle, unique way – spectacular."
Originally a low-budget, Irish independent film written and directed by John Carney, Once was one of the more modest premieres of the 2007 film season, opening around the same time as big budget blockbusters such as Chris Noonan's Miss Potter (starring Renée Zellweiger) and Bill Condon's Dreamgirls (Beyoncé). But despite the tough competition, the story of a Dublin street busker and a Czech musician (simply known as Guy and Girl) whose passion for music sparks a unique love story received widespread critical acclaim; having won the Independent Spirit Award for Best Foreign Film at the 2007 Sundance Festival, the film went on to enjoy massive box office success. The film's stars Glen Hansard and Markéta Irglová (who composed and performed all the film's original songs) went on to win an Academy Award for the song Falling Slowly, and Steven Spielberg was quoted as saying "a little movie called Once gave me enough inspiration to last the rest of the year".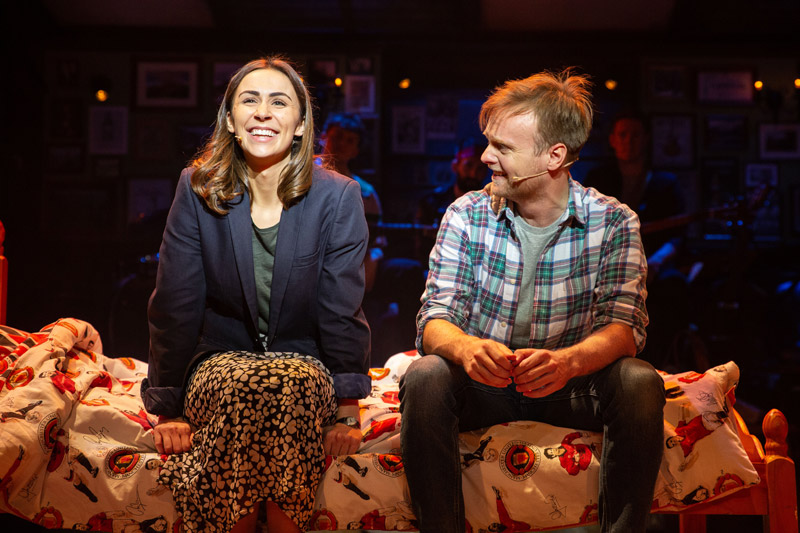 Five years after the film premiered, Once was adapted for the stage and opened on Broadway to a slew of Tony, Drama Desk and Grammy Awards. Productions opened all over the world including in London's West End; today, it's one of the most celebrated new musicals of the century. "I saw the film version of Once when it was first released, but I made the decision not to revisit it when I started working on the stage production because I didn't want to bring any previous ideas about how the audience should be feeling, or how the music should be driving the narrative, to the production. I wanted to introduce a fresh approach and see how it worked out – and it's worked out very well indeed," says Ben. "People often ask me, are the members of the cast actors or are they musicians? But actor/musicianship has been around for so long now that you don't need to separate the two. Our cast are highly accomplished actors and musicians who bring acting and music together without singular emphasis on either capability, to tell our story in a different way." And what's their story about?
"It's a classic tale of boy-meets-girl unrequited love, really – and many would argue that this is the most romantic love of all: something that is definitely something but maybe isn't; something that should be and maybe could be, but who knows? It's imbued with romance; we're closely watching two people who should or could be together, and hoping that they will be, and seeing how it pans out. It's about all the things that get in the way of two people when they first meet. And of course it's about a songwriter, and his musical journey; we share his songs and watch him putting his music together with other musicians, and we get to see how incredibly rewarding and inspiring it can be when musicians put something new into the world that hasn't been there before – we go on Guy's journey with him."
I ask Ben how his own journey began, and it was very much in our local patch.
"I'm a Somerset boy!" Ben declares. "I grew up in the beautiful little village of Stoke St Gregory, between Taunton and Langport, down on the Levels. My niece is at university in Bath and my parents now live in Wells; I think everyone I know, or have ever known, is going to come and see the show!"
Is a home town showcase a daunting prospect? "No, not at all. I'm really proud of Once, and couldn't be less nervous about my friends and family – and everybody else who comes along – seeing it. We've assembled an amazing company of people to bring this show to life; both the musicianship and storytelling is at the highest, highest level."
The man who has, in his time, played many parts, now creates the spotlight.
Once is at Theatre Royal Bath from 2–7 March; theatreroyal.org.uk
Main image: The cast of Once