A two-time Bath Half Marathon competitor has teamed up to run the London Marathon with the man that inspired him to enter – his father. Nick Blythe watched in awe as his father, Mark, completed an endless string of marathons, iron mans and triathlons while he was growing up and he is now eager to follow in his father's footsteps, taking on the Bath Half Marathon on 15 March and the London Marathon on 26 April. Nick, who moved to Bath as a university student and now works at Bath College as a lecturer in creative media production, will be running a total of 39.3 miles in just over a month.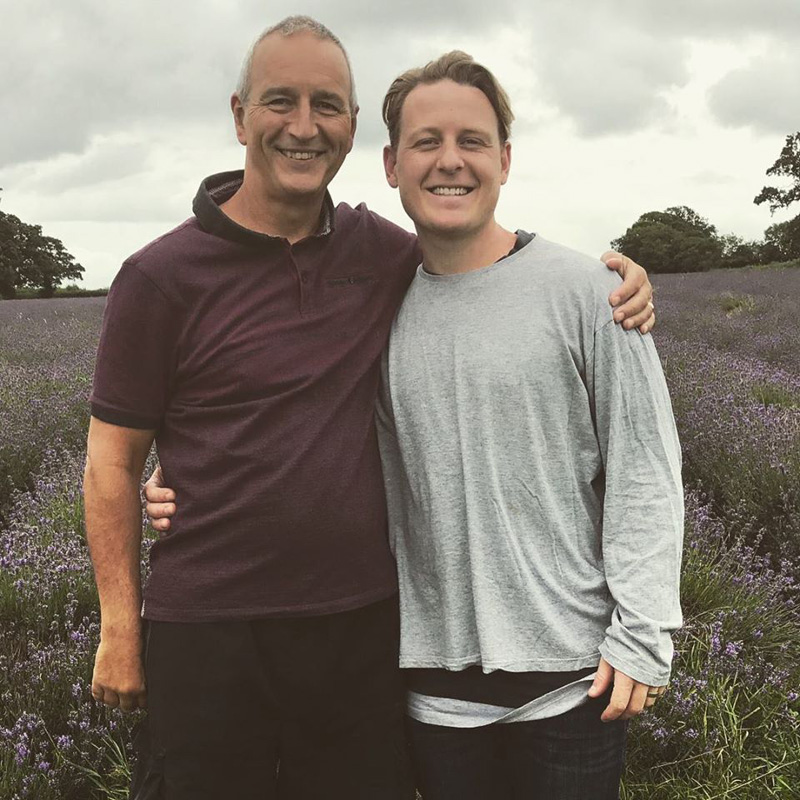 With this year also marking the 40th anniversary of the London Marathon, making it 40 years since Mark completed the first-ever race, we spoke to the inspirational duo to find out how they are feeling in the lead up to this significant moment.
What are your connections to Bath?
MB: I worked in London for the Bath-based World Sport Ministries charity from 1998–2006. Now I come to Bath as often as I can to see my son Nick, daughter-in-law Vix, and grandchildren Sienna (six) and Noah (four).
NB: When I moved to Bath 14 years ago, I made my first home away from home. Then I completed my degree at Bath Spa and got married. My in-laws also live in Bath so we made a home here.
Have you always liked to run together?
MB: I love spending time with my three boys and running is a win-win – exercise and chat. Although the chat goes out of the window when they sprint off near the end.
NB: Ever since I was born. Any kind of sport or physical activity we will generally bond over.
When did you first start running and what is the appeal for you both?
MB: I have been running since secondary school and cross-country training for about 45 years. My first proper event was the first 1981 London Marathon. I have always tried to keep physically and mentally fit, exercise makes me feel better and running gives me time to think.
NB: I was around the age of two or three. We wore Batman and Robin outfits! I have always been a runner as I loved football and it was a way to keep fit, but over time I have realised how much more it adds to my life than fitness.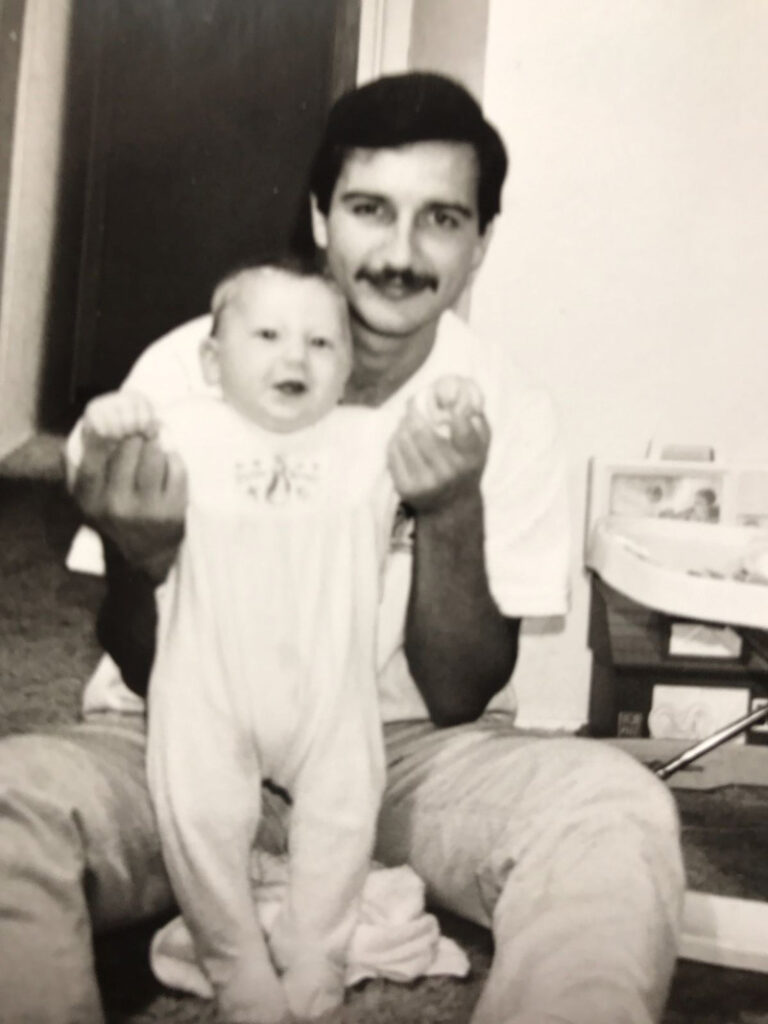 How does it feel to be running with each other?
MB: This is such a special occasion. It's 40 years since my first marathon – this year is the London Marathon's 40th event and I'm running with Nick for his first marathon. This will be a priceless memory and experience. The time is not important to me – crossing the line with Nick will be a lifelong memory of pride and love.
NB: It feels amazing and significant to be doing my first marathon with my dad, especially as it's the London Marathon's anniversary and my dad ran the first one. I mean I have not run this far and will be relying on my dad, who is a seasoned pro, to carry me – mentally, not physically – around the course. He is a great motivator. In fact, we recently did a 5K together and as I trailed behind him even his t-shirt read 'you are capable of more, you're stronger than you realise', or something to that effect, and just reading that helped me push on to the end for a personal best.
What has been the hardest part about training for the London marathon this year?
MB: I am finding my times are a lot slower with the same effort, which is a challenge for me. Balancing work and family life with marathon training is also a lot harder than when I was a physical education student in 1981.
NB: The hardest part for me has been juggling work and family. The time I get to run is mostly early mornings or late at night once everyone is in bed and running through the wet, dark winter has not been fun. I think because I used to watch my dad do marathons as a kid it seemed like a normal and easy thing to do, but oh how wrong I was. I have run half marathons before so I just assumed it would be easier than it is. I think I underestimated the marathon and over-estimated myself.
Why did you choose to represent your chosen charities?
MB: I am running for Alzheimer's as my dad – and Nick's granddad – died from the horrible disease, and my brother also has dementia.
NB: I have always been connected to the Genesis Trust, as the CEO is a family friend. They do amazing work with vulnerable and/or homeless adults in Bath. I hope we raise a good amount of money to help them continue and develop the reach of the work they are doing. Initially, I was going to run the London Marathon for Genesis Trust but they ran out of places so, instead, I am raising money for Asthma UK. Asthma is such a common thing that it often gets over looked but I am glad to be supporting them. Using my health and fitness to support other people is intrinsically rewarding.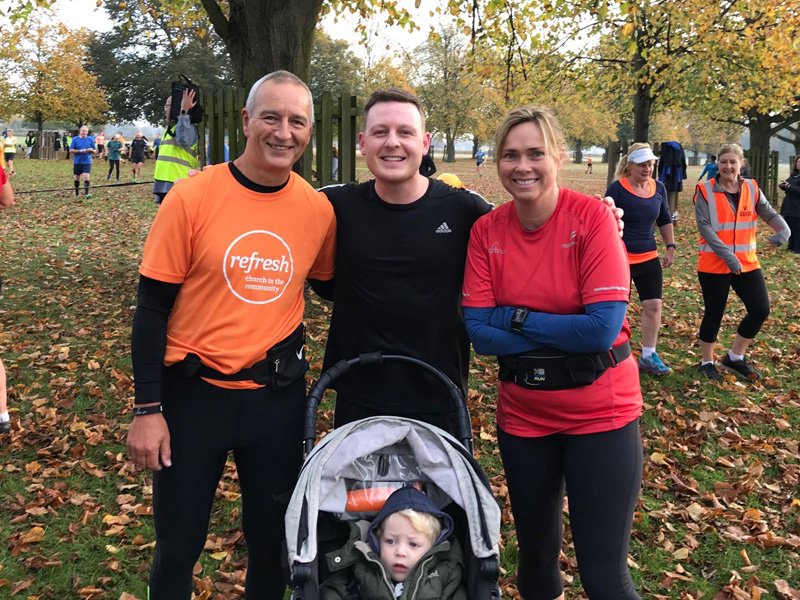 How competitive are you with each other?
MB: There is lots of banter between us about being competitive, but I just want to see Nick finish and hold his arm aloft as we cross the line together – that's my dream.
NB: In the past, we have always been competitive. My dad and I and my two brothers would constantly compete, we'd find a challenge in anything. But when it comes to the marathon my dad is currently a lot fitter than I am, so it's unlikely there'll be any competition. I think we just want to make it around the course together.
What keeps you both motivated during the races?
MB: Training can be hard but we have a great goal of finishing the 40th London Marathon. All our training is focused on that day. A massive motivation is finishing so I can ask for the sponsorship money for Alzheimer's UK. Asking for a good effort but failing to finish would be hard – it won't happen!
NB: Seeing the crowds of people cheering you on keeps you motivated and running with so many other people helps you feel apart of something bigger. Listening to music like the Eye of the Tiger helps too.
What made you want to enter the marathon this year?
MB: Entering the 2020 London Marathon has been my target for many years. There can't be many of us who are still running 40 years on.
NB: Other than being talked into it by my dad, I thought it would be good to challenge myself. Since having kids I have been rocking that 'dad bod' and I decided it was time to do something about it. I need goals to help me actually achieve things otherwise I lose motivation.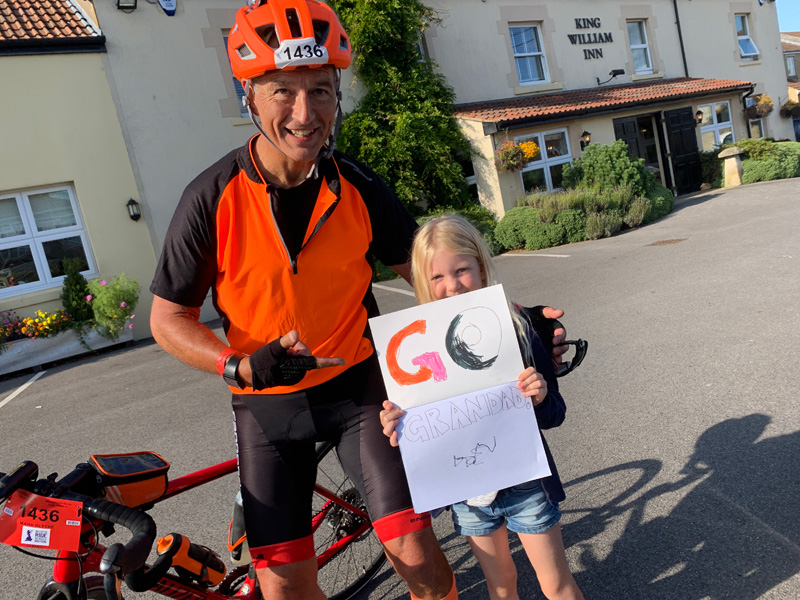 What's next? Have you got any more goals in sight?
MB: If Nick wants to do more challenges, then I would always be up for spending time with him – and running more beats eating. Maybe the 50th anniversary in 2030?
NB: My dad might! I think for me it's just staying fitter than I have been in recent years.
Mark, do you have any words of wisdom for Nick?
MB: Enjoy every minute, Nick, including the training. Also appreciate being able to run and think of those who can't.
To support Mark and Nick, donate to their crowdfunding pages on justgiving.com and help them reach their targets.