Focal points are the main ingredient in an interior designer's armoury, say our local interior experts. Let's embrace them, says Emma Clegg, both in terms of main architectural features and decorative detailing
The focal point is the star of the room. It's the first place viewers' eyes should land when they enter, and it's the emphasis point around which you build the rest of your design. But focal points can also be used in layers: a period mantlepiece or central table might be the big visual draw, but there can also be points playing a more minor role.
The main architectural features in an interior offer one of the most crucial dynamics of a space, and yet their impact is often not consciously registered. Such areas of interest often revolve around light: windows, internal doors, French doors, and the fireplace. It's wise to make the most of these light sources when designing a room, dress windows to draw the eye and avoid blocking or subduing these points of light. This is because we love looking at light. Windows also invariably offer views of the natural world and if not that, at least a prospect beyond the limitations of the manmade environment.
Some of the most common structural focal points apart from sources of light are fireplaces, built-in shelving, vaulted ceilings and walls. They all offer the opportunity for accentuating a visual feature with colour, paint or wallpaper or textural elements. If you're working with a room in a modern interior with less architectural elements, you can create one of your own with accent walls using a bold wallpaper or paint colour; add interesting pieces of artwork or mirrors, possibly with accent lighting; include backsplashes in kitchens and bathrooms either in the shower or behind the stove; or using pieces of statement furniture (see page 70 for ideas).
Louisa Morgan from Mandarin Stone advises on the use of tiles to create drama: "With walls and floors taking up such a large expanse of space, this is where the eye is naturally drawn, so selecting tiles that will make a focal point and using this as a starting point for the design of the rest of the room is often a good idea.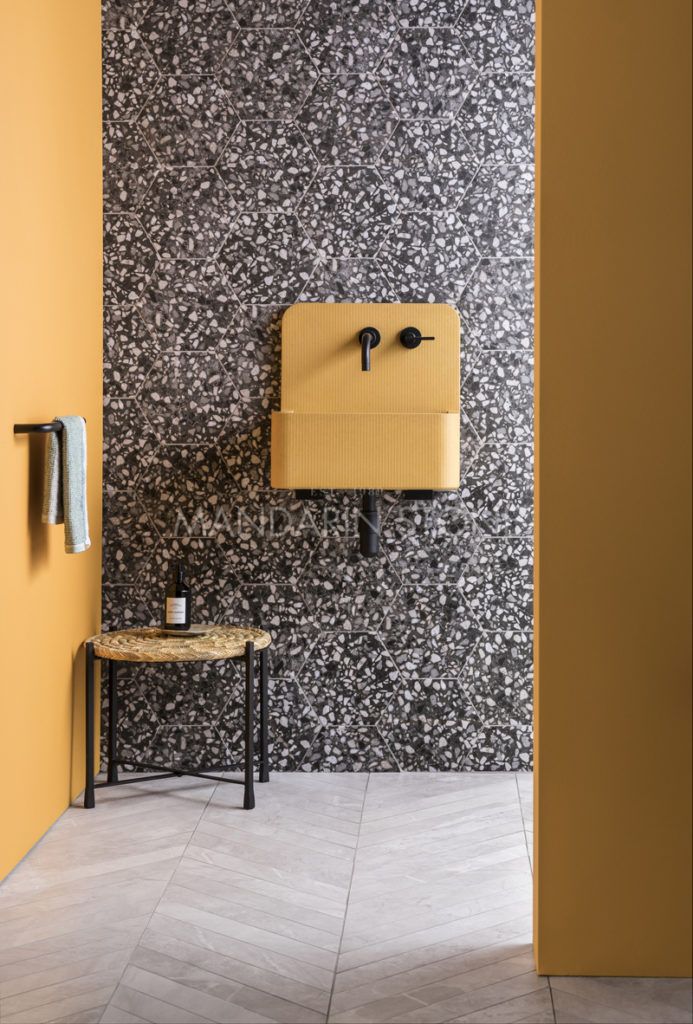 "With such an array of beautiful tile designs now available, there are many options to choose as a focal point. Going bold with colour or pattern seems the most obvious and eye-catching option, yet there are other ways too. Try perhaps 'textured tiles' which will automatically add character and depth to a space. Playing with the size of tiles to create a focal point, either by using super large format tiles, or alternatively small formats, or contrasting the two. Mix sleek with matt surfaces or patterned with plain to really create drama and style to an interior."
Creating a visual journey
The eye is constantly searching for stimulation, and focal points – often points of light or areas of colour and pattern – so the designer's role is to provide areas or objects of interest for the eye to settle on and explore. An interior design uses these focal points as the main energy lines in a room. Focal points are effective when placed at the central points of a wall, on a square central axis. They provide ways of guiding the eye away from less attractive features and towards important elements that divert attention or give the room interest and character.
John Law of Woodhouse & Law explains their approach: "We will often start a project looking to accentuate existing features within a space. A period fireplace will, for instance, have a huge influence on the design of the space around it. It may, for example, include tiles with colours that we would look to reflect elsewhere in the scheme. Equally its dimensions and detailing may dictate the design of adjoining cabinetry, so that shelving and storage sit comfortably both proportionally and aesthetically next to it. And naturally, the fireplace will influence how seating is arranged around both itself and often the TV too; another focal point but one that customers prefer to be less obvious when not in use."
Interior designer Catriona Archer says, "Providing a clear focal point as a person enters a room is a crucial element to creating a well-considered, comfortable space. We often feel unsettled in a space if our eye doesn't know where it should focus. It is a subconscious tool we naturally look for when entering a space in order to quickly determine the room's function and guide a person through it."
Sarah Latham of Etons of Bath comments, "A balance is achieved by distributing the visual weight of objects within a space to achieve a feeling of equilibrium. The size, colour, texture, shape of an element can change this. For example, larger, darker, brighter, highly textured, complex shaped objects typically feel heavier and require balance through the placement; equally 'heavy' items or multiple less heavy items."
If you have a built-in focal point, you need to give it some help and make the most of it, adding more details to ensure eyes always fall where they're supposed to. You can also add extra design elements around your chosen point to draw attention. It can also be effective to accentuate focal points with an individual light source.
"We often use the room's best asset as its focal point," says Catriona Archer, "but we don't have to be blessed with a fabulous architectural feature or breath-taking view from a window to create something wonderful. A room can be given personality and a clear purpose by using a favourite piece of furniture, a contrast in colour and through lighting. Less is often more, and even the smallest of rooms can make a big impression!"
"It is often helpful (though not always crucial) to position a 'hero piece' on the opposite wall of the room's main entrance,"continues Catriona. "We unconsciously look for symmetry and harmony within a space in order to feel more relaxed, so you may wish to consider arranging the layout of other furniture and accessories accordingly, to help balance this focal-point within the space."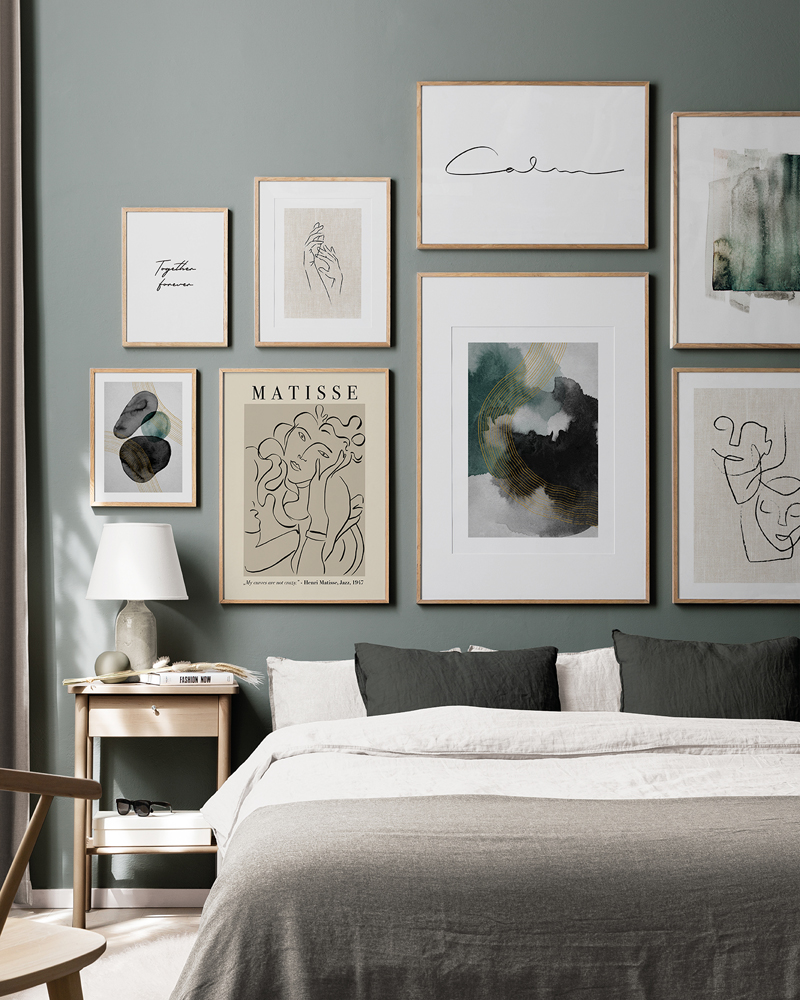 Different rooms
The majority of rooms have automatically positioned focal points with structural architectural features such as fireplaces and windows. Some rooms, especially small ones, give little flexibility in terms of furniture arrangement. In a main bedroom, for example, there is generally only one viable position for a double bed, usually opposite the window, and as a substantial and defining element of the room it's the perfect contender for a focal point treatment – a statement headboard, a handmade quilt, and cushions and throws to dress.
If the building is an older one, there may be an original fireplace along one of the walls, an automatic focal point providing another point of interest. In a bathroom your architectural structure may be less interesting but the creative use of colour with tiles and bathroom furniture can create a real wow dynamic.
Living rooms can be trickier. By their nature, they are more complex, designed to encompass different sorts of activity: relaxation, watching television, listening to music, children's play area, study area. So focal points may be harder to interpret. They can be established through contrast as much as through visual stimulation. Using a soft chair in a room full of hard edges, having a statement table in the middle of a room with an eye-catching sculpture, creating a feature wall with pattern or colour or an eye-catching gallery wall creating automatic visual conversations.
John Law says, "We are always keen to reflect a client's personality and lifestyle within any space, and every so often look to introduce a gallery wall as a focal point, perhaps set against a dark wall as a dramatic backdrop. Here we would look to mix the old and the new, using the client's own artwork and family photos and then perhaps adding additional pieces that offer that further contrast; more abstract counterparts that pick up colours from elsewhere in the scheme for instance. We love mixing up the frames when doing this and often pick a wall that can be glimpsed from other rooms such as the hallway. "
A symphony of interest points
Focal points, however, need to keep a sense of balance and shouldn't dominate and distract attention from other points of interest. But they should give stimulation to our visual system and the space a comfortable dynamic.
It's effective to have one eye-catching element, but smaller visual statements also have their role. Catriona Archer picks up on this theme, "Some simpler, more toned-down 'secondary' focal points are also important within the room; for added interest and comfort. This could be created by using calmer textures, a more subtle colour palette, smaller furniture elements or simplified styling elements. Equally important to consider, however, is the need for much calmer 'negative spaces' that give these focal points the breathing space they deserve in order to shine."
The use of focal points also gives a technique for downplaying the less attractive elements in a room. A large mirror can hide a multitude of sins and bold wallpaper can give energy to a room that is devoid of interest or take the eye away from an angled wall.
Working with symmetry
There is an argument that the individual proportions of all good design are drawn from those of the human body. The symmetry of classical architecture was inspired by the symmetry of the human form. We find symmetry attractive and use it intuitively when arranging our environment. Psychologists interpret this as a recreation of our own personal symmetry. Because nature is rarely symmetrical, imposing symmetry is a statement of control over the disarray of nature, a civilising influence on the unruly.
Originally valued by the Greeks and the Romans, symmetry was revived in the 18th century during the Georgian era. Houses built in this period formed part of a new prosperity in Britain and strictly observed the classical rules of symmetry each side of a central entranceway. The symmetry of Georgian rooms creates its own pleasing focal points as part of the architecture and allows more flexibility with other elements because fewer visual tricks are required to make the energy of the space work.
"Many of us are drawn to balanced images and find them more aesthetically pleasing than their off-kilter counterparts," says Sarah Latham, founder of Georgian interiors specialist Etons of Bath. "Symmetrical Georgian interiors are often viewed as more restful and peaceful than their opposites because we don't have to work as hard to figure out the use and flow of the room or space."
Sarah continues, "Symmetry is used in Georgian interior design on the interior architecture as well as the interior design of individual building elements such as doors, windows, floors, frieze work, and ornamentation. In the space planning of a room, it's furniture layout and the placement or art and mirrors that's essential in achieving a sense of symmetry and balance."
woodhouseandlaw.co.uk; etonsofbath.com; catrionaarcher.com; mandarinstone.com