This inkstand is not about the ink but the maiolica, a type of tin-glazed earthenware known for its 'storied' wares showing narrative religious or mythological scenes. Art curator and historian Monserrat Pis Marcos from The Holburne Museum gives us some background to the piece by Patanazzi and to the impressive collection of maiolica once owned by August de Montferrand from whom Sir William Holburne bought the piece.
This maiolica sculptural group portrays the dead Christ lying on his mother's lap. The Virgin Mary is surrounded by angels, two of whom are helping her support the body of her lifeless child. Behind them, a second pair of angels carrying candles weep at the piteous scene. The entire group is supported by an oval stand decorated with arabesques and two small putti holding a laurel band. Between them, the Veronica (the piece of cloth bearing the likeness of Christ) is painted over a blue enamel background.
Maiolica is an Italian term that alludes to a type of tin-glazed earthenware that applies vibrant colours over a white background.
Maiolica is an Italian term that alludes to a type of tin-glazed earthenware that applies vibrant colours over a white background. It flourished in Central and Northern Italy from the 15th century onwards, with multiple centres of production (Deruta, Faenza, Venice or Urbino, among others) developing their own styles. Maiolica pottery is also known for its istoriato ('storied') wares, that is, pottery decorated with narrative scenes drawn from Classical mythology or the Bible.
The city of Urbino, in the Marche Region, was a prominent pottery centre during the Renaissance. The patronage of the Dukes of Della Rovere in the 16th century boosted the local production and attracted talented artists and craftspeople. Among these, Antonio Patanazzi (d.1587) is one of the most elusive makers of the period. He was related to two important pottery families, the Sbraghe and the Fontana: he was the nephew of Nicola Sbraghe, known as Nicola da Urbino, and he trained under him and Guido Durantino Fontana. Antonio opened his own workshop in 1540, following his marriage. His earliest signed works, however, date from the 1580s, which has rendered difficult to identify objects by his hand predating that decade. After his death, the workshop was taken over by other members of the Patanazzi family, who continued the production of majolica pieces that included items inspired by contemporary silverware, jars and dishes with grotesque and istoriato decoration. The Patanazzi eventually came to dominate the Urbino pottery scene in the late 16th and early 17th centuries.
Sir William Holburne was a keen collector of ceramics, and the maioliche he acquired are among the finest examples in the UK. This object was purchased at auction at the Montferrand Sale, which took place at Christie's on 14 November 1859. Auguste de Montferrand (1786–1858) was a French architect and an avid collector of maiolica and Classical sculpture. From 1816 he worked exclusively in Russia, where he purchased hundreds of objects. These formed a collection that in the introduction to its 1852 catalogue was praised as being second only to the Hermitage, and which was dispersed after his death. Montferrand recorded that his collection of Italian fayence – the French name for maiolica – came from "the late Orlowski, an enthusiastic painter and amateur [he might be referring to Alexander Osipovich Orlovsky (1777–1832), a Polish artist who worked for various members of the Imperial court in St. Petersburg], somewhat like myself, who without any fortune but his talent, succeeded in forming a remarkable cabinet of objets d'art. At his death the paintings, statues, books, arms, fayence, etc. were sold separately and passed into different hands. The fayence we purchased. Three journeys which I made to Germany, France and Italy enabled me to increase this number. At present our collection comprises 600 pieces, and we may now, I think, flatter ourselves with possessing the most complete collection of Majolica extant". It is unclear whether this particular piece was ever in Russia or whether it was acquired during one of Montferrand's trips.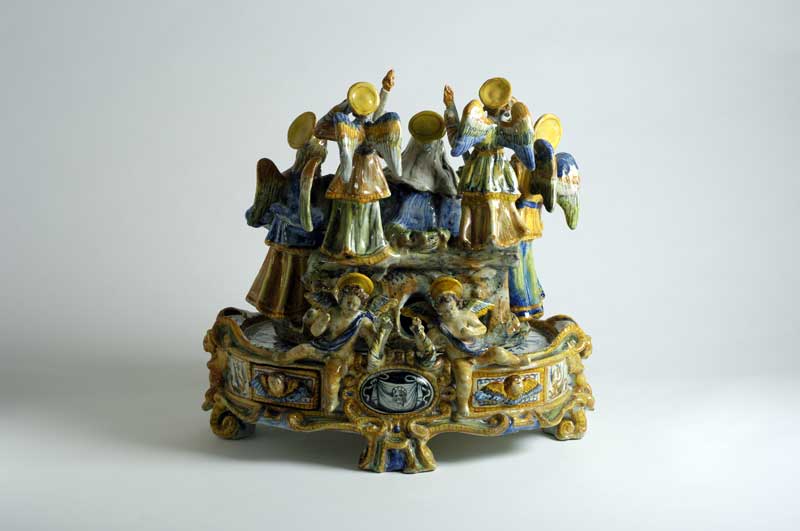 Sculptural inkstand: Pietà
Italian (Urbino), Patanazzi workshop
Tin-glazed earthenware, about 1580–1600
43 x 38 x 32 cm
Image credit: © The Holburne Museum
The Holburne Museum is now open to the public and is delighted to be able to welcome visitors once again.
holburne.org