Illustration by Brian Duggan
I won't bother you with the reasons why boxes and boxes of photographs have been retrieved from my attic. How lucky we are today that such images are now stored in accessible electronic devices like the one I am working on. The point of all of this was that – in one of those cardboard containers – I came across an old promotional card for our regional news programme at HTV West.
There's (Uncle) Bruce Hockin and 'Yours Truly' waving from the basket of a hot air balloon as it 'hovers' above the glorious Georgian architecture of the Royal Crescent. I had to smile to myself as this was a very early example of 'fake' news.
If you think about it, two things are wrong with this image. The first is that balloons don't hover. They either move up or down or sideways with the wind. The second anomaly is how was the shot taken? Was there another balloon nearby? I think that would have been far too close and highly dangerous. Plus, we are talking about the 1980s when drones referred to people who talked boringly at length.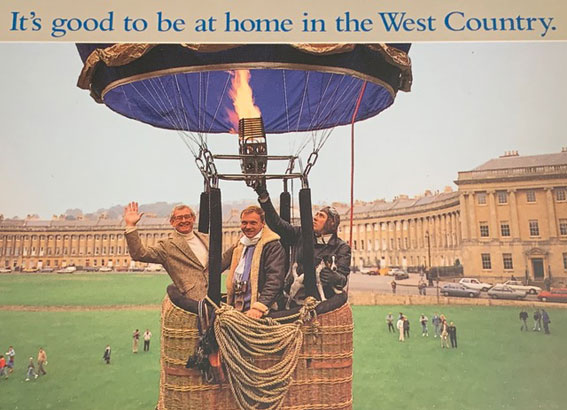 No, it was a clever cheat. The basket was suspended from the jib of a crane and the picture framed in such a way that it really looked like a whole hot air balloon was frozen in time and in exactly the right place. I actually think that I would have been able to hide my fear – behind the expected smile – more easily if it had been a real balloon and not a swaying basket.
I do have memories of a real balloon trip across the city. We needed opening titles for a six-part series called Set in Stone: The Architectural History of Bath. Those of you who have ridden in a balloon will know that you experience this weird effect of not feeling the wind because you are blown along by it and within it. That means our filming trip needed a clear day with gentle winds blowing in the right direction.
We took off from Sydney Gardens and floated across the city, passing over the circular gas holders that have long since disappeared. I had to face the camera and explain where we were and what the programme was all about. Not easy when the pilot had to carry out frequent and noisy flame bursts to maintain altitude.
I was a bit of a seasoned balloon pro by this point, although my first trip in an aerial gondola was the bumpiest to date. I don't mean the basket bucks in turbulence – it was more a case of our landing. The balloon captain usually carries a bottle of something to give to the unsuspecting owner of whatever patch of land he finally decides to touch down on. Position and timing are all down to him. On this occasion, we came down on a large expanse of grassland that turned out to be a school playing field. Having achieved what I thought in my innocence to be a perfect touch down, a gust of wind filled the deflating balloon which then dragged us basket-born passengers across what turned out to be the well-groomed cricket pitch.
If my memory serves me, copious supplies of grass seed were added to the welcome bottle to try and make amends for the furrow we had ploughed.
My most exotic flight was a trip at sunrise across the River Nile and over the Valley of the Kings in Egypt. Having spotted the name of Bristol-based Don Cameron on the inflated fabric above us, I happened to mention to the pilot that we hailed from that city and knew the man whose company had made his balloon. That went down well enough to earn a slight discount on our fare after we'd enjoyed a magical trip across the last resting place of those ancient monarchs.
What memories that little publicity postcard had evoked. In case you are wondering why Bruce picked up the 'Uncle' handle, he kept handing over to me during the news as 'back to young Richard', so I retaliated one day with the above-mentioned informality. It stuck
Richard Wyatt runs the Bath Newseum: bathnewseum.com