The work of illustrator Dave Bain is bold, energetic and full of a sense of warm-hearted community. Emma Clegg chats to the artist who designed the animated collection of quirky interior objects for this magazine's cover
Images thrumming with energy, vibrant colours, intertwined figures, wild mid-air gestures, chaotic limbs, acrobats balancing in a human tower, trapeze act rabbits and monkeys swinging in gay abandon. Looking at Dave Bain's illustrations is certainly a high-octane experience.
Some of his pieces even have distorted long arms and contorted body positions – but why on earth not drink a pint of beer while wrapping a leg over your head and putting the foot of said leg flat against the wall? Filling a picture space is not something that Dave is coy about, with the action in his work generally stretching from corner to corner. "I have been pushing my characters more and more to contort themselves around the shape of the frame and clients like it and ask for it," says Dave.
Dave, who grew up in Canterbury – with early inspirations being Tintin and Asterix comics – studied illustration in Falmouth, and is now based in Bristol, where he has lived for 15 years: "I'd been to Bristol a few times and really loved the down-to-earth nature of it all. It felt very creative and the music scene here was a big draw. I think most of all it is the creative circles of people that are what has kept me here."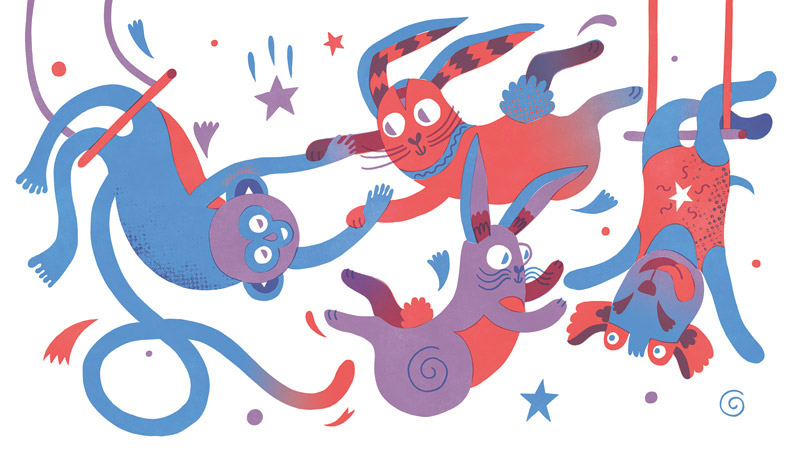 The style of Dave's work has changed in character over the years. "During the illustration course in Falmouth we were encouraged to try all sorts of things. I found my voice with colour and with a particular painterly traditional style – I got very excited about texture and composition, and this has stayed with me.
"Then about 10 years ago I helped set up a studio with a screen-printing area, which motivated me to learn the ropes, with help from talented printer friends. I threw myself into printing and teaching print techniques. This experience brought a stronger sense of colour to my work, thinking about shape and form and blocks, and this transformed my way of illustrating. I adopted a similar workflow: lots of drawing, overlaying sketches on a lightbox and scanning in shapes and line, with the final composing and colour done digitally. It's almost a digital form of screen-printing."
It can be hard securing your first commission as an illustrator, but Dave's experience was a positive one. "I feel fortunate as one of the tutors at Falmouth got me a small job while I was still at university, but I was also lucky enough to have an agent look after me for a time."
This allowed Dave the time to form relationships with his own clients using social media and postcard mail-outs to self-promote. His paid projects are diverse in character, divided between commercial (examples being CBeebies, Aardman and Cycling Magazine) and community projects (such as NSPCC, Oxfam and the Teenage Cancer Trust). Dave explains that his experience as an illustrator has often merged with areas right on the borders of what might be expected. "There are loads of exciting areas in which illustration is being used. That has been one of the things that has kept me excited, taking advantage of the grey fuzzy borders of what constitutes illustration, involving perhaps a community mural or visual notes for dry meetings that need a bit of livening up."
One of the biggest murals that Dave has worked on was at the Bristol Children's Hospital, where the brief was to transform a hospital corridor using artwork, for which he had to go through a lengthy formal submission to explain his ideas. "It wasn't a narrative mural, because people join and exit the corridor at different points, so I created short vignettes." The 200-metre corridor included access to the burns unit, and the artwork there was designed in cool colours and featured water. Dave collaborated with a local sculptor who turned some of his visuals into mini sculptures at one of the entrances.
"I don't want anyone ever to see this hospital artwork – for obvious reasons – but various friends, and even people I don't know have messaged me, and said what a difference it made to walk their child down the corridor, looking at all the artwork and forgetting their own problems."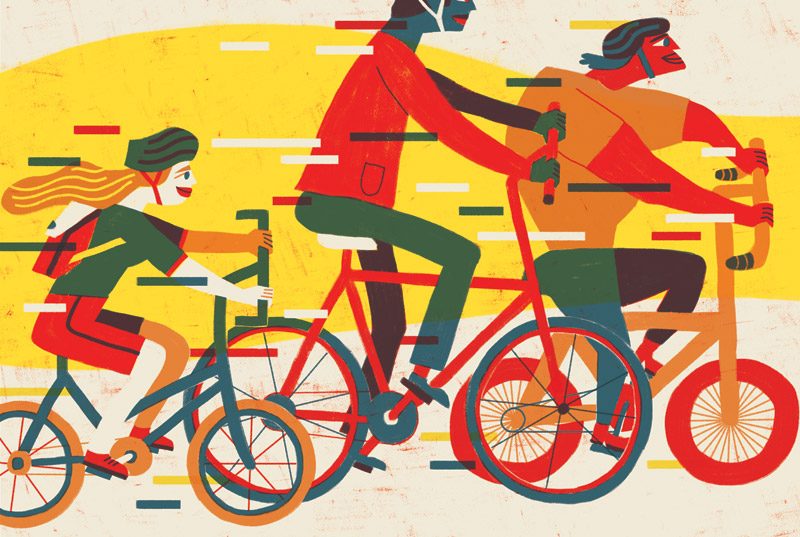 Dave has also worked on visuals for a kids' play park that is specifically designed for children with learning disabilities, and has done a series of workshops in schools for children. He describes a workshop in Wales that he ran with a musician and a technical expert. "The musician worked with the children getting them to create music using their hands to create sounds. I worked with them to create artworks that were gestural, using textures with a raised surface. We then put paint on the textures, pressing paper into them and mark-making. The technical contributor then transformed and animated these things using levers and dials, getting the kids to interact with them as they were looking at a screen where their artwork creations were combined with the music.
"It was a beautiful afternoon with about 20 kids with their carers in an independent cinema in the middle of Wales, using the screen and celebrating all their creations. It's an example of the furthest edges of what happens when you are an illustrator."
Dave loves to work in sketchbooks. "I end up working across two or three sketchbooks. I have never thrown one away – they are my visual thesaurus and mind bin. The ebbs and flows of freelance work mean that if there isn't a commission coming in or if I'm waiting for feedback from clients,
I just dive back into the sketchbook."
Every few months Dave hosts regular panel talks and events in Bristol organised with the Association of Illustrators (AOI), designed to get conversations going within the industry. The idea of working together is intrinsic to Dave's philosophy. "I despair when I hear artists saying they don't want to see anybody else's work in case they copy it. That's ridiculous – people have always been inspired by creative work around them. I love Instagram and following other illustrators who I admire, and the composition and ideas that feed through. It's fantastic if it feeds into my work in some way – I mean why not? It's part of being alive and being creative; I don't want to ignore it."