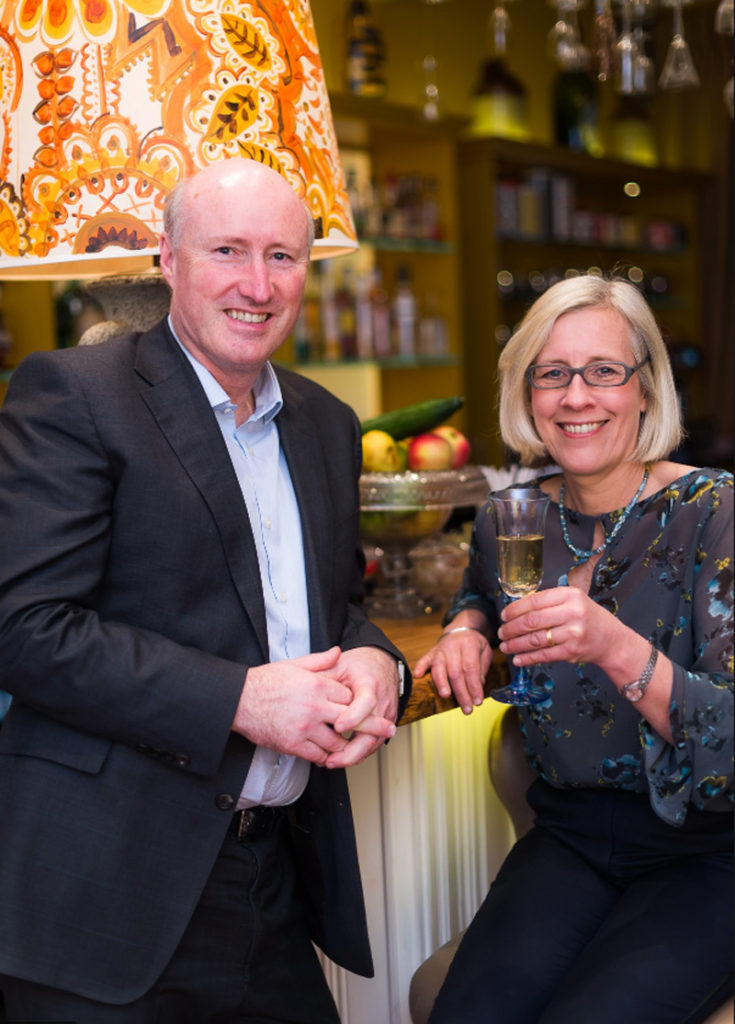 Once upon a time you stayed in a hotel where all the bedrooms looked the same. When Ian and Christa Taylor opened their own hotel, they decided to do things differently. Emma Clegg talks to them about the eclectic designs of their boutique hotels and their mantra of 'luxury for the curious'
Ian and Christa Taylor have a way with hotels. They are known for buying small hotels and transforming them into upmarket boutique venues full of idiosyncrasies and unusual décor.
Their Kaleidoscope Collection of hotels currently encompasses The Bird, Bath and Homewood in Freshford, but they also once owned and restyled The Abbey Hotel in North Parade – under their stewardship it went from holding three AA stars to four and doubled its annual turnover. They also created No 15 Great Pulteney Street from three Georgian terraces which they melded into one splendid hotel styled with immense creativity and visual flair, and then added a spa with a cedar-wood hot tub, Swedish sauna and steam-room. No.15 was named 'Outstanding New Hotel' at the Independent Hotel Show in October 2017 and went on to win Gold at the 2018/19 Bath, Bristol and Somerset Tourism Awards in the Large Hotel of the Year category in November 2018. All Ian and Christa's boutique hotels have power, individuality and character, defined by their creative, uplifting interior décor and contemporary artworks. These are places where experience is uppermost, where details matter, where creative artwork rules, where nothing is conventional or generic.
Ian Taylor, who was brought up in Coleraine in Northern Ireland, always knew he wanted to work in hospitality management and he was 17 when he first started in the hotel business. He did a qualification in hospitality and then went to Switzerland, advised that this was the place with the best hospitality credentials. "The discipline of that was very good," says Ian. "I was fortunate to be placed as a trainee in a five star hotel in Lucerne. And I saw a whole new world that I never knew existed. Everything in Switzerland is tip top."
After returning and spending two years studying hospitality in Manchester, Ian secured a job as a trainee manager and worked in the corporate world for 17 years. "I worked my way up to managing the Crown Hotel in Cambridge and the Crown Plaza at Heathrow which had 400 bedrooms. That was the point at which we decided we wanted to start doing it for ourselves."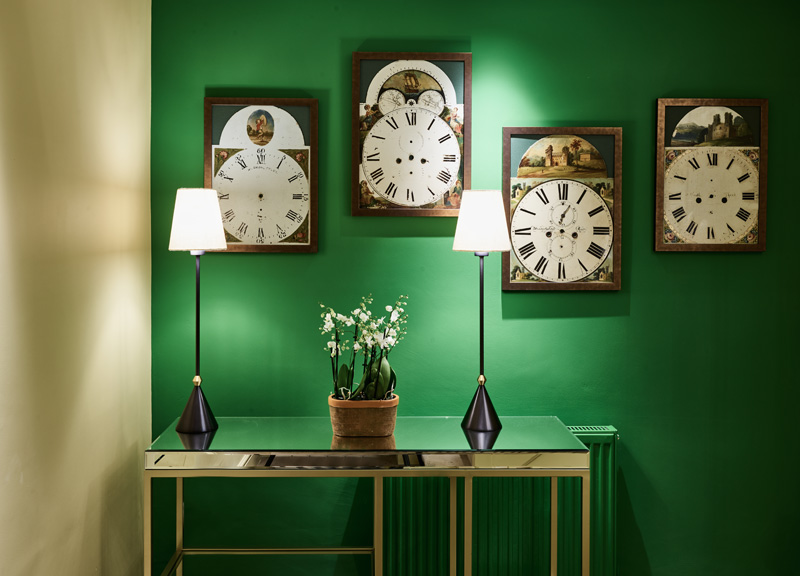 It's perhaps surprising that someone who displays such idiosyncratic design in every hotel enterprise spent so long in the corporate hospitality world. But Ian's time at the Crown Plaza was when he started questioning the generic approach: "My latter days at Heathrow were in a corporate hotel where everything had a standard and everything was very modularised. Every room was the same. And I thought, 'why would you want to do every room the same?' Right down to buying the same picture for every bedroom. That seemed very odd to me. I felt that people want a bit more individuality.
"We went to stay at 1 Aldwych Hotel in London at that time, which was quite designer led. In fact those two big chairs," Ian says, gesticulating towards two throne-like chairs with towering backs in the reception area at Homewood, "were at the bar. They revamped the bar a couple of years ago and I picked them up. We tend to shop around in all sorts of places. And it's grown each year. It gets stronger. In our first hotel in the Cotswolds, The Cotswold House, we did all the bedrooms differently."
Ian and Christa met in London, when Christa was working for Forte Hotels. Ian explains that in terms of their business relationship now, "Christa is the controller and I think outside the box." That sounds like a match made in heaven.
It wasn't all plain sailing when they embarked on their first hotel project, moving from senior employees in big hotel chains to running their own business. "I thought it was the worst mistake I'd made in my career," admits Ian. "'What the hell am I doing here?', I asked myself. 'I haven't got a clue what to do when the boiler breaks down.'"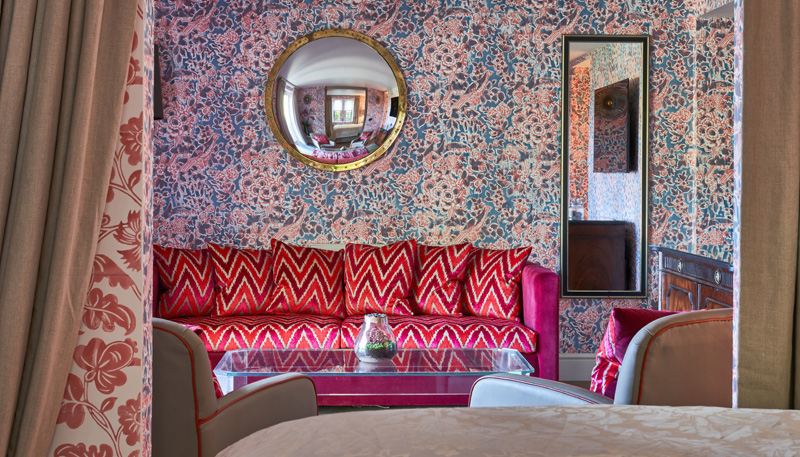 The key to settling into their new life was experience, and also connecting with the community. "It took me a year to really adapt. And that was when we started to do our own thing and put our own stamp on things. What also began to change was being part of that community. That's one thing we got better at – getting out and meeting other people. The big corporate hotels live in their own bubble and stay there. That is one thing we're very grateful for – all the great friends we have in Bath who support and work closely with us."
Ian and Christa used an interior designer for their first hotel project in the Cotswolds, but Ian always had strong opinions about the visual statements he wanted to create, so they decided that Ian would spearhead and manage the interior design. "It's not that we were disappointed with interior designers," says Ian. "It's just that I always felt that we were bringing so many of the ideas to the table. So it was about what we wanted. It got to a stage where I felt it was unfair on the interior designer because you were paying them a fee."
When planning an interior, Ian thinks in three dimensions, and always has the experience of the room at the heart of his plan. "One of the things I think carefully about is what will it feel like in that space. What are the colours to create that feeling? It's easy to decorate a room in a beigey neutral and the more colour you use you're more at risk – it's safer to stay neutral. But who wants to be safe?"
It's true that the interiors at Homewood and at the Bird, Bath are not shy of colour. We were sitting in the bar at Homewood, painted in a resonant cherry red with two walls decorated with paintings of flowers, some framed and some simply hung on their stretched canvas. It's a colour that makes you feel warm and enveloped and uplifted all at the same time.
Then there's the reception area at the Bird, Bath. The themes here are birds and blue, and (wickedly) there's a painting of a smug-looking and rather uncompromising red and black striped cat in the midst of a wall of framed bird images. The reception bar is elegantly covered with dense china sculpture with a bird theme by mosaic artist Candace Bahouth and dripping chandaliers glimmer in bulbous clusters.
Ian and Christa described their No.15 Pulteney Street hotel as having a mantra of 'luxury for the curious', and this continues to sum up their upmarket approach to hospitality. Core to the offering is the feeling that each guest should be truly spoiled, from the free larder to the complete Sky package available in each bedroom.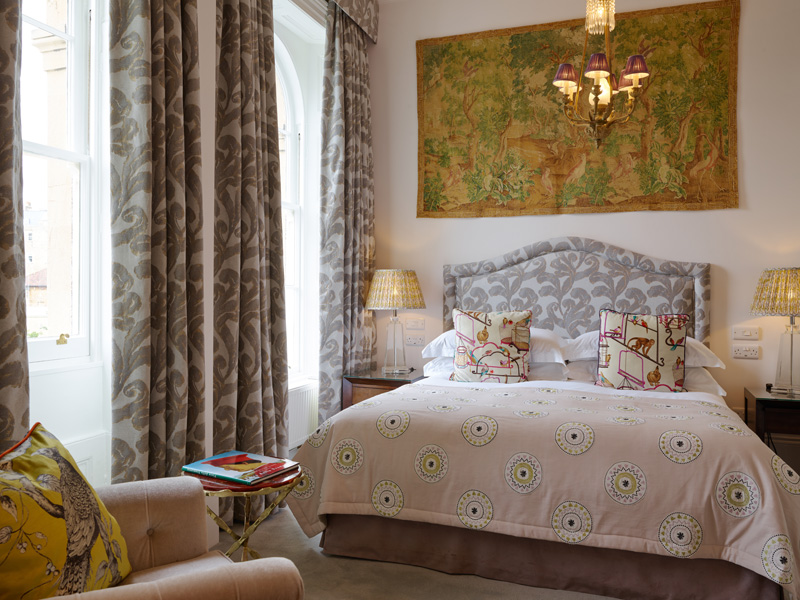 Their own art collection runs through all their hotels and they maintain a significant store of furniture, home accessories and artwork waiting to be allocated a position within their hotel portfolio (Ian tells me they have enough for one more hotel project!).
"A lot of things sit around for a year or two and then we suddenly think, 'right we could do that with it'." They have contacts for every interior requirement, from upholstery to French polishing. "You know who your contacts are and we have a black book of all those we need. And then collectors who contact you if something is coming up. We also do lots of auctions with Proauction, who do all the big luxury hotels."
Much of their artwork is sourced from artists from Bath Spa University and Falmouth School of Art and they also give back by supporting arts events, festivals, exhibitions, charity initiatives and creative networks. "As well as using graduates from local universities and colleges, we have certain artists that we follow, such as Matthew Greenhalf. He was a student at Falmouth and he has recently been sponsored by Lord Salisbury. He will be doing a London exhibition in the next two years. It's lovely to see young artists like that grow and to keep in contact with them. It is interesting for us, but we know what we like. I always say with art you are never going to please everybody. The real challenge is how you hang it."
Looking to the future, they still have plenty of plans for Homewood. "We're thinking about how we might add treehouses to this property here. And add more bedrooms. This is where people are today having an experience that's different. We'd love to get a kitchen garden going and have our own farm. I do like the idea of having the land and doing creative things with it. Homewood will continue to be developed in that way."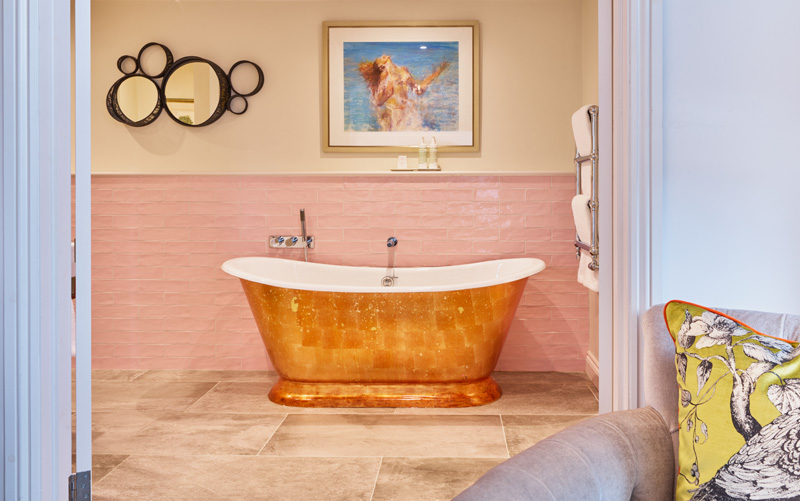 Ian is also working on two houses in Lansdown Crescent, one of which will become their new home. They spent some time there before renovations started, and moved out in January. "Christa has no idea what is going on. Since we moved out, she has not set foot inside it."
"It is easier for one person to do the décor; if two people get involved it doesn't work," says Christa philosophically. I ask Ian if he has any regrets about not training as an artist or an interior designer, as his artistic talents have made such an outstanding difference to the hotels they have created and managed. "I'm very happy with the combination of design and hospitality, because I love the people side of things and I have a great interest in marketing and promoting and selling," he says. "I couldn't be a consultant for someone else; I like to see the results of what I do and see where that takes us. So I consider myself very lucky that I can enjoy both."
Main image: The main lounge adjoining the reception area at the Bird, Bath, with a menacing cat among the collection of framed birds