When a fire broke out at St Mary's Catholic Church in 2015, Stuart Jones Interior Design and Restoration had just begun restoring the 140-year-old building. It took three years to complete. Millie Bruce-Watt caught up with the brains behind the project, Joanne Jones, who shared the unexpected discoveries along the way and explained why St Mary's means so much to her
With a client portfolio that spans some of the most well-regarded brands in the local area and around the globe, Bath-based interior designer Joanne Jones of Stuart Jones Interior Design and Restoration is pushing the boundaries in the interiors world. Joanne's bespoke approach to every project, not to mention her ability to create impressive 3D virtual reconstructions of a space, has made her a stand-out name in her field.
In 2015, Joanne was appointed to restore St Mary's Catholic Church in Bath, a 19th-century building cherished in the community and packed full of small reminders of the city's history. It was a grand project and, as it transpired, one of discovery. We sat down with Joanne to learn more about her life, her work and how her expansive archaeological background made her the natural match for the restoration of St Mary's.
On 24 July 2015, just a few months after work began on refurbishing the 140-year-old church on Julian Road, a fire broke out in the early evening, badly damaging the building and halting the restoration for several months. More than 40 fire fighters tackled the blaze that started in the porch and work was put on pause until investigators deemed the fire an arson attack.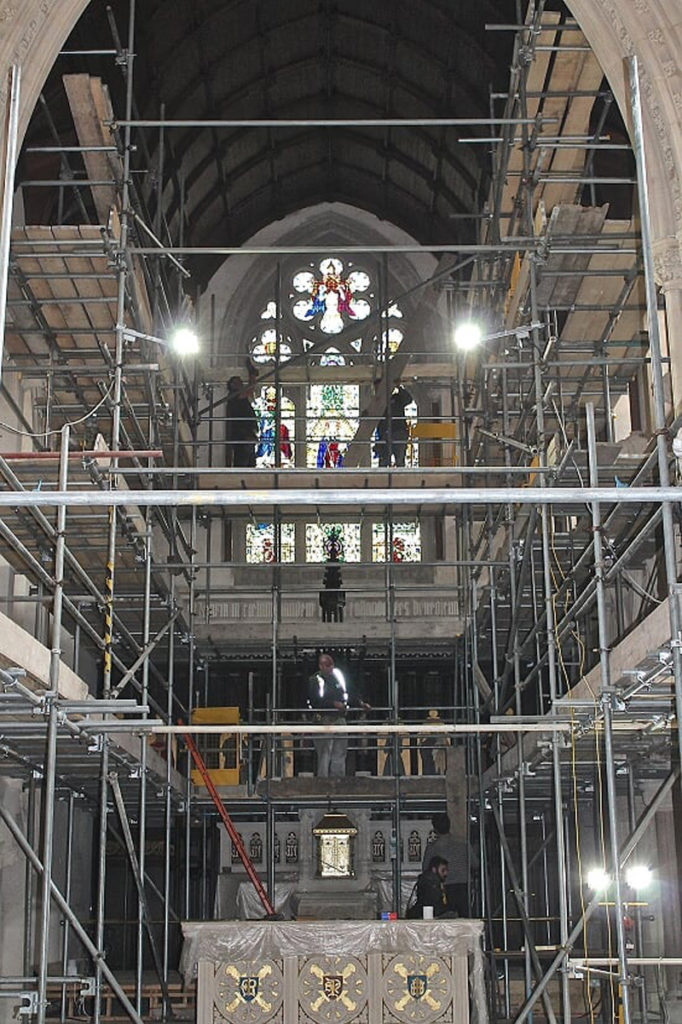 "It was very sad. We'd been working on the church for a few months before the fire broke out," says Joanne, "and this put everything on hold for a while. The roof needed work but luckily the stained glass window wasn't damaged. We just wanted to bring it back to its former glory and how it would have been when it was first built."
After the church was deemed fit to enter and worked restarted on the ancient stone, Joanne and her team uncovered an array of original features, exposing the age of the structure and the events it must have witnessed over the last century. "One of the amazing things we uncovered was under the carpet. We found tiles that had been cracked during the Blitz and we had to do what we could to match them to the new tiles and restore it as closely to its original form as possible.
"The fire also gave us an opportunity to take out awful things that were added in the eighties, for example. One of the biggest things we did was remove the carpet surrounding the altar. We took it back to the original flooring and this had a massive effect on the acoustics in the church. It now sounds completely different but similar to what it must have sounded like when the church was first built. It's an incredible sound."
The work on St Mary's Church was completed nearly three years after work began. With the roof reconstructed – a feat that saw Joanne and her team working several hundred feet in the air for months – and the interiors of the church brought back to life with such delicacy as to not disturb the integrity of the building, the church is now a stunning cornerstone in the community. "I am proud – it gave me a lot of confidence. If it weren't for St Mary's, I wouldn't have the confidence that I have as a designer now. I'm a lot more organic in the way I work now, which I love."
Throughout her prolific career, working around the globe in France, Germany, Canada and Alaska before settling in Bath almost 11 years ago, Joanne has built a portfolio filled with eclectic developments.
Stuart Jones has formed an exceptional reputation priding itself in transforming interior spaces, from renovating Georgian townhouses to assisting with new build projects.
One of Stuart Jones' unique selling points is Joanne's ability to create 3D virtual reconstructions of a space. Using interactive design software, known as Virtual Worlds, Joanne brings the design process to life, making projects a reality for residential and commercial clients, architects and designers, which helps inspire and encourage their clients to visualise the finished space.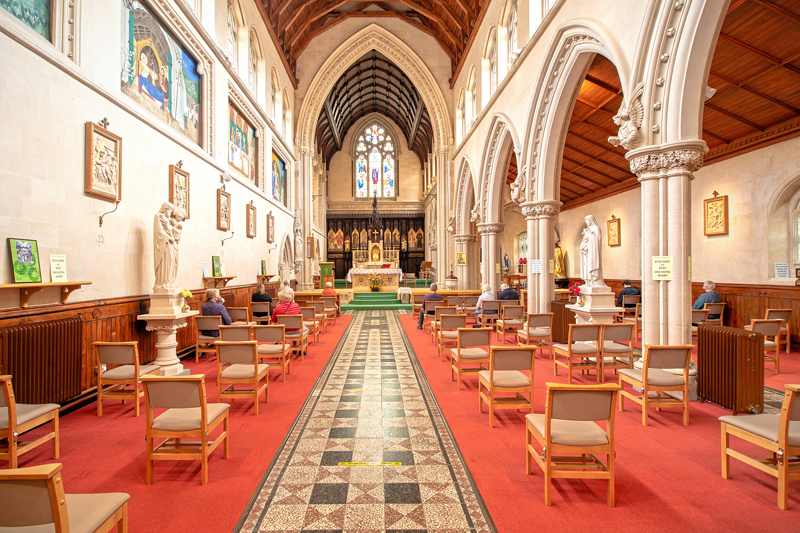 "Virtual Worlds allows our clients to see the space exactly how it is going to be – you can even open drawers and get a feel for what it's going to be like living there or working there. In this current climate, the software has cut down visiting times too – everything's been able to happen online and it's going really well."
Prior to becoming an interior designer, Joanne joined the RAF as part of the General Engineering Flight for seven years before working as a volunteer with renowned archaeologist Francis Pryor prior to becoming qualified. Since then, Joanne's background has hugely benefited her as a designer. "Our restoration work always comes back to using the experience we gained in archaeology. I think being an archaeologist has helped me picture structures that aren't there. There are many technical aspects to consider alongside the various issues that come with working on historical sites, including churches and long-established estates. Working on these restoration projects has its challenges. They are often hugely technical, but they also have many rewards – old can meet new!
I love how both ends of my career have matched up."
Having been involved in many commercial projects from holiday lets, residential, churches and offices in Bath and beyond, Joanne has experience in working on period property, which can mean restoring old properties or integrating contemporary with traditional. Whether she is designing a workspace or a home environment, she takes entering her clients' personal spaces very seriously. "They are letting you into their homes," she says. "That's a personal space for them and they are trusting you to do the right thing. You are bringing joy to people and if people want a new cushion or their living rooms redoing, they should do it. It's the little things that are making us happy now."
Stuart Jones collaborates with other design-led professionals, including architects and contractors, to assist with room designs, layouts and product sourcing while sharing their knowledge and expertise to ensure a project is finished to the highest standard. Earlier this year, Joanne was awarded 'Accredited Designer' status by The Society of British International Interior Design (SBID).
"It was an honour to be recognised by SBID," says Joanne. I think this will be a job that I always do. I can't see myself stopping any time soon – I love it."