A new exhibition at The Holburne Museum surveys Grayson Perry's earliest forays into the art world by showcasing the explosive and creative works he made between 1982 and 1994, with many of the exhibits crowd-sourced from across the UK. Museum director Chris Stephens evaluates the work in the show
Grayson Perry is one of a very select band of artists whose work appeals to audiences beyond the usual museum and gallery-goer. Through his writing and work on television, he has come to be something of a national treasure and recent exhibitions have been hugely popular. Though some of the exhibitions were of tapestries associated with his TV series, he has, as he observes himself, a unique brand as the 'transvestite potter'. For those of us who, like him, grew up in the 1960s and 70s, it is extraordinary that a working-class, cross-dressing boy from Essex should have become the leading, and most articulate, commentator on British society and on masculinity. But it was not always so straightforward and the exhibition at the Holburne Museum, Grayson Perry: The Pre-Therapy Years, reunites for the first time the early works that helped make Perry's name and through which he started to explore and express his search for his own identity.
Perry studied art in Portsmouth and his earliest work was in collage, installation and film before a friend suggested, in 1983, that he try pottery. As a schoolboy, a pottery class had prompted his first experience of fetishistic excitement. His earliest ceramics brought together traditional forms and styles with iconoclastic references to sex and religion. He was associated with a group of artists – the Neo-Naturists – who through painting and performance explored a kind of new-age practice, drawing on ideas of magic and shamanism. Some of these themes fed into Perry's ceramics which featured references to death, devilry and various forms of spiritualism.
In these early works there was a clear strategy to shock, almost for its own sake. Graphic images of sexual activity and fetishism combine with Nazi and other symbols. This was an art coming out of the post-Punk moment, with memories of the Sex Pistols or Siouxsie Sioux wearing swastika armbands. At the same time, it connected to the New Age movement which hit the headlines in 1985 when the police blocked a group of travellers from staging a festival at Stonehenge, and Perry himself was associated with some of the key figures in the New Romantic movement that grew out of certain nightclubs at the end of the 1970s.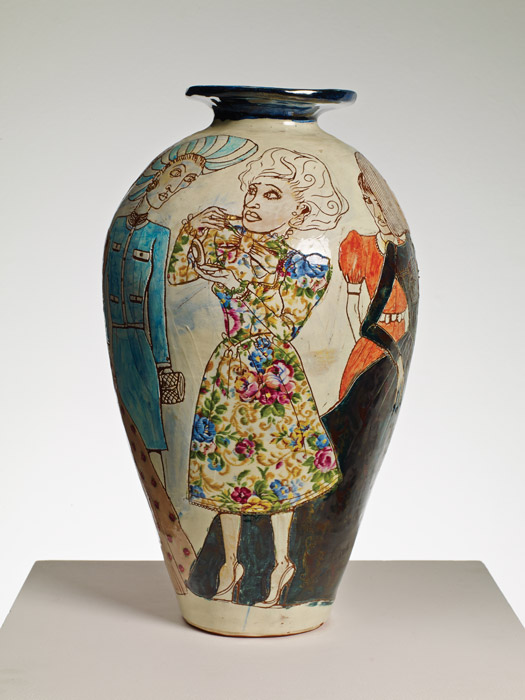 The title of the Holburne exhibition is significant. Once we had agreed with Grayson and his gallery that we would make a show of his early work, a discussion ensued about when 'early' ended. We decided that the artist's move from smaller, fringe galleries to the high-end Bond Street dealer Anthony d'Offay in 1994 marked a suitable turning point which happened to coincide with a change in his style. It was at that moment that the larger, more lustrous look that characterises his pots now came into the work. It was Grayson himself who, when we told him the proposed cut-off date, said, "Oh, the pre-therapy years". Though he had actually first engaged with psychotherapy in 1997, that throw-away remark proved prescient. It was through therapy that he came to terms with his problematic childhood and the complexity of his identity as a transvestite. Before that process, we can see that he was seeking that resolution – or at least expressing the lack of it – through his art. As a consequence, a number of the works are challenging in their imagery.
There are several pots and plates which include graphic images of a sexual nature, including domination and humiliation, but these are balanced by others which reveal Perry's fascination in those days with such archetypes of feminine power as newsreaders like Sue Lawley and Jan Leeming, Princess Diana and then-Prime Minister Margaret Thatcher. Equally, many of the themes that we see in his art today were already apparent in the 1980s and early 90s. Class and associated social mores are a recurring theme, typified in the vase Cocktail Party which features several terrifying, middle-class women.
Essex, Perry's home county, and the predominantly pejorative way in which it is discussed appears again and again. The conventions and pretentiousness of the art world are other frequent targets for Perry's affectionate but nonetheless piercing satire. It is a world of which he was becoming increasingly a part, but he did not shy from satirising himself, populating one plate with the gallerist's banter for its sale. In another, he sets a self-portrait alongside a criticism of his own work: "An amateurish hero in the true Brit school of peeved bigot … makes pretentiousness a virtue and makes pots for trendies". That same plate embodies Perry's unique combination of the form and material of the object and his characteristically witty satire: through poor handling, the plate twisted and cracked prompting him to title it Self-Portrait Cracked and Warped. It is a fitting work with which to promote an exhibition in which we can see the artist trying to understand his own psychological make-up as well as the works around him.
Grayson Perry: The Pre-Therapy Years is at The Holburne Museum until 25 May; holburne.org
Main image: Newsreader, 1990, Private Collection © Grayson Perry Courtesy of the artist and Victoria Miro
Left hand image: Cocktail Party, 1989, © Grayson Perry Courtesy of the artist and Victoria Miro