Bath's clean air zone is set to launch on 15 March 2021 to urgently improve air quality across the city. From this date, pre-euro 6/VI diesel and pre-euro 4 petrol vehicles (higher emission vehicles) will be charged to drive in the zone. This excludes private cars and motorbikes which will not be charged. It is the first charging clean air zone to launch outside of London and will operate 24 hours a day, 7 days a week, all year round.
You can now check whether your vehicle will be charged using your vehicle registration number at GOV.UK's Central Clean Air Zone Service: gov.uk/cleanairzone.
Higher emission taxis, private hire vehicles, minibuses, LGVs and vans (including pick-ups and campervans) will be charged £9 a day while higher emission buses, coaches and HGVs will be charged £100 a day.
Larger, higher emission horse transporters and motorhomes (private heavy goods vehicles), are eligible for a reduced rate of £9 from £100 provided they are registered with Bath & North East Somerset Council at least 14 days ahead of their journey.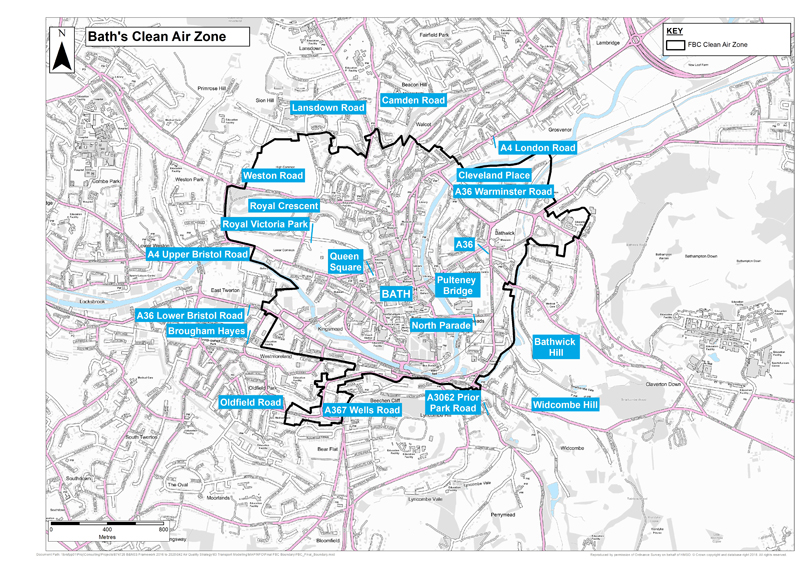 There will be no charge for private cars and motorbikes, euro 6 diesel vehicles, euro 4 (or newer) petrol vehicles, fully electric and hydrogen fuel cell vehicles, hybrid vehicles and vehicles covered by national exemptions.
Drivers affected by charges are also advised to check the council's website at bathnes.gov.uk/BathCAZ for a list of local exemptions and whether they might be eligible for financial support to upgrade their vehicle or fleet.
The financial support scheme aims to support people regularly affected by charges with grants and interest-free finance to help them upgrade to compliant vehicles. Those who have premises and/or regularly drive in the zone, can apply.
For example, eligible van drivers could stand to receive up to £4,500 in grants, plus interest-free finance, to help them upgrade to a similar, compliant vehicle. Larger grants are available of up to £20,000 for HGVs and £35,000 for buses and coaches. In light of COVID-19, the council has amended the support scheme to give additional help to some businesses.
A wide range of local exemptions are also available for hard-to-replace or special vehicles, and to support disadvantaged groups and vital services in the city.
Bath's Clean Air Zone is being introduced to help the city meet UK air quality legislation. Several places in Bath currently exceed the legal limits for nitrogen dioxide (NO2) pollution which is mainly caused by diesel and older petrol vehicles. This situation is unacceptable because of the role that poor air quality plays in damaging health locally, and in the Climate Emergency more widely.
In Bath and North East Somerset, around 12,000 people suffer from asthma, and high concentrations of NO2 can trigger attacks. The latest research indicates that in the UK, between 1 in 4 and 1 in 12 of new cases of asthma in children each year are attributable to NO2. 74% of these cases occur in urban areas. Over the longer term, high levels of NO2 contribute to reduced lung development in children and are linked to an increased possibility of heart attacks and dementia in older people.
While the city is not charging private cars, the council is currently looking at lots of ways to improve walking, cycling and public transport to encourage more people to choose more sustainable ways of getting around.
The council is asking all drivers to consider whether they need to take their vehicle, and to consider walking, cycling or taking public transport instead, especially for shorter cross-city journeys.
Full information on Bath's clean air zone, including maps, charges, a link to the vehicle checker, exemptions and financial support can be found at bathnes.gov.uk/BathCAZ.
Here's a short video about how the zone will work and what vehicles will be charged: