In a city defined by its architectural highlights, there are also plenty of inbetween areas with green potential that aren't presented at their best. Fortunately community gardening groups are making a big difference, says Jane Moore
After the partying and feasting season is over, I always feel that I should start off the gardening year with some gusto, if for no other reason than to shed a few pounds and blow those Christmas cobwebs away. Well, that's the plan anyway, although it doesn't always happen. I could put my failure down to the downright unpleasant weather, although often it's due to my own lack of motivation which seems to hit every January.
Still, as the new year dawns grey and drear, I do realise that I'm lucky to have a great little garden of my own, not to mention the acres to play with at The Bath Priory. I'm also lucky in that I have people to motivate me, in the form of my stalwart assistants Anna and Dominic and my perfectionist partner Paul who can always be relied upon to point out when the garden at home needs some TLC.
I'm especially lucky because there are a lot of people that don't have their own garden, those living in flats or town houses with little or no outdoor space. City dwellers often have nothing more than a window box or a balcony, and if they do have a garden it's tiny. But that's what allotments are for, right? For a long time, an allotment was the only option, but it's not an easy choice for busy people. Allotments demand a certain level of commitment and longevity, which doesn't fit everyone's circumstances.
Recently the Royal Horticultural Society has recognised this, establishing the It's Your Neighbourhood awards as part of the Britain In Bloom competition. At the recent South West in Bloom awards, the city overall won a gold medal and six individual It's Your Neighbourhood projects received top awards including the On Board project at Oldfield Park railway station, the marvellous Women's Institute Garden in Royal Victoria Park and the indefatigable Weston Village Gardening Club.
It's not just community groups that are banding together – business is playing its part too. The Bath Business Improvement District also won gold for its efforts in greening the city centre. I expect you've all seen the lovely new planters at SouthGate with their glorious mixture of flowers, fruit and vegetables. These are a real inspiration, especially with their focus on pollinators such as bees. The 'rusty box' planters on London Road, too, having looked terrible for a couple of years are now positively cared for by the Genesis Trust and are flourishing with grasses, bulbs and late-flowering perennials.
But it's the local community groups who are really making the difference with the fewest resources at their disposal. The stalwart crew of Weston Village Gardening Club, having added numerous planters to the High Street, then wrought wonders on the tired dull roundabout by the Weston Free Church. Recently they've expanded their boundaries beyond Weston and are the team behind the wonderful new planting in the Manvers Street beds.
"It came about when the council decided to grass over the beds rather than renovating and re-planting them," says Stephen Brook of Weston Village Gardening Club. "The whole planting scheme cost only £1,500 with Bath Business Improvement District, Bath in Bloom and the nearby Indigo Hotel contributing a third each."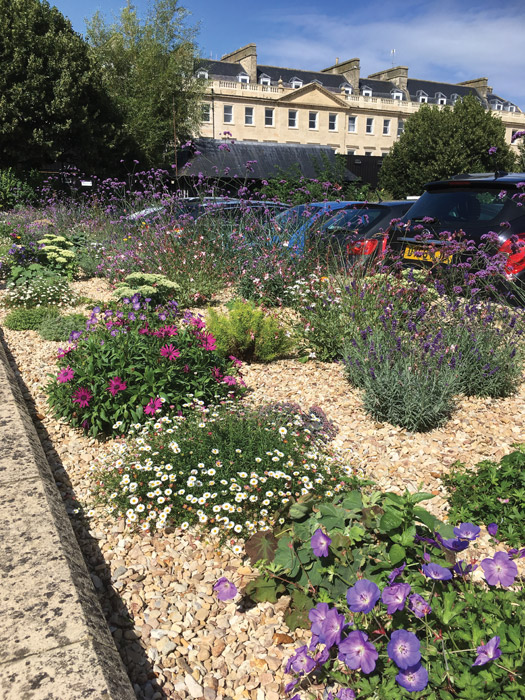 The council parks department contacted the club after their roundabout success, trusting them to do something similar. They sent a team to clear the beds in advance and then the club took over, planting the whole area in a day with the help of eight or so volunteers. While the planting is easy maintenance mulched with a layer of gravel, it's still vibrant with colour and movement for most of the season – and infinitely better than just mown grass.
In these days of cash-strapped local authorities and lingering austerity, it's a breath of fresh, flower-filled air to see local groups doing so much to make a difference to the city in which we live. The results are visible, tangible improvements but the psychological effect may be even greater.
As I wandered about the city doing my Christmas shopping, the greenery of Wild Walcot and the Manvers Street beds gave me a boost and fired me with enthusiasm for my own little plot. Bath is a famously beautiful city but there's no doubt in my mind that community groups like these are making it a much lovelier place to live.
Jane Moore is an award-winning gardening columnist and head gardener at The Bath Priory Hotel. Twitter:@janethegardener
Local gardening initiatives
Blooming Whiteway; bloomingwhiteway.com
Weston Village Gardening Club; westonvillagegardeningclub.co.uk
Broadmoor Lane Orchard; sites.google.com/site/
broadmoorlaneweston
On Board Community Project; bit.ly/2PpPu5Y
Transition Larkhall; transitionlarkhall.uk
Bath Organic Group; bathorganicgroup.org.uk
Bath WI Community Edible Garden; thebathwi.com
Greenlinks; wellbeingcollegebanes.co.uk