Emma Clegg heads to the DoubleTree by Hilton and discovers raspberries, Jane Austen and a new friend called Luis
It started with a kiss. From a raspberry daiquiri. We were visiting the recently refurbished Hilton Doubletree on Walcot Street to sample their new restaurant menu. The façade of the edifice that was once voted Bath's ugliest building is still lacking – although plans are afoot to revamp the exterior – but the hotel backs on to the River Avon and weir, which ups the natural drama and romance considerably for hotel guests or diners with a river view.
The hotel closed in January to undergo a major refurb following its acquisition by Starwood Capital. Its reopening £10.1 million later – originally scheduled for April and foiled by the obvious – welcomes it as one of the biggest hotels in the city with 176 Scandi-style rooms, a private gym and a meetings and events space that houses up to 200. Inside sees a transformed interior with a clean, Middle Eastern vibe, a spacious, glamorous entrance foyer that's perfect for social distancing. It is cool, spacious, uncluttered, utilitarian but poised, with open views to the interconnecting spaces on the ground floor.
Beyond the reception area there is a bar and restaurant and a separate 'grab and go' café area (where the kiss took place, while my accomplice in dining was courted by an Old-Fashioned), designed to cater for guests wanting a quick coffee and a pastry before shooting off to start their business day. There's also an intimate Secret Garden, an 'orangerie' overlooking the river, which is where we ate. Not all the cascading foliage here needs watering, but more live plants, a garden sound track and a water feature are following soon, designed to stimulate all the senses just as a Georgian orangerie would have done.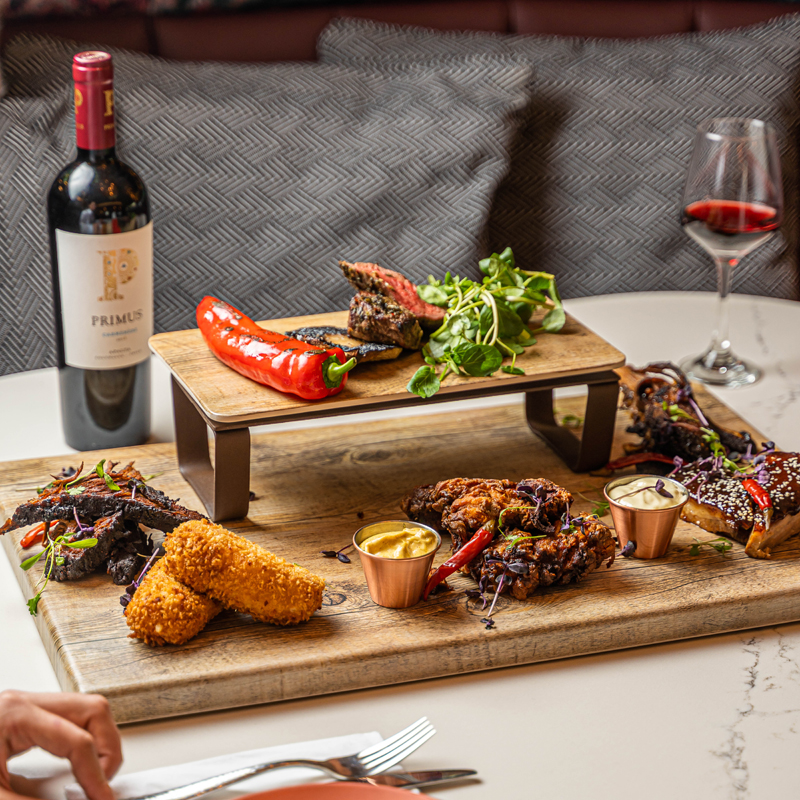 In the restaurant – called Emma's in homage to Jane Austen's fourth novel – head chef Simon Stevens serves cuisine with a strong Asian influence (with no homage to JA, who would have liked the river view, but I imagine would have preferred English tea and sandwiches). Times have changed however and Simon, who has travelled widely in South East Asia, pulls in culinary references from Malaysia, Singapore and Thailand, which appeal to the hotel's significant number of customers from China and the US, along with all those with a meandering global palate.
Starter options included mini pork ramen and a boa bun, Asian style crab cakes with spiced mango chutney (my choice, and an excellent one – no appetite-saving measures took place here), cauliflower pakora with Makhani sauce, smoked BBQ chicken wings and soup of the day cater for most preferences. The main dishes offer a wide selection of sharing platters, from a bread themed one including tomato and rosemary focaccia and pumpkin seed bread served with olives and hummus, to a charcuterie platter including salami, chorizo and baked camembert with pickles and breads, and others sporting a gastro theme of beef brisket, croquettes or chicken.
We selected chicken tikka masala served with basmati and naan (one of the top three most popular dishes, the flavour of which I can wholeheartedly attest to) and sirloin steak with vine tomatoes and grilled Portobello mushrooms – all served on distinctive dishes with wide, copper coloured surrounds. Demonstrating the range, we could also have embraced burgers or haddock and chips, or gone further afield with a Tandoori chicken wrap, Korean rainbow kimchi and glass noodles or nasi goreng with satay skewers and Malaysian sambal.
Secret garden aside, we were totally enchanted by Luis Romaguera from Venezuela who took very good care of us and chatted at length. As restaurant manager, he was a trained sommelier, and recommended the South African Cullinan View Pinotage to match our meal duet. White would have been the natural choice, he explained, but we are assiduous red winers, and so this was a good red match, with a fruity, smoky character and soft rounded tannins.
Dessert brought us pineapple and mango sorbet and chocolate chip cookie cheesecake (choc chip cookie is a defining theme at the Hilton where a DoubleTree cookie cocktail is also on offer), which were satisfying albeit unessential finales to our meal, especially so when accompanied by Luis' recommended dessert wine, which I agreed to impulsively and made us feel louche but gay, in the archaic sense of the word.
"The Sweetness Lies Within" sang British indie rock band Hefner; so too with the DoubleTree by Hilton.
Walcot Street, Bath BA1 5BJ; Tel: 01225 463411; hilton.com
SPECIAL OFFERS
The hotel is offering 20% off the price of gift vouchers when purchased on Black Friday/Black Weekend (27, 28 and 29 November). Gift vouchers can be redeemed against sweet afternoon tea, savoury afternoon tea, sharing platters and three course dinner. The gift vouchers are now valid for up to 18months from the date of purchase.
For Sunday to Thursday stays at the hotel and between the dates of 3 – 30 December, guests receive free car parking and 20% off their food and beverage at the hotel (all drinks, meals and Afternoon Tea included).

From 3 December, Head Chef, Simon Stevens, will also be offering new festive sharing platters and festive cocktails for £25 based on two sharing. The festive menu is being concocted and we speak but details will be available from next week.