McFly – who were due to perform at the finale weekend of The Bath Festival in May – will now perform at the finale weekend for The Bath Festival in 2021. Emma Clegg spoke to singer and guitarist Tom Fletcher about how things are going are after their reunion at the end of last year…
Take a phenomenally successful pop band of four who have sold more than 10-million records worldwide. A group who were the youngest band ever to have an album debut at number one, a credential stolen from The Beatles. A group who won the Brit Award for Best British Pop Act in 1994, a year after their launch. A group who later joined forces with another acclaimed group to form a supergroup. A group who have had 18 consecutive UK top 20 singles. A group who – much to their fans' chagrin – then took an extended break and focused on their own solo projects.
This is McFly's story, but it's a familiar one; four young men who grew up together in the bright lights of the stage, the adoration of fans and the glare of the media. It's a pressurised place at a time when you're getting to know who you are, and it's not surprising that it doesn't last forever. Love is Easy, they sang, but keeping it going was not so easy.
McFly guitarist and singer Tom Fletcher says, "We had always been really good friends, but we spent so much time together that it was hard to get a sense of perspective and the emotions took over. At the end it did almost feel like a troubled marriage. Only there were four of us! It was like a marriage, only more intense – one that was observed by the world and the pressure was hard to handle."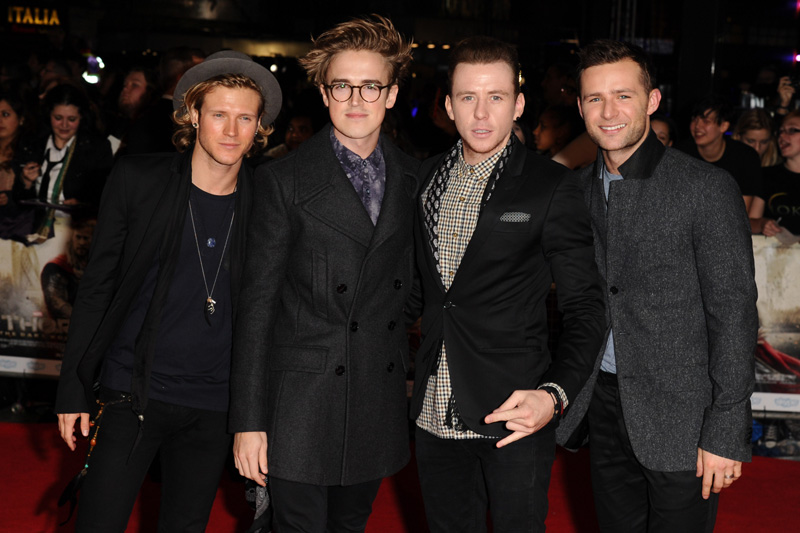 Tom Fletcher, Danny Jones, Dougie Poynter and Harry Judd first got together as McFly – named after Marty McFly in Back to the Future – in 2003 when Tom was just 18 and they reached number one with songs like 5 Colours In Her Hair and Obviously. They rose to fame after fellow band Busted helped launch them by inviting them to tour in 2004. Tom admits that the thrill of achieving such a high profile so early was offset by having to grow up in the public gaze and cope with all the insecurities that beset you: "Like anything in life, there are good times and bad, but when you're so young and in the public eye, as we were, everything becomes exaggerated, with all the high emotion and anxiety that you get in your teens."
After their double platinum first album, Room on the 3rd Floor – named after the hotel room where most of the songs were written – McFly went on to release four more albums between 2005 and 2010, and the 2005 Comic Relief single It's All About You. Leading up to 2016, as well as being McFly they were all collaborating on other projects, including in Tom's case a series of The Dinosaur that Pooped children's books with McFly bandmate Dougie Poynter.
The parting of ways in 2017 – never an official breakup – saw each of them following their own path, focusing more on family, trying out new things, and finding some private space, too. For Tom, whose first big role came at the age of nine as the lead in Oliver! in the West End and who started writing music for boy band Busted at the age of 16 before then setting up McFly, this was a big change in pace, but a welcome one. "After McBusted [the supergroup McFly formed with Busted] things got difficult and it felt like we were totally out of sync. I suppose there were more of us involved and the bonds we'd had as a group of four seemed to lose their glue. And our personal lives were suffering."
Tom is married to his childhood sweetheart Giovanna and they have three young children, who dominate proceedings, but it's clear that Tom loves every moment, although there are snags. "I've forgotten what it's like to sleep," he says, "but I've got used to catching up at odd times, and just managing with less." Tom's YouTube channel has 635,000 subscribers, and his eldest son Buzz who is six has a starring role, and a heart-melting affinity for performance and singing. Tom tells me that Buzz is fascinated by music and wants to be involved at every stage whereas Buddy, his second son is really not interested – he thinks superheroes are better. Watch Buzz's performance of Shotgun on Tom's YouTube channel and you'll see a star in the making.
Tom's first solo book, The Christmasaurus, published in 2016, was nominated for the Children's Book of the Year at the British Book Awards and follows the life of young boy in a wheelchair as he embarks on adventures across the North Pole. It was performed in the West End at the end of 2017 with Tom starring alongside his sister Carrie Hope Fletcher, his actress wife Giovanna, McFly drummer Harry Judd, and Busted's Matt Willis – and there is a Hollywood animated feature film in the making, directed by Michael Gracey and starring Hugh Jackman and Zac Efron. Tom says: "The book all began with a song called The Christmasaurus! That song inspired the whole story and as I began writing the book I wrote more songs that helped me tell the story and bring the characters to life."
After a three-year break, the band performed at London's O2 in November 2019, releasing a song every week from their new album Lost Songs in the build up to the show. "Three years was a long time to be apart," says Tom, "and it created a huge void. The show at the O2 was amazing, it was so good to be back with my friends. None of us knew how it would go, but it just worked, and people seemed to love it." The Lost Songs album was an album recorded in 2011 that was put on hold when they formed McBusted. "We all felt that those songs needed to be heard if we were going to get to the next part in the McFly journey."
Now 34, Tom is modest about McFly and its success and touchingly appreciative of the opportunities they have had: "We have been incredibly lucky as musicians. Our music struck a chord and people got behind us, but there are so many talented musicians out there who have not had the chances we had and who have never had a good platform to show themselves off."
Tom doesn't have an urge to go it alone like so many other boy band members have done. It seems that the togetherness of the group in the early years was genuinely based on very close friendships and musical alliances: "In terms of the music, it was always about the band, not about any of us as individuals. It might be my background in musical theatre that set this note, but it has always felt like a collaboration and that made us feel stronger."
Tom's YouTube channel describes him as a "Mediocre guitarist in McFly. Generally lame, occasionally awesome." Don't believe it. McFly are McFlying again and awesome is the name of the game. Their forthcoming UK tour will continue to see them McSoar.

Originally booked to perform on the 2020 finale weekend, McFly will now be performing on the finale weekend of The Bath Festival in 2021.
bathfestivals.org.uk