Etons of Bath specialises in the design and renovation of Georgian period properties. There are four broad style approaches that can be taken with a Georgian property, explains the company's creative director Sarah Latham. Here she evaluates how the classic contemporary style can be applied to an interior
The classic contemporary style is one of the most popular for a period house. When creating a classic contemporary home and interior scheme, Etons of Bath first consider the architectural integrity of the Georgian building. This involves assessing the existing Georgian features – staircases, cornices, ceiling roses, windows, flooring and fireplaces. We then work on any that need to be preserved, repaired or enhanced in order to ensure that the original character of the room shines through. It's these features that inspire clients to live in a Georgian property, so preserving their original character is essential, even when the style also involves then adding some contemporary design twists.
The next stage is to overlay more contemporary modern internal finishes and fabrics to complement the property's character. All these elements – such as floor finishes, door furniture, lighting and electrical plans, furniture layouts, kitchens and sanitaryware – are selected so that the interior details blend in with the classic elements and proportions.
Four Georgian stylings
There are four broad approaches that can be applied to the refurbishment of Georgian houses and hotels:
• warm classic
• calm classic
• classic contemporary
• on-trend contemporary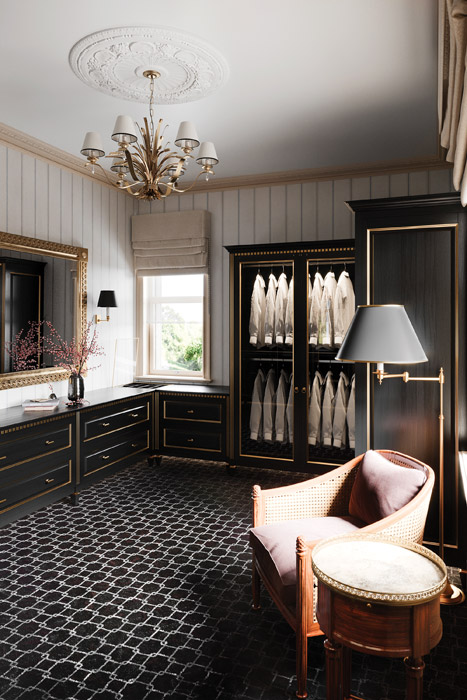 LEFT: This gentleman's dressing room mixes contemporary furniture, panelling and bespoke Etons of Bath carpets with a classic pendant light, ceiling rose and wall lights

MAIN IMAGE: A mix of classic joinery by Hawkers Joinery and pendant lighting with more contemporary bespoke Etons of Bath furniture creates a stunning look in this calm study
Etons of Bath, 108 Walcot Street, Bath; etonsofbath.com