Author and illustrator Kate Pankhurst – a descendant of Emmeline Pankhurst – is more qualified than some to wave a flag for the great women of history who may have been sidelined and overshadowed. To celebrate International Women's Day on 8 March, Kate is coming to Bath to talk about her latest book: Fantastically Great Women Who Saved the Planet. She talks to us about ideas, drawing, and why children respond to her 'you can change the world, too' message
I have always loved drawing – at my talk in Bath I will be showing some illustrations from when I was aged about 5 or 6 – replicating the Beano magazine's comic strips. I suppose practice makes perfect, really, and I still wake up and pinch myself every day that I get to do this for a job!
The first drawing I show is an early one, just a picture of my family and my house. There are lots of photos of me even younger than that with pen-in-hand, though. I think I was born an illustrator. The writing did come later, though I think I've always been a storyteller too. I have certainly always loved reading.
Fantastically Great Women Who Saved the Planet is the fourth in the FGW series of books – I wanted to pick another really strong theme to curate a group of world-changing influential women. The environmental theme seemed the right choice for two reasons – firstly, protecting our planet is of huge concern to our young readers. Secondly, there are so many incredible women who have contributed to the discussions we are having about the challenges our planet faces today. Many of these women you may never have heard of.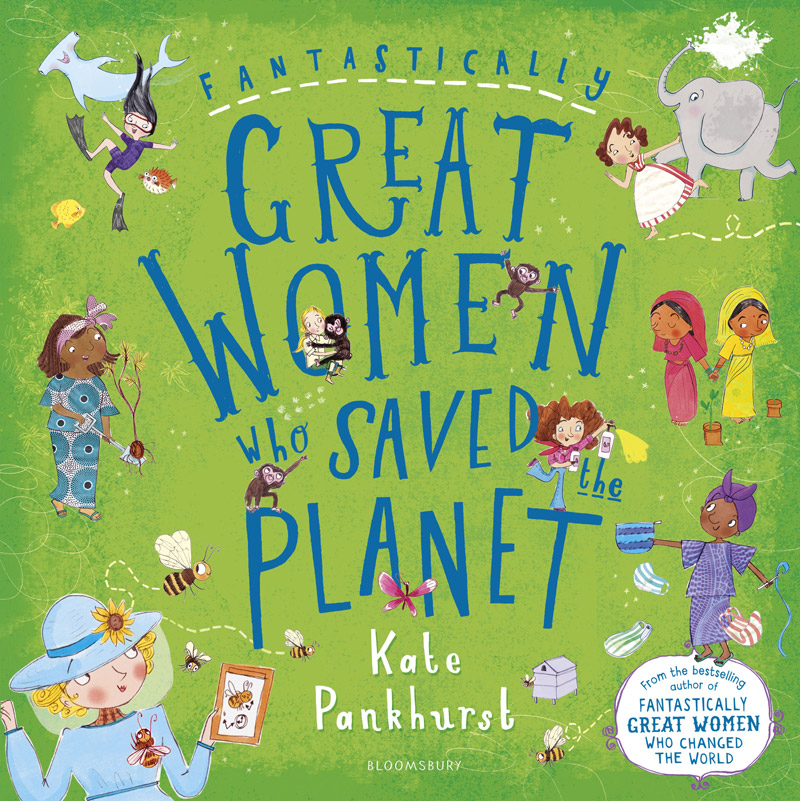 For me it's really vital to feel relaxed and playful in order to think of good ideas. Deadlines are good for a flurry of ideas under pressure, but I've realised it is important to have a bit of time away from my desk if I want to think of anything good. The best ideas come from talking to children, being out and about and trying deliberately to tune into things around you that most of the time we tune out of. I think it was Picasso who said inspiration does exist, but it has to find you working. There is of course always a conversation with my editor, who is really helpful in brainstorming ideas and helping to hone some of the initial ideas I have.
I couldn't possibly choose a favourite woman out of all those I've included in the series. I become so invested in all of their stories when researching that it's hard to move from spread to spread. Having said that, I do particularly love Eugenie Clark, who features in the latest book. Known as the 'shark lady', Eugenie was a groundbreaking marine biologist who emphasised the importance of respecting our oceans and all living creatures.
It's important to celebrate the stories of women who have sometimes been overlooked by history, and for young children to understand that things have not always been the way they are today. We have so many more freedoms (in many countries) thanks to the sacrifices and determination of some pioneering women. International Women's Day is a chance to reflect, and celebrate just how far we've come.
I have an ancestral connection to Emmeline Pankhurst and in all the political turmoil of late I am constantly reminded in my work on the Fantastically Great Women books of the fact that at one point women didn't have a say on what happened in the political sphere. It's important to educate the younger generations on what inspirational work the suffragettes did to get women the vote. Emmeline features in my first book in the series, Fantastically Great Women Who Changed the World. I believe that if children have an insight into the challenges women faced in the past, they will be more questioning of unfairness and inequality today.
I received a lot of lovely letters from Fantastically Great Women fans and love hearing imaginations run wild with questions at book signings and events. The 'you can change the world, too' message of the books seems to have really stuck with young readers, which I'm really pleased about.
In July, the Fantastically Great Women series moves into a thicker chapter-book format for older readers, which is very exciting. The first two books in this new series will be Fantastically Great Women: Artists and their Stories as well as Fantastically Great Women: Scientists and their Stories. They are aimed at slightly older readers, aged 7–9, allowing the readers who enjoyed my books when they first came out (and who have now grown a bit older) to delve a little deeper into the lives of some of the women in the picture books (and some new ones, too!).
My studio in Leeds is a beautiful old mill building but it is big, spacious (and cold). I solve this by always having my dog Olive there for company. I might dedicate a book to her in the future – she'd certainly make a mischievous character!
Kate Pankhurst will be giving a talk on 8 March (International Women's Day), at The Royal High School, Bath, 2–3pm. £6, tickets via Eventbrite: eventbrite.co.uk.
The event is organised by Wonder: eventsofwonder.com