The work of Bath-based illustrator Charlotte Farmer is defined by colour, character and her cat, Margo – Emma Clegg visits the artist who designed the vibrant jazzed-up image for this magazine's cover
One of the things we had to do on our foundation course in art and design was build a massive six-foot tea cup out of cardboard. This made me realise that 3D was definitely not my thing." Charlotte Farmer has since made up for this revelation about her creative specialism by drawing plenty of tea and coffee cups in her illustration work. And while they are not six foot, they are just as memorable.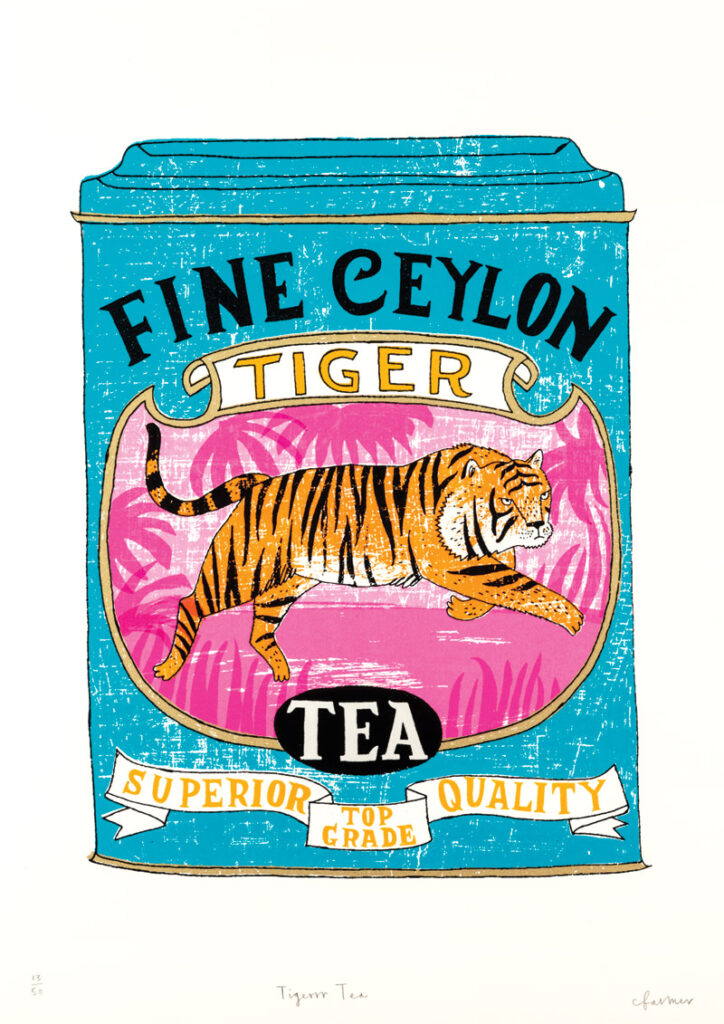 Charlotte's illustration style is quirky and colourful. Black line drawings of eccentric characters and animals and objects have defined bright areas of colour, some scuffed with texture. These have the stylism and luminosity of cartoons, all drawn from an imaginative world seen through the artist's eyes. It's a world where a lady in fishnet stockings plays the tuba on a monocycle, a tiger balances on an exercise ball, a pink Chinese dragon flays its tail on a tin of Lapsang Souchong tea, a peacock extends its feathers in extravagant display, a soldier on tall stilts salutes on parade, grizzly bears snarl and growling lions prowl on matchboxes, a grumpy leopard rides a Chopper bicycle and a bow-legged cowboy rotates his lassoo.
The thick wavering outlines that capture all this are an essential part of the other world that Charlotte inhabits. How did her style come about? "I like to draw using carbon paper because it creates different line qualities, making the lines a little bit fuzzy. When I was doing my MA I really liked using monoprints – that's when you roll out ink and put paper on top and then draw on the back of the paper and you get a really fuzzy line. The thing is it's not always that practical and so one of my tutors recommended carbon paper. Blue carbon paper is the best because you can scan it in and change it all."
Charlotte did a degree in fine art specialising in printmaking in Cheltenham, and after a few years away from education did an MA in Communication Design at St Martin's College of Art. "It was the MA that made my illustration style evolve. Because I got better at drawing and more confident. I always really liked drawing but when I did my MA I wanted to learn to draw people."
Illustration has always played a key part in Charlotte's plans even though it took her a while to specialise: "Even when I was doing my foundation course I was thinking about illustration, but my tutor advised me to do fine art rather than limiting my options with illustration – but I wish I'd done it straight away. Then after my degree I did a one-year illustration course where I travelled to London every Friday." She does admit that her fine art degree taught her lots of self-discipline because you have to be very self-motivated to follow a course with less structure than many creative degrees.
One of Charlotte's poster prints, commissioned by US company Crate and Barrel, shows a range of cheeses – Queso Manchego, Emmentaler, Cambazoli, chevre, Brie – and strangely it was cheese that brought her to Bath. She worked at The Fine Cheese Company when studying in Cheltenham ("I know a lot about cheese"), and used to go to the company's Christmas parties in Bath: "I met up with people from the Bath shop and I thought 'That's a nice city – maybe I should move there!', so that's what I did and got a job at The Fine Cheese Company."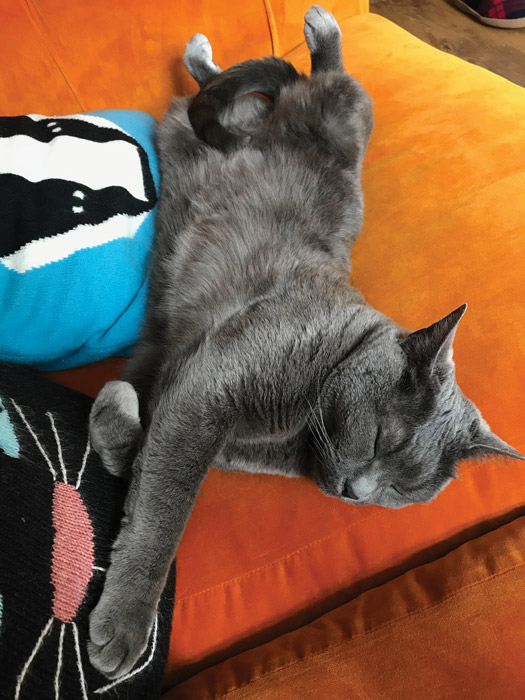 Based from home, Charlotte has a work space in her living room, which is immaculately styled and scattered with the same self-contained bursts of colour as her work: a rusty orange upholstered sofa; a low-level, steel-blue plan chest combining as coffee table; miscellaneous geometric art cushions; and framed artworks, including her own. "Even though my work has always been about colour, it was only a couple of years ago that I realised that we had a beige carpet and sofa," says Charlotte. "So when we did out the flat, we focused on colour." The apartment also sports a state-of-the-art Russian Blue cat called Margo, who while admittedly described as fractious by some (her vet) and demanding by others ("She has a large personality and a loud voice," says her owner), is clearly both art expert and muse.
Using a small laptop on a desk – and mostly with encouragement from Margo, who likes to sit on the keyboard – Charlotte creates her vibrant illustrations. She explains her working technique: "I do a rough drawing in pencil and scan it in so I know what size it needs to be. Then I trace that drawing using my light box and work on it, draw it with carbon paper and create the shapes of the bits that will be coloured in with carbon paper, adding colour later in Photoshop. I use old carbon paper so you
get all the texture coming through."
Charlotte divides her time between illustration commissions from clients – include Waitrose, Air France, Boden and Tatler – where she works to a tight brief, and her personal illustration work, which she screen prints and sells on Etsy. Much of the latter follows the theme of collections, including items such as stamps and Staffordshire pottery figures and matchboxes, with which she has a particular fascination.
When screen printing, Charlotte uses a printing workshop in Bristol called Spike Print Studio where she has a membership allowing her to visit whenever she likes, often at weekends when it is quieter.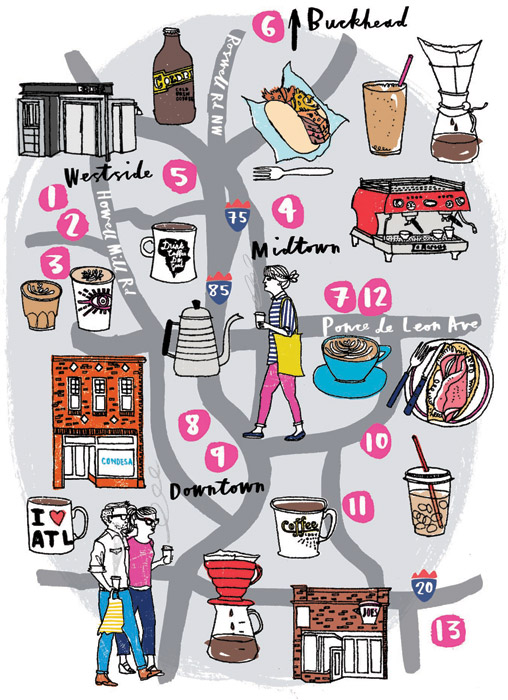 There is a luminescent glow and a lightness of touch at work in these illustrations – whether it's a llama, a coffee percolator, a luxuriating cat or a circus artist, the creative characterisation will transport you to an untroubled world.