Interior designer Clair Strong shares a recently completed renovation project; a modern family home situated on the hills surrounding Bath. Photography by Nick Smith
This four-bedroomed home just outside Bath is the beloved home of a professional photographer and journalist couple. They moved here with their family 20 years ago, choosing the house for its large south-facing garden, parking and sense of space. Being within easy reach of both the town and the countryside was also a big draw.
They first renovated the property 15 years ago. This initial renovation involved dropping the floor level of the kitchen/diner and adding bi-fold doors that open on to a terraced area and garden. Then, when their children had left home, the couple asked me to help them undertake a second refurbishment stage.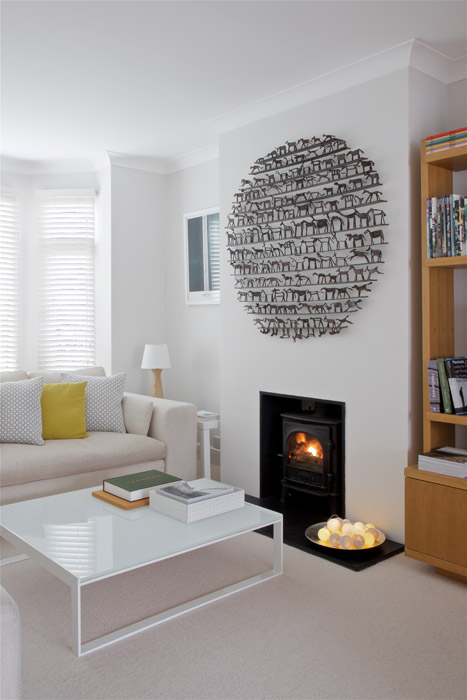 We took the decision to update the house throughout. But, rather than replace everything and start from scratch, the couple wanted to update and add to their favourite pieces. They have a vast array of prints and artwork, including a striking David Mayne piece that sits over the fireplace in the living room. Our goal was to design interiors that would provide a backdrop for their collection. With this in mind we replaced radiators and doors, reupholstered furniture, and altered and repainted the kitchen cabinets. We added a few new pieces of furniture, chosen because they worked with existing pieces, and replaced the splash-back in the kitchen.
In the kitchen, a bespoke table by Reynolds Collcutt was specially designed with a central plinth to fit the area and prevent sitters from banging knees. Diners can enjoy a completely open view of the garden when the bi-fold doors are opened. The splash-back and fabric on the kitchen chairs were chosen to match with the Bridget Riley print over the banquet seating.
One of the large rooms on the first floor is used to edit photos, and is a pleasing and ordered space with a mix of furniture styles. There's a vintage planning chest from a reclamation yard, a classic Varier Peal chair and the iconic Herman Miller Aeron office chair, mixed with colourful prints and wooden artichoke pendant light fittings.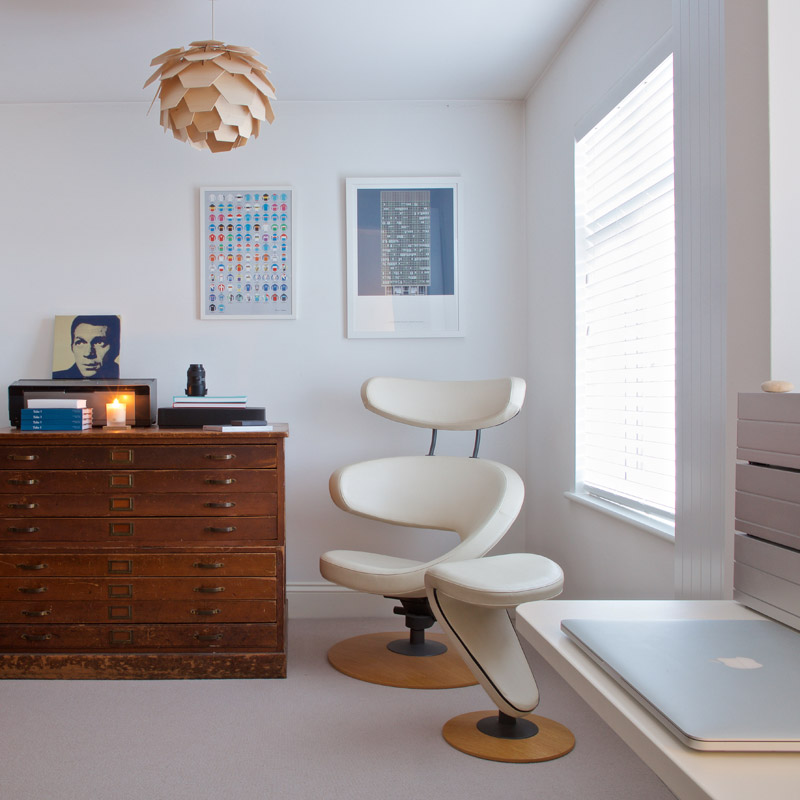 The feeling of the house is calm, understated and uplifting. Features like the pale oak flooring, wooden furniture and serene colour scheme give it a Scandinavian look.
The couple have a strong sense of design and going in to the refurbishment, they had a good idea of what they wanted to achieve. Leading busy lives made it very difficult to source products and organise the work, so hiring an interior designer was essential in helping them realise their vision. The couple are delighted with the outcome.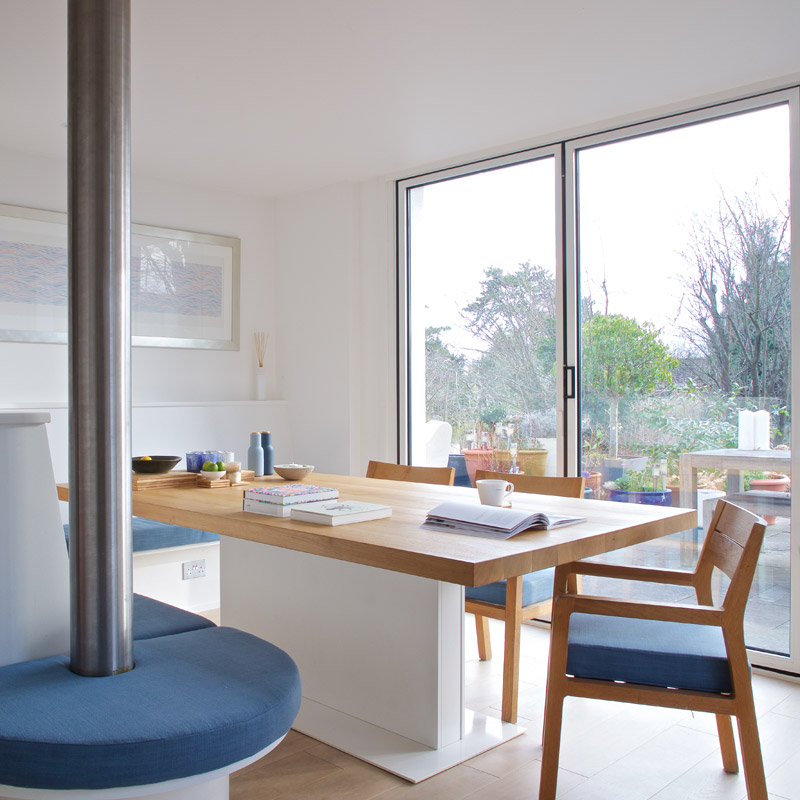 Clair Strong Interior Design is a small, friendly, creative business based in Bath and London, providing services for residential and commercial clients; clairstrong.co.uk
reynoldscollcutt.co.uk; nicksmithphotography.com
Main image: The kitchen with its new splashback, chosen to match a Bridget Riley print