Come on babe, why don't we paint the town… and all that jazz? Well that's exactly what we're doing, because jazz – in all the genre's various formats and incarnations – makes one big, beautiful noise in Bath on pretty much every night of the week. You just have to know where to go to find it, says Melissa Blease
A much-loved cornerstone of the thriving Green Park Station market scene, the Green Park Brasserie hosts no less than four evenings of live jazz every week, always pitched at a melodic, approachable volume so we can choose to chat over a meal, specifically tune in to the music… or do both.
Alex Peters, Green Park Brasserie director: "We've being doing what we do for 28 years this February and hope for at least another 28, perhaps with an extended encore! Our four nights a week of live jazz/funk/soul/ swing music have become central to everything we do, based around creating a brilliant atmosphere for our guests and ensuring that they have a memorable time. We're in a stunning historic building with a relaxed ambience which lends itself well to our music and quality food offering.
"In terms of reputation, we've always seen the business as a real part of the local community – we love being involved with The Bath Fringe Festival, The Bath Festival, Bath Folk Festival, and a whole host of other local musical groups and societies. We also host headline days in the summer where we put on some incredible bands at Bath Pizza Co who play late into the warm summer evenings under the vaulted Victorian glass canopy in the old Green Park Station – there's really nowhere else like it in Bath. We welcome couples on date nights, groups of friends, families of all ages – a real mix of demographics. We're often referred to as one of the last "true generalist independent restaurants", which is something we're rather proud of; we'd hate The Braz to be put in a box.
Andrew Peters, Green Park Brasserie owner: "My personal taste is pretty eclectic, from blues to classical, but I do love 1960s Miles Davies and 1990s Chris Botti. In local terms, I'm particularly indebted to Jon Green, Wade Edwards, James Lambeth, Mike Collins, the late, great Guy Harrup and many other superb artists who have regularly played here since 1992."
• What's on at Green Park Brasserie: greenparkbrasserie.com/music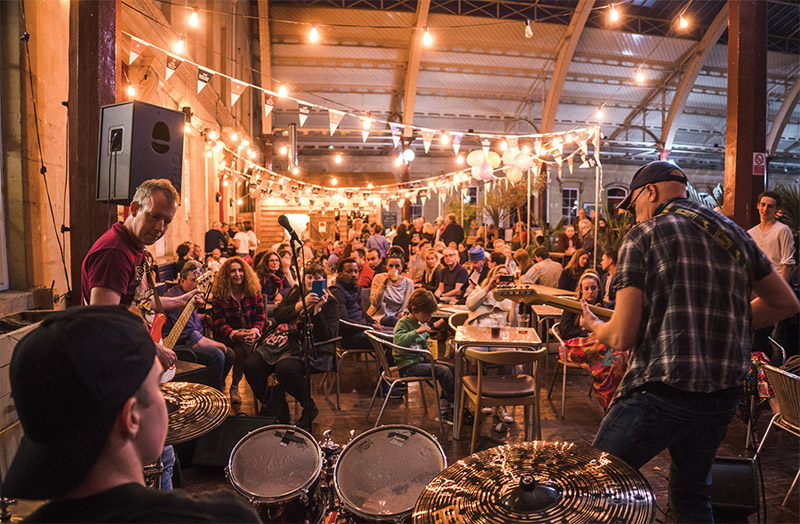 Steve Henwood, live music booker at The Bell: "Back in the days of the legendary John Bradshaw The Bell was primarily known as a jazz pub. Jazz, along with folk and the more-obvious-for-a-pub blues, is clearly at the roots of the more mainstream music we and many other places play, and that's why I programme it; its promiscuous influence waxes and wanes in the general seething mass of contemporary music, but it remains a strong influence.
Jazz is an unbeatable training ground for any instrumentalist; it expands melodic and harmonic vocabularies
"Jazz is an unbeatable training ground for any instrumentalist; it expands melodic and harmonic vocabularies, and – due to the training and conceptual background – is one of the primary engines of fusion and hybridisation, too. Many jazz players tend to play funk, swing, and Latin as well as jazz, and in many cases they're the horn sections for R'n'B, soul and ska bands as well.
The role of south west-based musicians like Clive Deamer or Pete Judge – who have both played for me at The Bell – is clear. Get The Blessing's first-ever issued recording was recorded live here, and if I were writing
a history, I'd include players like Jim Blomfield, Craig Crofton, Anders Olinder and Andy Hague who have all been influential too, alongside some serious quality younger contenders like James Morton, Dan Moore, Matt Brown and Ruth Hammond. Locals such as Seb Gutiez and friends (the Old Bones Collective) and Murph and friends (Dub Souls) are always coming up with new stuff; Pete Judge is in a new project every time I talk to him, and bands like Snazzback and the Bloom Collective crew are zooming ahead almost too fast to keep up with. But we do get offered national or even – gulp! – international tours, and can sometimes fit them in.
"I could put live jazz on at The Bell every week – it easily makes up for 50 per cent of what I listen to at home. But I'm dealing with an audience who like all sorts of things. A number of them think they don't like jazz, but when presented with the right flavour for them – the new New Orleans revival, Hot Club gipsy swing, hiphop or post-rock fusion – they discover that they love it.
"I try to programme schools of jazz that aren't covered elsewhere in town and have a long, ongoing relationship with some of our musicians, but mostly I stick to some of the obvious crossover and entrance points. Over the last few decades, jazz has also managed to be dance music again and the groove-based stuff is very strong. Not all of the gigs I programme here will be labelled or promoted as jazz gigs though, because some people are still scared of the J-word!"
• What's on at The Bell: thebellinnbath.co.uk/what-s-on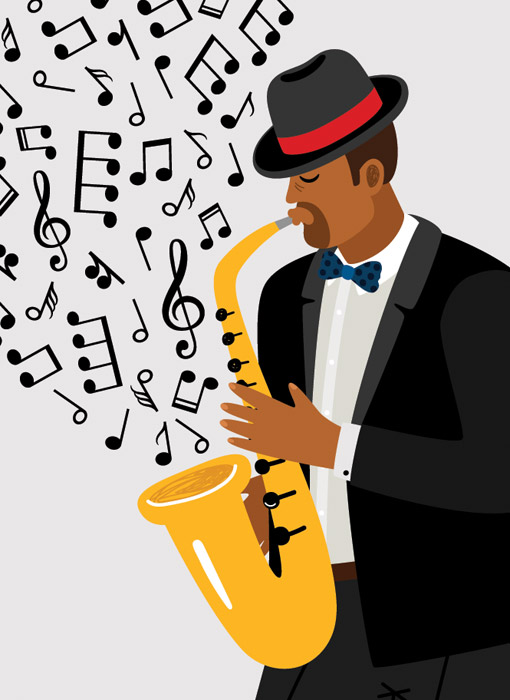 🎸 Bath's Walcot Street/London Road area has, since the 1960s, held the informal title of Bath's Artisan Quarter and represents the essence of alternative life in the city – and the iconic pub at the epicentre of proceedings (community-owned since 2013) flies the flag for the Heritage City's independent ethos.
Having enjoyed prime position as the social epicentre at the heart of the Widcombe community for decades, the Widcombe Social Club (refurbished in 2013) plays host to all manner of lively live entertainment – and, last month, the second hugely successful Bath Jazz Weekend.
Since the Bath Festivals organisation merged the International Music and Literature festivals, former Europe Jazz Network (EJN) President and UK/Ireland Jazz Promotion Network founding member Nod Knowles felt that the opportunity for presenting an extensive, unique programme of British and European contemporary jazz in Bath had been overlooked.
The strategic response to this situation turned out to be a cooperative, DIY initiative at Widcombe Social Club, for which Nod is a volunteer committee member. Turning back to festival promotion after several years, Nod drew on all his expertise, contacts and experience of more than 40 years in jazz promotion to bring some of the best and most interesting musicians from the UK and Europe to his home town to participate in a brand new venture, the Bath Jazz Weekend, which ran over the first few days of 2019.
The experiment proved to be a great success; the audience turned up in droves, supporting the musicians in the collaborative spirit of the event. And so, in January this year, they did it again – and the second Bath Jazz Weekend proved even more popular and successful than the first.
Look out for international-level promotions at Widcombe Social Club later
in the year… and a third Bath Jazz Weekend early next year.
• What's on at Widcombe Social Club: widcombesocialclub.co.uk/upcoming-events
You will have heard this old school jazz man softening the hard edges of the city centre with his melodious, harmonious voice and elegant trumpet accompaniment
🎸 It would be impossible – and downright disrespectful – to talk jazz in Bath without mentioning legendary Bath pub landlord John Bradshaw.
Having previously enjoyed a long stint as landlord of The Bell during the 1960s/early 1970s, John – a charismatic man with a characterful personality – took over at the helm of the former Ye Old Farmhouse (Lansdown Road) in 1976 and put jazz in the Bath spotlight for three decades, until he retired in 2006. Over his 17-year residency, John hosted top jazz artistes including Alex Welsh, Buck Clayton, Humphrey Littleton, Acker Bilk and 'Stride Pianist' Earl Hines at the Farmhouse, alongside literally thousands of local and national jazz musicians and bands; was the Farmhouse Bath's answer to Soho's iconic Ronnie Scott's Jazz Club? Many Bathonians who were part of John's party would say so. John died on April 14 2017. His public funeral at St Mary's Catholic Church on Julian Road attracted hundreds of local people, and many more paid tribute to him at a wake held at The Bell.
🎸 Everybody in Bath knows Jerri Hart – even if you don't know his name, you will have heard this old school jazz man softening the hard edges along the highways and byways of the city centre with his melodious, harmonious voice and elegant trumpet accompaniment.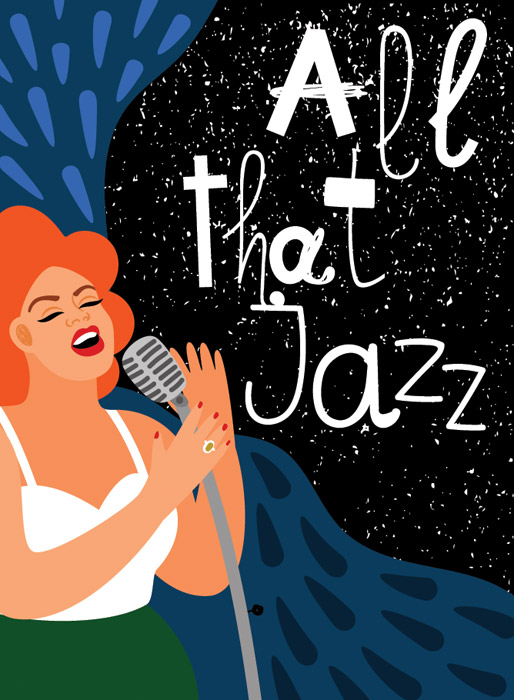 A globally celebrated performer with a fascinating back story, 'The Man in Black' (also known as 'The Crooked Crooner' due to a chronic, long-term condition that's resulted in severe curvature of his spine), Jerri describes himself as "an internationally obscure performer, musician and comedian with a unique look and sound" – and few who have encountered this magical man could argue with that. Find Jerri on the streets of Bath pretty much every day, and headlining Glastonbury's Crooners Corner every year.
Other jazz highlights to watch out for:
🎸 Friendly, laid back and atmospheric, St James Wine Vaults is a long-established proper pub that goes large on a warm welcome, resulting in a proper pub for properly friendly people… and regularly getting jazzy with it.
• What's on at St James Wine Vaults: stjameswinevaults.co.uk/#whats-on
🎸 Bath's leading alternative arts venue, Chapel Arts Centre plays host to a varied array of live music events on a regular basis. On the jazz-specific front, book today for the Claudia Morris Trio (15 February), Patti Boulaye's Billie Holiday tribute (20 March) and the Sunset Cafe Stompers (15 May)
• chapelarts.org/events/tags/jazz/
🎸 Established way back in 1978, Moles is a tiny, atmospheric, subterranean live music venue hosting international jazz superstars on a regular basis. Advance booking is essential for 14-piece jazz fusion pioneers Dutty Moonshine (7 March) and the legendary James Taylor Quartet (20 March)
• moles.co.uk/events