There's work afoot on the structural development of Bath, and the Bath Quays development has long been dominating the conversation. The grand plan involves a complex series of intersecting projects so if you're unclear about what's happening, where we're at and what's to come, here's an overview
Bath Quays is the Council's 4.5 acre flagship regeneration project to create a vibrant commercial quarter for Bath's flourishing businesses in the heart of the Bath City Enterprise Zone.
It was conceived to address the gap in provision of grade A office space in the city and to allow existing businesses to expand and new businesses to relocate to the city. In addition to creating economic growth and new high-wage jobs for Bath, it will offer new homes and more attractive, useable public space alongside the river. The site is located on the north and south side of the river between Churchill Bridge and Green Park.
BATH QUAYS SOUTH
Prominently positioned on the riverfront, Bath Quays South is a game-changing development that will provide the city with a dramatic new riverside space for business, recreation and culture.
A blend of historic buildings with contemporary architecture, it will offer a total of circa 90,000 sq ft of office accommodation alongside 70 apartments. The principal building will be No 1 Bath Quays, flanked by the historic industrial Newark Works to the south and a new residential apartment block to the east.
Development of the site has been enabled by a collaboration between the Council as landowner and regeneration specialist TCN.
Project status
All aspects are under construction and the opening of Bath Quays South is scheduled for autumn 2021.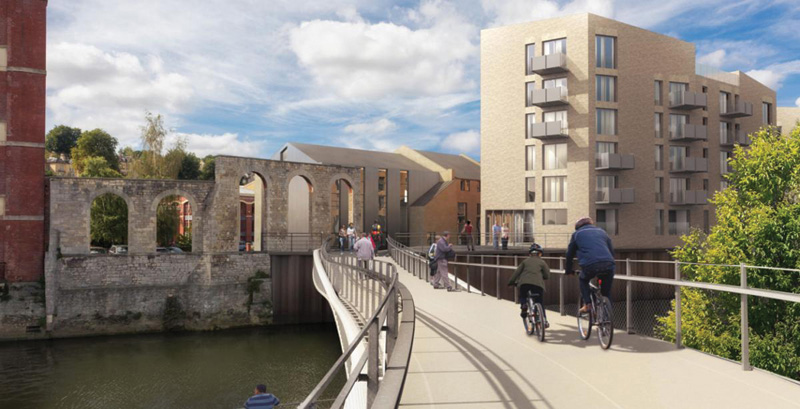 No. 1 Bath Quays
No.1 Bath Quays is the flagship building within the Bath Quays South development. The building will provide 46,000 sq ft of grade A office accommodation, an opportunity for scale-up companies to take a leap forward in their growth journey. The energy-efficient office building has been designed to a target 'A' EPC rating and will include 100 dedicated cycle spaces, shower facilities and changing rooms. The building will be suitable for single occupation or can be adapted to a number of occupiers.
Project status
No1 Bath Quays is under construction and on programme to complete in July 2021 with earliest occupations after fit-out expected September 2021.
Newark Works
Redevelopment of the historic Newark Works building will provide a 40,000 sq ft vibrant creative campus, where the business community can meet, collaborate and grow. This former industrial building will offer a range of characterful studio and office units from 122 sq ft to 5,020 sq ft. The units are specifically aimed at the burgeoning creative industries sector and will be a great location for start-ups and micro-businesses. Newark Works will also benefit from an on-site café bar, breakout and meeting spaces. There are opportunities for other uses in the building, such as health, fitness and the arts.
Project status
TCN and Bath and North East Somerset have worked together to bring forward this regeneration. TCN began the refurbishment and fit out works in September 2020 and the scheme will be ready for occupation in December 2021.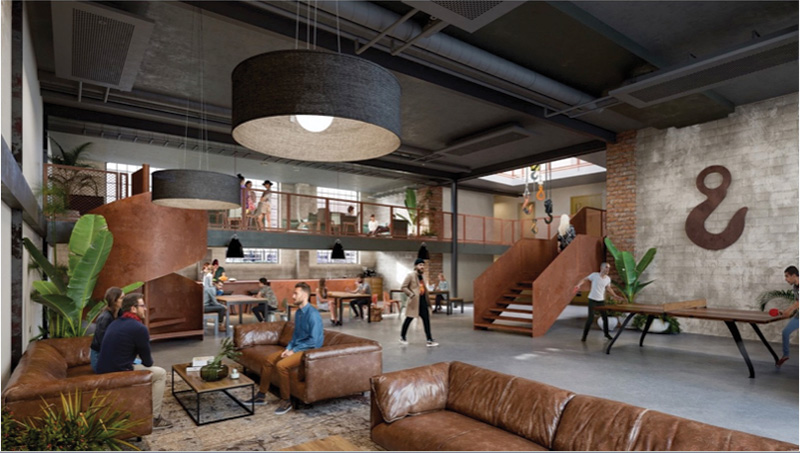 BATH QUAYS NORTH
Bath Quays North is set to be an inspiring, contemporary central business district. Set opposite the Bath Quays South site, Bath Quays North is designed to inject life into an underused area, and reconnect Bath to its riverside.
This 2.2 hectare site, a five-minute walk from Bath Spa train station, covers the current car and coach park on Avon Street. The site will deliver 250,000 sq ft of modern office space, creating a new business district for the city. The development will also incorporate new pedestrian and cycling routes to promote active methods of transport.
The main focus of Bath Quays North will be the creation of spaces for local companies to move and expand within Bath. It will offer a range of large, open-plan units alongside leisure, retail residential and a business hotel.
In 2019, Legal & General, in partnership with Bell Hammer, was selected by Bath and North East Somerset Council as their development partner for Bath Quays North.
Project status
A new road layout and south-facing riverside park is complete. The addition of cycling and walking routes, as well as areas for performances and events, will transform the area into a vibrant public space and will give residents and visitors a place to enjoy Bath's riverside.
The outline plans for the Bath Quays North development have been approved and detailed designs are currently being progressed. The Avon Street coach park will be deconstructed in spring 2021, after which the car park will be demolished. The café and toilet block in the coach park will relocate to Charlotte Street car park.
Pedestrian bridge
Bath Quays South will be connected to the Bath Quays North development by a new pedestrian and cyclist bridge, The bridge will allow workers and residents of Bath Quays South to access the city centre via a new public park, with the city's retail offer and main bus and rail stations around five minutes walk away.
Project status
The Bath Quays bridge is due to be installed in November (this month) and is planned to open in June 2021. Enabling works including flood defences, river walls, and a new public park have all been completed.
For more information about the Bath Quays development visit: investinbath.co.uk/space/bath-developments; and newarkworks.co.uk