This month Andrew Swift guides us through a delightful feature-packed walk, taking in five villages along the River Chew, with magnificent structures, ancient standing stone monuments and some spectacular scenery as you go
Much of this eight-mile walk follows the course of the River Chew, along with a couple of its tributaries. En route, it takes in two monumental structures, firstly Pensford Viaduct, 303m long, 29m high, opened in 1873 to link Bristol with Radstock, but disused since 1968. The second is the stone circles at Stanton Drew, around 4,500 years old, which, though less spectacular than those at Stonehenge and Avebury, have long been held by many – including the architect John Wood, who made the first survey of them in 1749 – to be just as important. It also passes through five villages – Chew Magna, Pensford, Stanton Drew, and the two Nortons, Norton Hawkfield and Norton Malreward, named after the Norman knights, Thomas de Hauteville and Geoffrey Malruarde. who established them. Even better, it lies through unspoilt countryside, follows well-waymarked paths, encounters no stiles and, when I walked it on Easter Monday, no livestock either. There is one steep downhill section and one tricky road crossing, but – with the proviso that parts of it can turn muddy during wet weather – it is otherwise straightforward.
It starts in Chew Magna, 14 miles west of Bath, where there is a free car park next to the Pelican pub in the centre of the village (BS40 8SL; ST576631). Turn left out of the car park, cross by the Bear & Swan, head along a side street, turn right along Silver Street and follow it through the village, ignoring turnings to left and right. After 500m, when you come to a T junction, turn left uphill (ST579633).
After 400m, when the lane swings right, follow a byway straight ahead. After another 750m, when you come to two gates ahead, go through the one on the right and continue alongside the hedgerow (ST581645).
After 150m go through a kissing gate (KG) and head across a large field in the direction of the waymark. On the far side are two metal gates. Go through the one on the left and after a few metres turn right through a KG. Head down to the right of a pond and carry on through a KG. Head across a field, go through a KG in the hedge on the left and bear right towards a KG leading onto a lane (ST585654).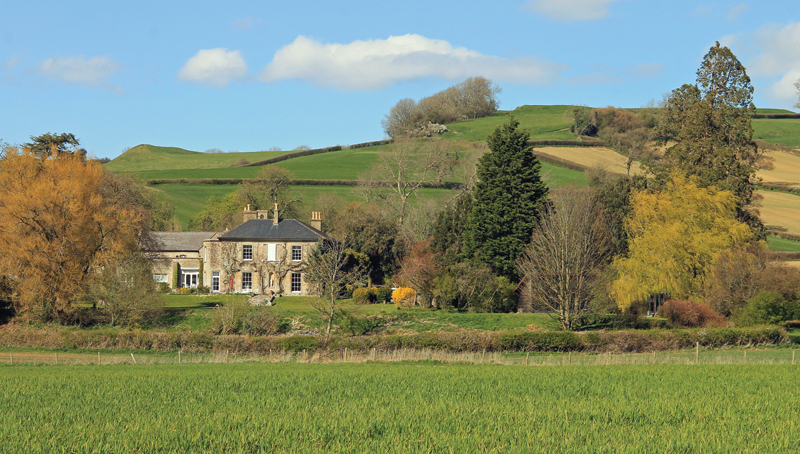 Turn right and immediately right again through another KG. After going through a KG and a gated footbridge, turn left alongside a stream. Carry on through a series of KGs and footbridges for 500m before recrossing the stream and following a broad path. When you come to a lane, head up the track opposite (ST592648). This is the village of Norton Hawkfield, which lost its church over 450 years ago and has slumbered in obscurity ever since. Turn left when you come to a T junction and after 25m go through a KG on the right into a farmyard. Look out for a telegraph pole festooned with horseshoes as you head across to the left of the farmhouse, before turning right through a gate along a stony track.
After 350m, just past a bench commanding a view eastward, follow the track as it turns left. Ahead lie the ramparts of Maes Knoll, an Iron Age hillfort, with Norton Court nestling below. Carry on through a KG and just past it turn right to follow a track between horse chestnuts and a lonesome pine. When you come to a KG, go through it, turn right along a rough track and left at the road (ST600649).
After 75m, climb steps to a KG on the right and head towards Norton Malreward church. After going through two KGs, turn right through a third and left along a track. Follow it as it bears right across an airstrip and carry on for 800m, at the end of which a handgate leads down a steep track, which may be slippery when wet.
At the bottom, you have to turn left along a road for a few metres before crossing to a KG (ST610642). The road is narrow, so care and patience are needed. After going through the KG, bear right for 50m and then left downhill.
Carry on through another KG, and when you come to the river turn left, heading for Pensford Viaduct. After 500m, as you enter Culvery Wood, the track leads uphill and under the viaduct. At the road, carry on past the church of St Thomas à Becket, closed after flood damage in 1968 and later converted to a home. After crossing a bridge, turn right and right again along Stanton Lane for 75m, before turning right along a footpath to head west along the valley (ST618636). After passing through two KGs you come to Bye Mills, where iron was wrought as long ago as 1668. Head on in the same direction through two more KGs and a handgate, and, when confronted by two gates ahead, go through the one on the left. Carry on alongside the hedge, and, after going through a KG, go through a handgate onto a lane (ST606633). Cross and go through another handgate, keeping close to the hedge on the right. Then, after another handgate, another lane crossing and another handgate, head straight on towards the tower of Stanton Drew church, looking to your right to see the stones.
Continue through two KGs and carry on along a farm track which leads to a gateway (ST597632). A right turn here leads to the stones, but to continue with the walk carry straight on. After passing a wall letter box on the right, turn left and left again before turning right along Sandy Lane. After 450m, the tarmac ends and you discover why it got its name.
After another 700m the lane drops steeply downhill between high banks, turning sharp right at the bottom. After another 100m, bear left to cross a bridge, made from a single stone, across a stream (ST584627). Carry on through a KG and head up a field.
At the end, go through a KG and bear right alongside the hedge. Bear left at the corner of the field and a little way further on follow a track heading down to the River Chew. Bear right alongside the river, continue across a gated bridge and carry on until you come to a KG leading onto a road (ST579630).
Cross and head along the drive of Chew Court – once the country residence of the Bishop of Bath & Wells. Follow the drive as it curves round the court and head up steps into the churchyard. Carry on to the left of the church, go through the gates and cross to return to the car park.
Fact file
Distance: 8 miles
Time: 3–4 hours
Level of challenge: Straightforward, except for one steep downhill section & a tricky road crossing
Map: OS Explorer 155
More on the details of this and many more walks can be found in Andrew Swift's Country Walks from Bath, published by Akeman Press; akemanpress.com
Main image: Pensford Viaduct