As part of an ongoing transformation coupled with an exclusive Premio Partner status with SMEG, one of Bath's favourite businesses has unveiled a shiny new showroom featuring one of the largest ranges of the luxury manufacturer's appliances on display in the UK. We chat to Coopers' Darrin Christan about all things retail
The man in the control centre of Coopers home appliances in Walcot Street is someone who knows the business well. Inside out, in fact. His name is Darrin Christan.
He started his Coopers life over 20 years ago, taking on a part-time job delivering and installing appliances. He quickly moved into the store and found his passion for sales. He then worked his way up within the business, learning different skills, from HR to procurement all the way through to management. His experience in these roles gave him a fantastic understanding of the business, the changing marketplace, and how to best to fulfil customers' wants and expectations. In 2019 he finally realised his dream and purchased the business.
COVID coming along so soon after buying the business must have felt like a major blow for Darrin, but he is philosophical: "We very quickly had to adapt, and I was amazed to see how supportive and understanding our customers were. The one big trend that I have seen is how the public wants to support independent businesses and shop locally. We moved swiftly and put measures in place to protect our staff and customers while continuing to supply all the essential appliance needs."
There have also been changes afoot over lockdown, as anyone walking past the store will know, having seen a regular bustle of workmen and dustsheets and floors being laid and new appliances being installed.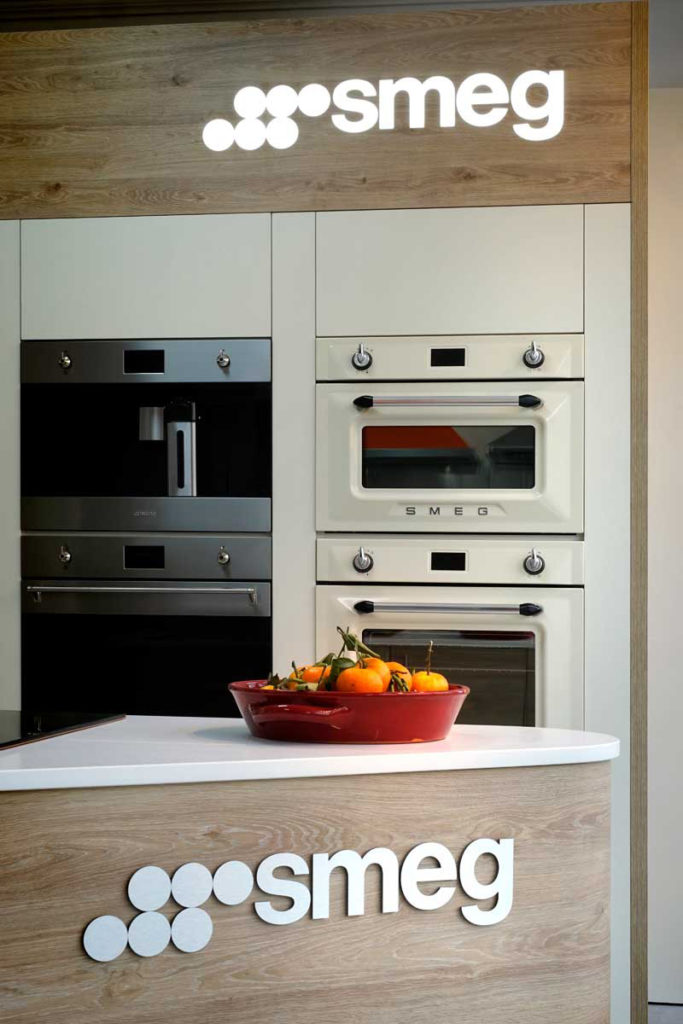 "While the store was closed, we took the opportunity to start the first stage of our extensive refurb. Something that would have been very hard, if not impossible to do while being open. Covid helped focus our thoughts and efforts and, if anything, we have come out stronger," says Darrin.
"When I took over the business I did so with the intention of completely reinventing how we traded. I could see that the future of retail was changing, and I was genuinely excited and wanted to be part of it. My plan is to create a true destination store for the region. Concentrating on fewer brands and creating a real experience for our customers. Just seeing the appliances isn't good enough. I want somewhere where you can actually interact with the appliances.
"One of the most tactile brands out there is Smeg, and they were always the first on the list of manufacturers I wanted to work with. You need to see the Smeg appliances up close and personal to really appreciate the curves of the retro refrigeration, or the effortless touch control interface of the Dolce Stil Nova ovens, or the solidity and build quality of the Portofino range cookers."
So after months of designs and COVID delays the new Coopers now presents a first for the business, a 'store in store' showroom, unveiled just two days before reopening after lockdown three, and this is just stage one of the overall vision.
Darrin is brimming with enthusiasm about the latest appliances with wow factor. "Appliances are becoming smart! Being able to connect your built-in coffee machine to your phone may sound strange but it's a godsend on a cold morning, having the ability to order your perfect coffee from the comfort of your bed! Or when you find yourself walking around Waitrose not sure if you've got all the ingredients at home in the fridge you need for supper. Simple, buy a fridge with a camera inside so you can see on your smartphone exactly what you've got at home. Or keep it simple and add a splash of colour with the new rose gold finish of small appliances from Smeg."
Coopers are working very closely with a number of premium brands, including Fisher Paykel, Liebherr, Lacanche, Rangemaster, Ilve, Smeg, Quooker, Neff, Bosch and Siemens, just to mention a few. Over the coming months, the business is planning to expand the displays to create an immersive destination store where the appliances will be in demonstration mode or even live. And soon they will be hosting cookery demos where you can experience and taste the benefits of things like combination steam ovens and sous-vide cooking, a cooking technique that utilises precise temperature control to deliver consistent, restaurant-quality results.
"This is the future of retail. We don't want to just show you boxes on the shop floor. We want to show you how they work, we want to show you that your favorite Le Creuset Casserole dish will fit in the Fisher & Paykel Dishdrawer or just how easy the Miele auto-dosing washing machines are to use," enthuses Darrin.
Anyone who has purchased appliances from Coopers will know that it's a relief to deal with people that care and take the time to advise you on your purchase and to deliver and install it with that personal touch, something that is sadly lacking when you buy online.
"The key thing we offer over online retailers is a true customer experience," says Darrin. "From being able to touch and feel the appliances through to the right expert advice to make an informed decision. We constantly have customers who have made online purchases from our competitors just to find that what turns up isn't what they wanted. It isn't quite the right colour or it's just too big or too small. A computer monitor won't ever replace standing in front of the machine to really understand the size, colour, or feel of the controls. We offer competitive and simple pricing without the hidden add-ons that you commonly find with our online competitors."
After the last year where retailers had to close their doors, people's shopping habits have changed by necessity and Darrin understands that all retailers will need to work hard to get people back into the shops. It seems he is going the right way about it, offering well-designed spaces with carefully considered displays.
"We are well underway into transforming the shop space to be fit for the new era of the high street."
Coopers, 13–15 Walcot Street, Bath BA1 5BN; 01225 311811; coopers-stores.com